Nicolas Hague, like seemingly every other prospect in this year's entry draft, is a polarizing figure.
The pros are obvious for the young man from Kitchener – he's listed at 6'6″ and 214 pounds and he's a left-shooting defenseman. He's not afraid to use that size, and unlike Jets prospect Logan Stanley at this time last year, the offense is already there. Hague posted back-to-back seasons of double-digit goal totals in the OHL, tallying 18 in 65 games this year.
But, as with other prospects in this year's crop, the question that has to be asked is, what's the catch?
The concerns around Hague come down to his skating, according to some scouts. His speed isn't hugely in question, but the mechanics of his stride are concerning to some. One scout told The Hockey News that it looked like his knees were bending inward when he skates and questioned whether it would be a problem at the next level.
It's always something this year.
Still, skating can be coached. Mark Stone and Tyler Toffoli, among others, had concerns about their skating ability in their draft years, and nobody talks much about that anymore. And Hague's gifts, namely his monstrous size and booming shot, are impossible to teach.
Nic Hague's slapper from the point is just disgustingly good. Surprising to see how often defenders lose him as he drops below circles.

— Harrison L. (@HLLivingLoco) June 2, 2017
There's a lot to work with in Hague's game, and while whoever drafts him will need to put that work in, Hague could be a stud if that work pays off.
You Can't Teach Hauge's Size
As THW's own Mark Scheig pointed out in his breakdown of Hague's game, the towering blueliner was a major reason why Mississauga went all the way to the OHL finals this year. He can do a little bit of everything, and he's a calming influence out there, never really panicking with the puck. His hockey sense has been lauded by many scouts.
Other defensemen with similar puck sense and point totals might not go as high in the draft, however. There's no getting around the fact that Hague's size gives him a huge advantage. He's not shy about using it either, though he may have to rein it in a bit as it can get him into trouble sometimes.
Still, if Hague can keep his discipline, his reach and hockey sense combined make him a very promising prospect. Scouts are divided on whether he'll have the same offensive impact in the NHL that he's had in junior, but the back-to-back seasons with double-digit goals do make a good case for his ability to bury the puck.
His size also lends itself to a heavy shot, which he uses often and effectively.
https://youtu.be/urSRrAhBRe8
Most of the goals in this package are Hague shooting from the point or creeping in from the point to the top of the circle before ripping one. He seems equally comfortable with slapshots and wrist shots, which is good because at the next level he won't have as much time to wind up.
A player with that reach will tantalize scouts even if the offense isn't there, and the offense has been there so far for Hague. His size and heavy shot should make him a slam-dunk to be a top-15 pick, shouldn't they?
A Minor Caveat
If you look at the rankings and the writings on Hague, most would indicate he'd be a stretch for the Jets to take at 13. He fills a positional need for them of course, but Jusso Valimaki, whose merits I explained in an earlier piece, is considered the better puck mover and certainly the better puck rusher. There aren't as many concerns about his skating.
It's odd to me that so many scouts would question Hague's ability to produce offense at the next level, given his goal totals in the OHL so far, but that's probably the biggest criticism I've seen of him. Nobody's quite sure if his offensive game will transition well. Of course, that's true of so many prospects, but there seems to be extra concern surrounding Hague.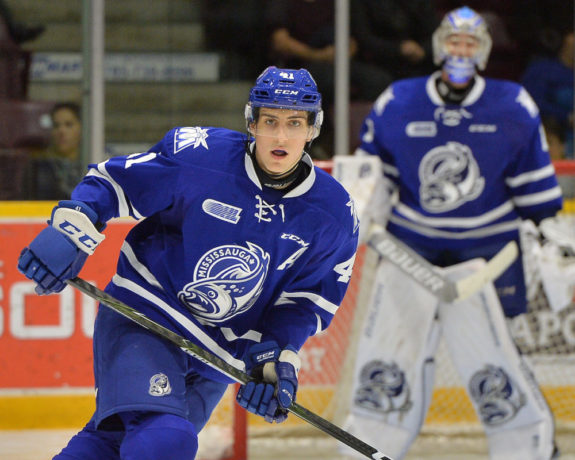 Hague doesn't produce a ton off the rush, and he may need to work on getting his shots through traffic at the next level. It may take some time. Like many big bodies, it's going to be a while before Hague peaks. He'll have to be allowed to grow into his game and his body at his own pace. Expect hiccups.
That more than anything likely keeps Hague from being a surefire top-15 pick. Whoever takes him is going to have to be more patient than teams toward the bottom half of the standings are often prepared to be. The Jets have an immediate need on the left side on defense, and Hague won't help immediately.
If the Jets are willing to be patient, however, they could develop Hague into a true blue line stud. Don't be shocked if the Jets look to add another big lefty defenseman in this draft.