Facing Off is a weekly column debating five of hockey's hottest topics each and every Monday. From current events like trades and hat tricks to bigger-picture stuff like scandals and expansion — you name it, we're debating it. Albeit, not always with a serious tone. We're keeping this column light, so keep that in mind when reading, and feel free to join in on the fun by leaving a comment. Facing Off also has its own Twitter handle now (@FacingOff_THW), so follow us there and get in on the debate.

Las Vegas continues to be all the rage, especially during these dog days of summer.
There is plenty to be excited about in the lead-up to the World Cup of Hockey and the 2016-17 NHL season, yet everybody is curious to see what the Las Vegas franchise will be called, what colours it will wear, what its logo and jerseys will look like and, most importantly, which players could end up on the roster following next June's expansion draft.
It's pure speculation on all those fronts at this point, but that's half the fun when it comes to Facing Off. Andrew Forbes, our fantasy editor and THW's beat writer for the Toronto Maple Leafs, joins me this week to further debate what the future holds for Las Vegas, while also weighing in on remaining free agents and a few Leafs' topics.
As for the Las Vegas team name, which may no longer be the Black Knights or even a variation of Knights, the Sin Bin blog is getting bombarded with suggestions, some better or more appropriate than others.
Knights remain a popular choice if possible, with Silver Knights, Dark Knights and Neon Knights emerging as potential alternatives to the Black Knights if copyright and trademark issues prevent that desired option.
Among the other names that caught my eye: Legion, Stealth, Peregrines, Scorpions, Chaos, Rush, Brigade, Bandits, Wranglers, Vendetta, Vultures, Venom, Posse, Fury, Squadron, Syndicate, Revenge, Sandstorm, Hustlers and Thrills.
I'd rank them roughly in that order — Rush would be higher among my favourites, but other sports teams already go by that name and, therefore, it may be off limits.
Make your voice heard by voting in our Twitter poll or by leaving a comment here if you can come up with a better name.
If Las Vegas can't be the Black Knights, what should they be? @VegasHockeyNHL #NHL #THW

— Facing Off (@FacingOff_THW) July 15, 2016
All right Andrew, how jealous are we of George McPhee? Being a fantasy guy, starting a team from scratch is a dream job, let alone calling Las Vegas home. What kind of team would you try to build? What positions would you spend big on? Would you go heavy on veterans or load up on younger guys?
FISHER: Oh man, I'm incredibly jealous. This is a wicked opportunity for McPhee and, unlike past expansion general managers, he's getting a chance to piece together a competent roster from Day 1. The Las Vegas franchise could hit the ground running if McPhee plays his cards right over the next 15 months.
There are several ways to build a team, but I get the sense that owner Bill Foley would prefer a bigger, hard to play against identity as opposed to a smaller, speed and skill emphasis. That Pacific Division is already full of heavy teams, so it makes sense to go that route in combatting the competition.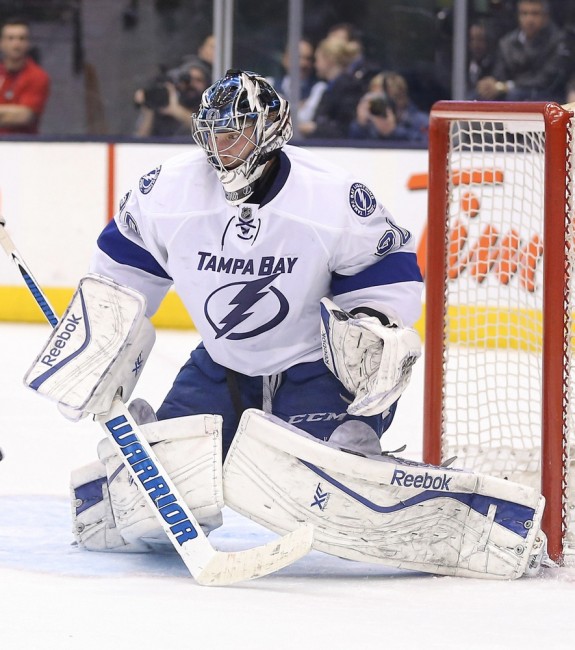 Goaltending should be a strength for Las Vegas out of the gate, with the other teams only able to protect one netminder. No expense should be spared between the pipes. McPhee and Foley both mentioned the importance of icing an entertaining product as well, which can be interpreted as an offensively gifted group. More run-and-gun than trapping, that's for sure. They will want some firepower up front, and I'd lean towards younger talent in that department. Assuming the goaltending is in good shape, which it should be, I'd prioritize offence over defence and try to draft three scoring lines before worrying too much about the blue-line.
Las Vegas will need to reach the salary-cap floor, but I'd probably lean more towards free agency for my bigger contracts and focus on selecting quality RFAs in the expansion draft, albeit with a few exceptions. I think Las Vegas will do well on the open market as an attractive place to play, so McPhee could have his pick of that litter come July 1 too. Long story short, McPhee is a lucky man.
FORBES: Jealous? I'm still waiting for my call back. Look, to start a team from scratch is something that most GMs don't have the opportunity to do. Sure, he doesn't exactly have the pick of the litter when it comes to just about anyone in the league, but he and his staff are still going to have a pretty good shot at some experienced and well-known players from around the league.
That being said, I'd be starting with the net out. Find yourself an experienced goaltender that can get you started when it comes to stealing a game or two for that excited home crowd. You might be thinking — why not a solid scoring forward or a big shutdown defenceman? Right now, goalies seem to be like running backs in the NFL — they seem to alter their output on a year-to-year basis. However, if you can find that one goalie that can be a good starting netminder year in and year out, then you can build around that with skilled offensively talented forwards and other pieces that you'll need.
After all, you're not expected to win right off the bat. You're going to have a few drafts before you're remotely competitive and, chances are, you're going to get some young talent via your drafts.
Have you messed around with General Fanager's expansion mock draft tool? Regardless, which teams do you see facing the toughest decisions in terms of who to protect? There will obviously be roster movement between now and next June's draft, but do you have any recommendations for McPhee for the first overall pick? Or other potential targets in mind? Feel free to throw out some names . . .
FISHER: I recently went through the entire process of handpicking each team's protected list and then conducting a draft to create a roster for Las Vegas. Trust me, McPhee will have his work cut out for him with the amount of quality players destined to be available at every position. He'll have options upon options and Las Vegas will wind up with an impressive lineup one way or another.
Mock Expansion Draft: Las Vegas Lineup Better Than Expected https://t.co/NwJv3w76Lb #THW

— The Hockey Writers (@TheHockeyWriter) July 15, 2016
That practice opened my eyes to the fact that every team will have difficult decisions to some degree, and there won't be many, if any, no-brainer protected lists. All 30 GMs will be racking their brains between now and June 17 when teams must submit their lists for the June 21 draft. There will be plenty of wheeling and dealing in the meantime to get those lists in order, and the expectation is still that Pittsburgh will find a taker for Marc-Andre Fleury and Tampa Bay will trade Ben Bishop before that deadline. Fleury has a no-move clause which would force him to be protected, thus exposing Stanley Cup-winning sensation Matt Murray, so the Penguins will eventually give Fleury away if they can't get their current asking price. Bishop doesn't need to be protected and is a pending free agent after the coming season, but Tampa Bay wouldn't want to lose the Vezina finalist for nothing. Those decisions should take care of themselves ahead of time.
I can't imagine Murray or Bishop being available, but Las Vegas is surely going to get an above-average veteran starter. The obvious candidates are one of Dallas' goalies, either Kari Lehtonen or Antti Niemi, Detroit's Jimmy Howard and Florida newcomer James Reimer. A couple less likely scenarios could see Colorado protecting Calvin Pickard over Semyon Varlamov and Arizona protecting Louis Domingue instead of Mike Smith if those younger, cheaper options continue to show starter potential this coming season. Philadelphia will need to decide between Steve Mason and Michal Neuvirth as well. The list goes on . . .
On another note, we've been hearing the names Tyson Barrie, Jacob Trouba and Cam Fowler in trade rumours this offseason, and that may have a lot to do with expansion-draft implications. If they aren't moved, that likely forces Colorado, Winnipeg and Anaheim to protect four defencemen, which means going with eight skaters instead of 10 (seven forwards and three defencemen). I had 10 teams – a third of the league — being limited to eight skaters in order to protect extra defenders, with Arizona, Buffalo, Chicago, Edmonton, Los Angeles, Minnesota and Nashville also among that group.
If that's the case, most those teams would be exposing some pretty high-end forwards. Anaheim, for example, would have to choose between Rickard Rakell or Jakob Silfverberg. Nashville could only protect one of Craig Smith, Colin Wilson, Mike Fisher or Mike Ribeiro. Minnesota, by my math, wouldn't be able to protect any of Eric Staal, Charlie Coyle or Nino Niederreiter.
Of course, the Wild could get lucky if Las Vegas opted for local product Jason Zucker instead of poaching from that aforementioned trio. That would seem to be picking from the heart rather than the head, but a Zucker homecoming might make sense from a marketing perspective.
Looking at my Las Vegas roster, in addition to Zucker, I'd say the three likeliest players to be picked are Dustin Brown, Jack Johnson and Dmitry Orlov. Any of those four, or a starting goalie, could go first overall. If it's Brown, I do expect the Los Angeles Kings to be sweetening the pot in some fashion for Las Vegas to take that contract off their hands.
https://twitter.com/generalfanager/status/743123401762557952?ref_src=twsrc%5Etfw
FORBES: I have yet to play around with the expansion tool, however, I do believe there are some teams that will have interesting choices when it comes to protecting players. Take Tampa Bay, for example. My guess is that Steve Yzerman is going to be left protecting Victor Hedman (who has a no-trade clause), Anton Stralman and Braydon Coburn as his three defencemen. That gives him the opportunity to also protect seven forwards — let's count them: Steven Stamkos, Ryan Callahan, Valtteri Filppula (all have clauses automatically protecting them), Ondrej Palat, Tyler Johnson, Jonathan Drouin and Nikita Kucherov. That leaves available Alex Killorn, who signed a seven-year extension yesterday, along with J.T. Brown, Vladislav Namestnikov and Cedric Paquette. When it comes to goalies, Yzerman has to keep the youth in Andrei Vasilevskiy, who definitely proved himself in the playoffs taking over for Bishop. That means Bishop is likely dealt this season, so the choice doesn't have to be made come the expansion draft deadline.
Anaheim's another team that will have to make some tough decisions. Corey Perry, Ryan Getzlaf, Ryan Kesler and Kevin Bieksa all have no-trade clauses that make them four of the protected players. As Larry mentioned, that leaves Fowler, Sami Vatanen and Hampus Lindholm as three more defencemen that the Ducks would likely protect with Silfverberg or Rakell being the final forward on the list and John Gibson the obvious choice in net.
Regardless, each team is going to struggle when it comes to who should be kept around, while McPhee and the Vegas franchise will have the chance to put together an extremely talented and young team if they choose to go that route.
This year's free-agent market thinned out in that initial frenzy, but the second wave still boasts some decent talent. Where do you see the best of the rest signing? Let's predict the top 10 forwards, 10 defencemen, 5 goaltenders and 5 wild-cards.
FISHER: This is quite the list of leftovers, so I'll jump right into it.
Forwards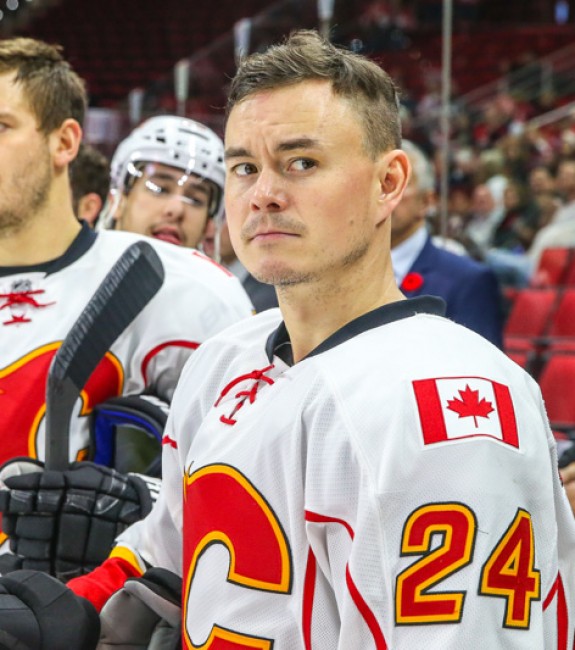 Jiri Hudler — Anaheim
Kris Versteeg — Vancouver
Sam Gagner — Toronto
Brandon Pirri — New Jersey
Radim Vrbata — Anaheim
Alex Tanguay — Boston
Brad Richards — Nashville
Mike Richards — Buffalo
Brad Boyes — Ottawa
Tomas Fleischmann — Anaheim
Defencemen
Kris Russell — Vancouver
James Wisniewski — Edmonton
Matt Carle — Boston
Kyle Quincey — Winnipeg
Dennis Seidenberg — New Jersey
Luke Schenn — New York Rangers
Barret Jackman — Detroit
Brad Stuart — Minnesota
Carlo Colaiacovo — Ottawa
Brandon Gormley — Nashville, two-way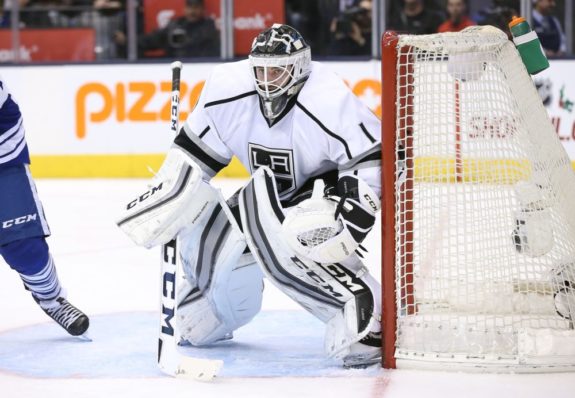 Goaltenders
Jhonas Enroth — Toronto
Anders Lindback — San Jose
Joni Ortio — Nashville, two-way
Ray Emery — Philadelphia, two-way
Dan Ellis — Washington, two-way
Wild-Cards
Cody Hodgson — Ottawa, two-way
Jarret Stoll — San Jose
Raffi Torres — Ottawa, two-way
Steve Downie — Buffalo
John Scott — Vancouver, two-way
Those are my best guesses, but this really is guess-work. I would imagine at least half those players end up attending training camps on professional tryouts. A few of them could opt for retirement and some might head overseas to Europe as well. This could be the last we hear of others, as they simply fade into oblivion.
Nevertheless, it was worth taking a shot and now we play the waiting game. Your turn, Andrew.
FORBES: Here goes nothing . . .
Forwards
Jiri Hudler — Columbus
Kris Versteeg — Los Angeles or back to Florida
Sam Gagner — PTO with Toronto
Brandon Pirri — Calgary
Radim Vrbata — Carolina
Alex Tanguay — Calgary
Brad Richards — New York Islanders
Mike Richards — PTO with Nashville
Brad Boyes — Buffalo, two-way
Tomas Fleischmann — Edmonton
Defencemen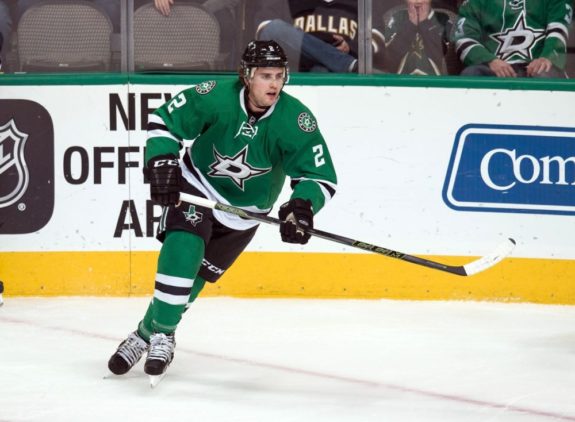 Kris Russell — Toronto
James Wisniewski — Boston
Matt Carle — Colorado
Kyle Quincey — Arizona
Dennis Seidenberg — Calgary
Luke Schenn — Nashville
Barret Jackman — Minnesota
Brad Stuart — New York Rangers, two-way
Carlo Colaiacovo — Dallas, two-way
Brandon Gormley — Philadelphia, two-way
Goaltenders
Jhonas Enroth — Toronto (have to agree with Larry)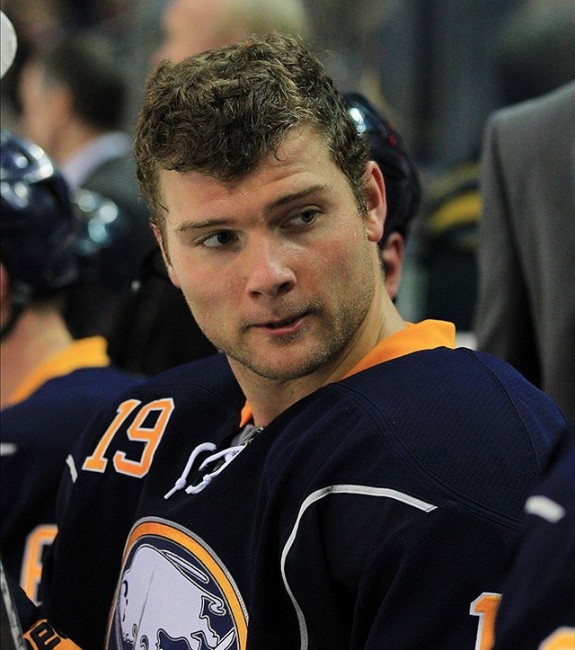 Anders Lindback — Calgary
Joni Ortio — Detroit, two-way
Ray Emery — Unsigned until injuries occur
Dan Ellis — San Jose
Wild-Cards
Cody Hodgson — Los Angeles, two-way
Jarret Stoll — Unsigned until later in the season (if at all)
Raffi Torres — Philadelphia, minor-league deal
Steve Downie — Arizona, minor-league deal
John Scott — Buffalo, minor-league deal
While it's certainly not easy to predict, let's see if we hit any of these on the button as teams are still looking to add those depth players and pieces to help with the upcoming expansion draft next summer.
Auston Matthews still hasn't signed his entry-level contract with the Leafs. The hold-up is believed to be performance bonuses, which Lou Lamoriello isn't keen on handing out. Assuming that deal gets done sooner than later, what are realistic expectations for Matthews in his rookie season?
FISHER: Not to worry Leafs fans, Matthews isn't pulling an Eric Lindros and holding out for a trade to his hometown Coyotes. Granted, Matthews didn't look over-the-moon ecstatic when Toronto called his name on draft day, but he's been saying all the right things since and rest assured he'll be putting pen to paper well ahead of the season opener. That is a formality, once Lou loosens up.
As for projecting Matthews' stat-line, providing he stays mostly healthy, I would expect something similar to Jack Eichel (24-32-56) or Max Domi (18-34-52) from this past season. They both played 81 of 82 games. If Matthews plays 70-plus games, I'd say 20 goals and 50 points is a realistic expectation.
Those totals will also be dependent on his linemates. Mike Babcock plans to pair Matthews with William Nylander in training camp, so they have the potential to blossom into a dynamic duo and put up even bigger numbers. If James van Riemsdyk rounds out that trio, then 60 points isn't out of the question for Matthews. A kid line with Mitch Marner could light it up too, but he's right-handed like Nylander and both grew up playing centre like Matthews, so shifting to their off-wing might prove too difficult. Other intriguing left-wing options include Kerby Rychel, Brendan Leipsic and Andreas Johnson, but veterans such as Joffrey Lupul, Milan Michalek, Colin Greening and Matt Martin might also get a spin with Matthews and Nylander. I'd like to see JVR or Rychel on their line. How about you, Andrew?
http://gty.im/545074540
FORBES: Let's be honest, the deal is going to get done one way or another and it's going to make both sides happy. That being said, I wouldn't be shocked to see Matthews eclipse the 60-point plateau in his rookie season. This kid is going to see significant ice time. He's not your average first-round pick (nor is Winnipeg's Patrik Laine).
To add to that, Matthews already has experience playing against men. Sure, it's a second-tier league compared to the NHL, but it still gives him the upper hand coming into a league where he's not going to be looked at the same way phenoms were in the Gretzky and Lemieux days. He's going to have to prove himself, and I think the Leafs have done a good job in finding ways to already build around him with the acquisitions of Rychel and Martin and the growth and development of others like Nylander, Marner and Connor Brown. It should be fun to watch and I fully expect Matthews to be near the top of the Leafs' list of scorers by the end of the season — reaching that 25-goal plateau.
Shockingly, Matthews was held off the scoresheet during scrimmages at the Leafs' recent development camp — Connor McDavid lit it up at Edmonton's camp last year, just saying — but it was evident that Toronto has a ton of talent coming up the ranks. Which sleeper prospects are you most excited about for the Leafs?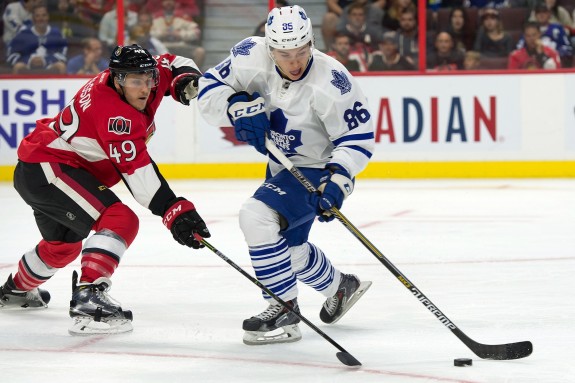 FISHER: Again, no cause for panic on the Matthews' front. As for sleepers, I'm excited to see what Dmytro Timashov is capable of in the AHL after looking dominant at last year's world juniors and coming off a strong playoff performance in the QMJHL. He's been outperforming his draft status as a fifth-round pick, but Timashov is a bit undersized and the Leafs will only have room for so many little guys. Nylander and Marner are on the smaller side too, same with Connor Brown, and Jeremy Bracco is another one to watch as a first-round talent from 2015 who fell to the very end of the second round. So Timashov has an uphill battle in terms of making the big club, but I'll be rooting for him — partially because I picked him 85th overall in one of my fantasy league's rookie drafts last week.
Defensively, I feel like Andrew Nielsen is flying a bit under the radar. As a third-round pick, he broke out in a big way in his draft-plus-one year, essentially putting up a point-per-game and quarterbacking the WHL's most potent power play. I liked what I saw in my live viewings of Nielsen and think the Leafs got a good one in him. I also heard good things about this year's third-rounder, James Greenway, coming out of development camp. It sounds like he made quite the first impression.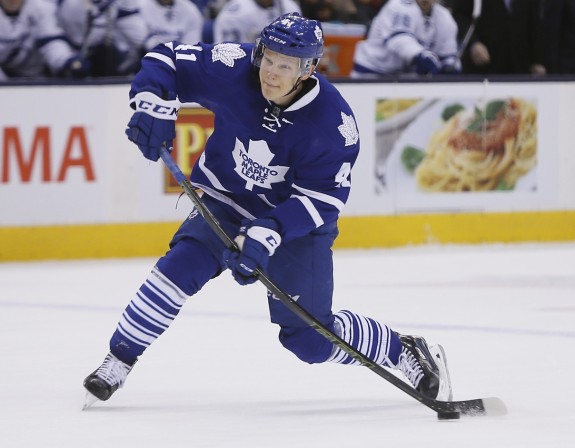 FORBES: I tend to agree about Timashov. With the talent surrounding him in the Leafs' prospect pool, he seems to fly under the radar quite often. He had an impressive world juniors last year and managed to be a key part for Sweden after the injury to fellow Toronto prospect William Nylander.
Another guy I'm keeping my eye on is Nikita Soshnikov. While we did get a taste of that wicked bar-down shot that he has late in the season, I don't think that's all he has to offer moving forward. He plays with an edge and doesn't worry about throwing his body around. Add to that his offensive prowess and that shot and you've got yet another interesting prospect in the Leafs' development line.
I think Travis Dermott is another guy that most will be watching. But when it comes to the Leafs' prospective defensive core, Nikita Zaitsev and Justin Holl will likely be significant components moving forward.
BONUS TOPICS
The Atlantic Division is arguably going to be the league's most intriguing next season. Care to take a stab at predicting the standings based on the rosters as of today? Any chance the Leafs don't finish last again?
FISHER: The combination of Babcock's coaching, those young forwards — namely, Nylander, Matthews and Marner — and the addition of goaltender Frederik Andersen makes me a believer in the Leafs' potential for progress in 2016-17. I don't expect a playoff berth by any means, but I'm not pencilling Toronto in as the frontrunner for Nolan Patrick either. Who could the Leafs finish ahead of? Maybe Boston or perhaps even Detroit. I have a feeling those fellow Original Six teams are going to trend down, which likely means the end of Detroit's quarter-century playoff streak.
I don't know what to make of Ottawa under the Guy Boucher-Marc Crawford coaching tandem, the Senators could really go either way, but if they get off to a good start, they could push for a playoff berth. Providing Carey Price is healthy to start the season and stays that way, I'm anticipating a big improvement from Montreal. Ditto for Buffalo, I could see the Sabres being among the league's most improved teams.
Tampa Bay is the class of the division despite Florida boasting the 2015-16 banner. I think the Panthers take a step back, possibly a big one, while the Lightning probably underachieved in the regular season and should be more of a force going forward without any contract distractions.
Tampa Bay, Montreal, Florida, Buffalo, Ottawa, Detroit, Toronto and Boston. That's my standings prediction as of today, though things could change between now and the start of the season. Why are the Bruins bringing up the rear? I just don't see this being their year, which will likely cost Claude Julien his job and could prompt a partial rebuild with the likes of Zdeno Chara and perhaps Tuukka Rask moving on. You heard it here first.
FORBES: I fully expect Toronto to take a step forward this season. I, like Larry, don't foresee a playoff berth but can confidently say that 2017-18 might be the year Toronto gets playoff hockey again (one more year Leafs Nation).
As for Detroit, I once again agree. I think that playoff stretch is over for the Red Wings, and without a legitimate core with the same talent that the Detroit faithful are so used to seeing, it could mean a couple seasons will go by before Little Caesars Arena gets some playoff hockey.
That being said, here's a look at my Atlantic Division predictions. Tampa Bay, Florida, Montreal (if Price stays healthy), Buffalo, Detroit, Ottawa, Toronto and Boston. For me, Rask showed last year that he can't exactly take 40 shots per night and stay successful. With an aging Chara and David Krejci so often in and out of the lineup, this might be the season that Boston drops right off the table.
One more prediction . . . are we convinced that Jimmy Vesey will be signing in the Atlantic Division? Buffalo, Boston, Toronto or other, who's winning those sweepstakes come Aug. 15? Could the addition of Vesey impact the standings for those teams?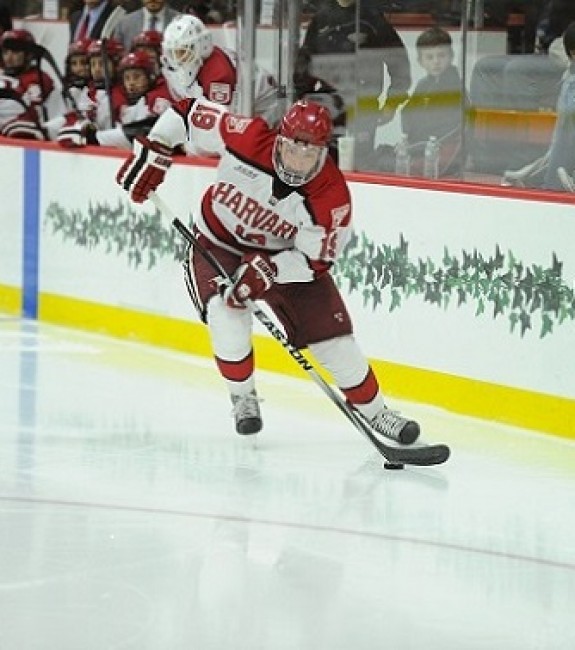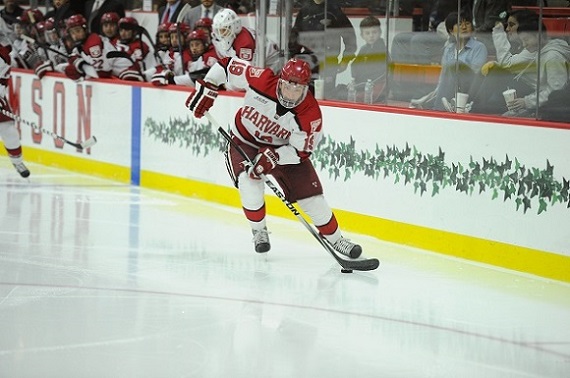 FISHER: Yes, it certainly seems like Vesey's list of potential suitors all reside in the Atlantic Division. It's still possible that some "other" team blows him away if he's willing to listen but, money-wise, every team will be offering Vesey the same maximum entry-level contract. So Buffalo, Boston and Toronto remain the perceived frontrunners, though I wouldn't rule out Detroit or the New York Rangers either.
The Sabres were smart to trade for Vesey's negotiation rights, knowing he's training with Eichel this summer and wanting to avoid any tampering allegations. The more I think about it, the more I like Buffalo's chances of landing Vesey now. He'd be a great fit there on a kid line with Eichel and Sam Reinhart, playing softer minutes behind Ryan O'Reilly, Evander Kane and free-agent signing Kyle Okposo. That top-six might be enough to thrust the Sabres into the playoff picture.
I don't think Vesey would put Boston or Toronto over the top like that, but he'd be a huge piece of either teams' future. Right now, I'd rank Boston ahead of Toronto and behind Buffalo, albeit just slightly. It might turn into a two-horse race between the cities starting with the letter 'B'.
FORBES: I truly believed heading into last season that there was a good chance Vesey comes to Toronto. After all, his brother and father are already part of the organization. However, I wouldn't be shocked if he signed in Buffalo with the significant moves that the Sabres have made. With the talent pool waiting just down the highway from Toronto, Buffalo might now have the best shot.
While some still believe that Boston is the favourite, if Vesey's looking to start his career in a significant role, Buffalo looks like it would be the best option.
That being said, Stamkos signed back in Tampa Bay for less than his first reported asking price so, when it comes to free agency, anything can happen.
---
Who won this round of Facing Off? Feel free to weigh-in with your opinions in the comments below. We will be checking in periodically to both defend and expand on our initial answers. If you want to see us face-off over a topic, we're open to suggestions as well.
Larry Fisher is a senior writer and head scout for The Hockey Writers, having been an at-large contributor for THW since August 2014. Fisher covers both the NHL and the WHL, specializing in prospects and NHL draft content, including his annual mock drafts that date back to 2012. Fisher has also been a beat writer for the WHL's Kelowna Rockets since 2008, formerly working as a sports reporter/editor for The Daily Courier in Kelowna, British Columbia, Canada from 2008-2019. Follow him on Twitter: @LarryFisher_KDC.