Facing Off is a weekly column debating five of hockey's hottest topics each and every Monday. From current events like trades and hat tricks to bigger-picture stuff like scandals and expansion — you name it, we're debating it. Albeit, not always with a serious tone. We're keeping this column light, so keep that in mind when reading, and feel free to join in on the fun by leaving a comment. Follow us on Twitter (@FacingOff_THW) and get in on the debate there too.

Ken Holland, and many in hockey, believe American Thanksgiving is an important date on the NHL calendar.
The belief is that teams holding down playoff spots on that day in November — essentially the quarter-mark of the regular season — are likely to make the postseason come April.
And the stats support that theory, with 78 per cent of those teams indeed advancing to the playoffs. That translates to more than 12 out of 16 at season's end.
So what does that mean for this season? Well, here were the projected playoff matchups as of Thursday, which was American Thanksgiving.
Western Conference
C1) Chicago vs. WC2) Nashville
P1) Edmonton vs. WC1) Anaheim
C2) St. Louis vs. C3) Minnesota
P2) San Jose vs. P3) Los Angeles
Eastern Conference
A1) Montreal vs. WC2) New Jersey
M1) New York Rangers vs. WC1) Columbus
A2) Tampa Bay vs. A3) Ottawa
M2) Pittsburgh vs. M3) Washington
If historical data holds true, 12 or perhaps as many as 13 of those teams should go on to earn playoff berths.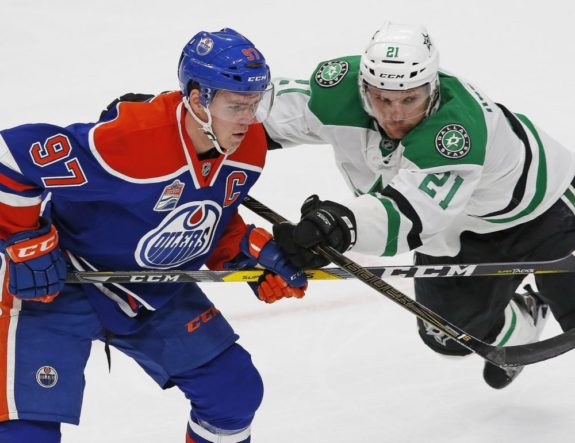 That's certainly promising for Canada, with three clubs from north of the 49th parallel currently in post-season positions after getting blanked last season. History suggests at least two of Montreal, Ottawa and Edmonton will make the playoff cut, but there's obviously a lot of hockey left to be played — roughly 60 games per team.
The real intrigue lies in which three or four teams will fall out of the playoff picture, and which teams on the outside looking in will wind up taking their place.
If I were a betting man, which I tend to be, I'd have Philadelphia and probably Florida (but possibly Toronto) replacing Columbus and New Jersey in the East, with Dallas and maybe Winnipeg bumping Minnesota and perhaps Anaheim in the West. But what do I know, considering my preseason predictions had Columbus, New Jersey and Anaheim as draft lottery teams, along with Vancouver.
That's neither here nor there when it comes to this week's Facing Off. Dan Mount, one of the regular contributors to this column over the last calendar year, joins me to debate the new Las Vegas franchise, the team he roots for in the Rangers and the team he covers for THW in the Predators.
Vegas is all the rage again right now. Your thoughts on the Golden Knights — the name, the logo, the colours, the unveiling ceremony?
The newest addition to the NHL pic.twitter.com/AjILqGntLF

— Brady Trettenero (@BradyTrett) November 23, 2016
MOUNT: It could have been much worse because some of the names bandied about were terrible. Desert Knights and Desert Hawks would have been disastrous for the branding. The Hawks thing could have caused way too much confusion with Chicago and all. I would have hoped for something like the Aces or the Gamblers, but one can understand the NHL's hesitation with being associated with gambling.
I know owner Bill Foley is a West Point grad and wanted to have some element of that in the logo. He wanted Black Knights, but couldn't get clearance for the name. However, this is a good compromise. There's also a West Point connection, with the changing of the Florida Panthers logo to match more of an Army unit crest.
The colors are cool, but the unveiling ceremony was kind of a mess. I will say the logo looks pretty nice with the "V" mixed into the helmet. I think it's one of the better logos in the league.
FISHER: Technical difficulties aside, I was a big fan of what Vegas had to offer. And that's Vegas, not Las Vegas. From that subtle touch, to the logos and the colours, the Golden Knights totally won me over and might already be my second favourite franchise. I've always had a soft spot for expansion teams, taking a liking to the San Jose Sharks as a kid, then quickly switching allegiances to the Mighty Ducks of Anaheim in my adolescent years.
Truth be told, I even sported Guy Hebert's Heaton Helite III goalie set-up — that being jade-and-purple pads and gloves — for a couple years before reverting to Curtis Joseph's Louisville gear from his Edmonton Oilers days.
Back on topic, I was shocked that Foley and Co. were able to keep their name a secret in today's social-media age — that's no easy task, so well played on their part in maintaining the suspense. I was a bit partial to the Desert Knights in the build-up — that name got my vote in all the polls — but the Golden Knights proved to be a pleasant surprise. In hindsight, gold was the right choice considering it's the world's top currency and Vegas is a city best known for money. There is still a hint of gambling when you think golden, and I like it. I like it a lot.
Speaking of Vegas, team officials have expressed some concerns over the expansion draft and the projected talent pool. Have you done a recent mock draft and, if so, did you come away with a competitive roster? Considering the presumed available players, what kind of odds would you give the Golden Knights for making the playoffs in their inaugural season? How about winning the Stanley Cup within six seasons, as per the owner's prediction — is that realistic or within the realm of possibility?
MOUNT: I haven't done a mock, but I've seen some of them and I wonder what stars could be had for the draft. The biggest name I saw going to Vegas was Nail Yakupov from St. Louis. He's a nice player, but not one to build a franchise around.
They'll have some good role players, but Vegas loves its stars like it does with Elvis, Celine Dion and Mariah Carey. They'll need to make a play for someone that can sell tickets and jerseys.
I'm sure Foley and George McPhee will work the phones to try to get some draft picks or another star player. However, it's going to be very hard to make the playoffs in the Western Conference. The Central is just too tough and teams like Edmonton and Calgary are rising along with the traditional powers of San Jose, Los Angeles and Anaheim.
https://www.youtube.com/watch?v=a32OXJ2cAiI
FISHER: Yeah, Vegas is definitely going to be in tough. I did do a mock draft this summer through GeneralFanager (RIP) shortly after Las Vegas was awarded a franchise, but our THW readers were quick to pick it apart and poke holes in my roster for a variety of reasons.
Mock Expansion Draft: Las Vegas Lineup Better Than Expected https://t.co/NwJv3w76Lb #THW

— The Hockey Writers (@TheHockeyWriter) July 15, 2016
There has since been some transactions around the league to further deplete the lineup I had envisioned, and McPhee is anticipating another wide-scale "redistribution of players" — be it ahead of the trade deadline or following the playoffs in advance of the expansion draft — that will leave Vegas with slim pickings.
As more of the rules and potential loopholes have come to light, it's now apparent that the Golden Knights are going to be starting from scratch — and probably starting from the bottom — like most expansion teams in years past.
The official #NHL expansion draft exempt list contains a few surprises, writes @reporterchris: https://t.co/e3XzBb6v8v pic.twitter.com/xMhPqYi3aK

— Sportsnet (@Sportsnet) November 23, 2016
Reality is, Gary Bettman pulled the wool over Foley's naive eyes with all that lip service about the potential of Vegas icing an instant contender coming out of the expansion draft. That ain't happening, not with the limited talent pool that is taking shape. Here's an article that really sums up the challenges facing McPhee, highlighted by this particular snippet: One running joke among Vegas scouts has been "Hey, did you see our third line? We've got about five of them."
Why Vegas @GoldenKnights aren't getting much for $500 mil, no matter what #NHL says about deep expansion draft: https://t.co/Jfuapj2oEz #TSN pic.twitter.com/pTsYsdXzI7

— Frank Seravalli (@frank_seravalli) November 23, 2016
Good on Foley for being ambitious and downright bullish on his team's future — the more I listen to Foley, the more I like the guy — but patience is going to be key for the Golden Knights. They are going to have to build through the entry draft, which Foley has since acknowledged, and I'm sure they will do well in free agency too. Vegas is going to be a popular destination for players — much more so than Quebec City would have been — so that will help accelerate the process, but Foley won't be able to buy a winning roster in a salary-cap system. McPhee and his support staff, along with whoever emerges as Vegas' coach, will need to develop that winning culture and it won't be as easy as Bettman made it out to be.
I can't see the Golden Knights hoisting the Stanley Cup within six seasons, but whenever they do — perhaps within a decade — that parade down the Vegas Strip is going to be something else. Legen-dary, to say the least.
Speaking of Vegas coaching candidates . . . are you surprised the Panthers fired Gerard Gallant? Or that Tom Rowe is taking over in the dual role of head coach and general manager?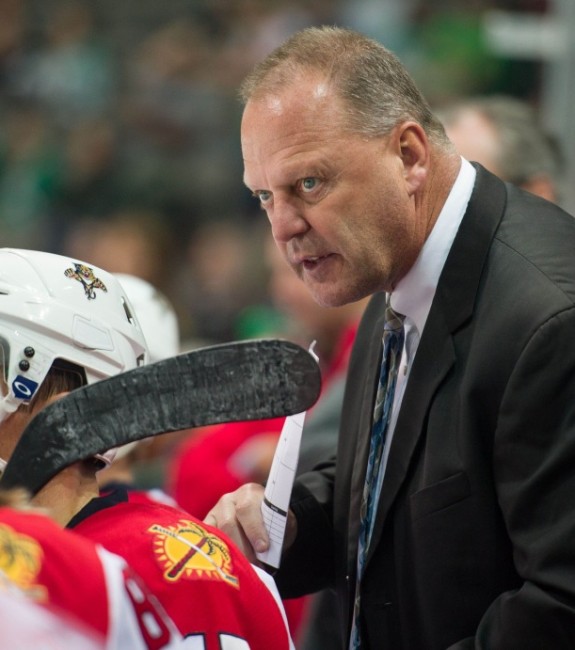 MOUNT: I'm speechless because I thought Florida would have turned it around with its young group. Gallant must have lost the veterans in the room like Jaromir Jagr or Roberto Luongo. Aaron Ekblad hasn't been lightning it up like he did last season, but his problems are the tip of the iceberg.
Rowe is going have to put up or shut up here. He may take the fall if the Panthers don't dig themselves out of this early-season hole. However, it's not new for GMs in the Miami market to get behind the bench. Just ask the Miami Marlins last season, when Dan Jennings came down from the office to manage. That didn't work out so well for him, as he was fired at the end of the season.
FISHER: If you follow the heavy-hitters of hockey Twitter, you're already well aware of the shock factor and almost a sense of anger over Florida's latest head-scratching decision. Heads have been rolling there ever since the new ownership regime took over, and Gallant is just the latest holdover to get the axe.
I didn't see it coming — nobody really did — but nothing the Panthers do should surprise us anymore. Florida is definitely doing things differently down there — as covered in great detail here by James Mirtle, formerly of the Globe and Mail — and it's rubbing a lot of people the wrong way.
Florida ownership taking a beating privately around the hockey community. Gallant is a highly respected and well liked hockey man.

— Darren Dreger (@DarrenDreger) November 28, 2016
The most clueless front office in the NHL fires Gerard Gallant as coach Guess the computer boys ran the numbers and it didn't add up.

— steve simmons (@simmonssteve) November 28, 2016
https://twitter.com/NHLbyMatty/status/803073958371295232
You can't help but feel for Gallant, who had inked an extension through 2019 and was a finalist for the Jack Adams as coach of the year last season, finishing as runner-up to Barry Trotz. Gallant still seemed to be getting decent results from a depleted lineup, without arguably his top offensive catalyst in Jonathan Huberdeau, who remains sidelined by an Achilles injury sustained in the preseason. Big centre Nick Bjugstad was hurt until recently too, leaving a gaping hole down the middle, and the defence had been completely overhauled in the offseason, which made for early growing pains.
All valid reasons to cut Gallant some slack, but apparently the damage had already been done, and much of that presumably took place behind the scenes. It's safe to say there were some 'philosophical differences' there between Gallant and the higher-ups, and that might go back to Dale Tallon's unceremonious dismissal (err, "promotion") in favour of Rowe as general manager.
https://twitter.com/FriedgeHNIC/status/803062536069332992
This time last year, Tom Rowe was coaching AHL Portland. Became Florida Panthers AGM after Christmas; now coach/GMhttps://t.co/NndQDA0Hyt pic.twitter.com/iswQd0jQXE

— George Richards (@GeorgeRichards) November 28, 2016
Rowe has really rose up the ranks there, having been a relative unknown AHL coach at this time last year. He somehow got into the good graces of the new owners, earning a promotion to Florida as an assistant GM before replacing Tallon and now Gallant. Stunning from the outside looking in.
Not to worry, Gallant should land on his feet soon enough. I'm assuming his name leaped to the top of McPhee's list to lead the Las Vegas franchise into their inaugural season next fall — that would be a good fit for Gallant, but he might not be unemployed that long.
This firing could trigger a chain reaction, and the New York Islanders could surely benefit from bringing in Gallant. Garth Snow recently gave Jack Capuano a vote of confidence there, but the losses have continued to pile up in leaving the Islanders dead last in the league's overall standings. That change could come sooner than later now that Gallant is available. That's my new prediction.
This was the last set of Bovada odds for first NHL coach fired (Nov. 8). Gallant wasn't even on the board pic.twitter.com/TbWqfV8QcJ

— Mike Halford (@HalfordTSN) November 28, 2016
How about those Rangers? Many expected them to regress this season, but they are enjoying a resurgence through the first quarter. Were you surprised by that early success? What can it be attributed to? And can the Rangers keep it up over 82 games? Should they be considered a playoff lock?
MOUNT: I'm really impressed with the way Jeff Gorton has been able to work with the stifling restrictions of the salary cap. He was trying to find takers for anyone not named Henrik Lundqvist, but wasn't able to move them. However, Gorton's made the best of the roster he inherited from Glen Sather with some of the bargain-basement moves he's made.
Michael Grabner and Brandon Pirri are two of the shrewdest buys in recent history. Both have earned bigger paydays and have provided the depth that the Rangers needed. Games do not have to fall on the shoulders of Rick Nash, Mats Zuccarello and Derek Stepan anymore.
The defense is the bigger story, as it was the team's weakness last season. They looked slow and out of their element. However, Marc Staal is having a bounce-back year and Ryan McDonagh and Dan Girardi look like they've healed. Brady Skjei gives them depth and youth on the blue-line too.
It's also nice that Lundqvist can give up more than one goal a game and still be in line for a win.
FISHER: True that, true all that. The Rangers are firing on all cylinders — aside from Sunday's shutout loss to Ottawa — and attacking in waves this season. They are one of the teams I highlighted prior to the season in terms of potentially rolling four scoring lines, and that depth has definitely paid dividends. I mean, Dan didn't even mention the all-American trio of Chris Kreider, Kevin Hayes and J.T. Miller, nor the dynamic rookie duo of Jimmy Vesey and Pavel Buchnevich among the team's many difference-makers.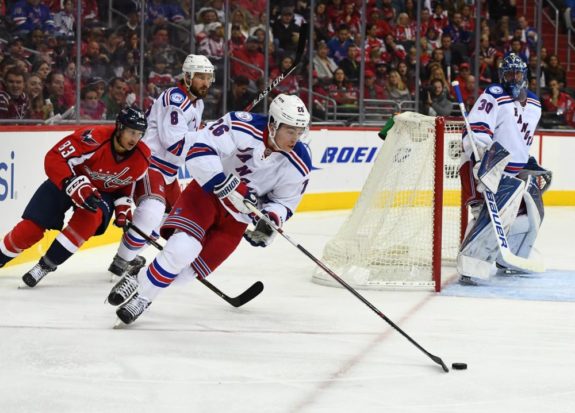 I wasn't high on the Rangers when I left them out of the playoffs in my offseason predictions, but the subsequent signings of Vesey and Pirri helped me realize Gorton's vision and my preseason predictions had the Rangers sneaking into the postseason again as a wild-card team. I couldn't have foreseen Grabner's goal-scoring spree to start the season, and I'll admit that I was among those who felt Staal and Girardi were washed up. They are proving me wrong, and the Rangers are sure looking for real from top to bottom.
Normally I'd say the only way the Rangers miss the playoffs now is if something were to happen to Lundqvist, but even Antti Raanta has been impressive in his backup role. The Rangers are absolutely a playoff lock, in my opinion, and home-ice advantage in the first round is a very real possibility.
Gorton deserves mad props, and give Alain Vigneault his due too — he's got this team playing an entertaining brand of hockey that is making the Rangers worth watching again.
About those Predators . . . they didn't exactly hit the ground running, as many anticipated. Were you shocked by Nashville's early struggles? What can that mediocre start be attributed to? Is it all up from here for the Preds or what is holding them back? Playoff lock or not?
MOUNT: It was a matter of goals. Not scoring enough and not being able to stop them. Pekka Rinne really struggled for the first month of the season before he found his footing. The Finn will figure it out, but he might be asked to carry a lot of the burden. The backup situation has been tenuous at best. Juuse Saros is the goalie of the future, but he needs a little more seasoning down in Milwaukee. However, he's having to play musical chairs with Marek Mazanec, who doesn't look like an NHL-calibre goalie at this point in his career. The Predators might have to add an experienced backup at some point.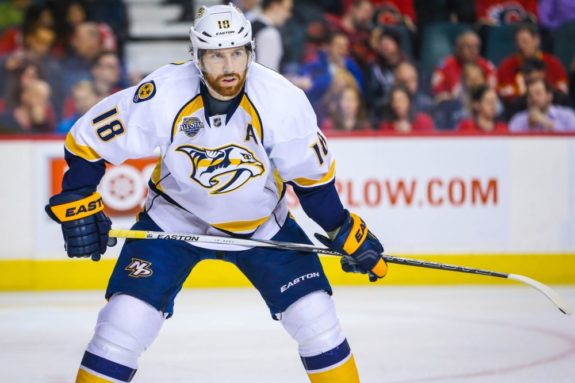 The old bugaboo of not being able to score has reared its head at times. James Neal and Ryan Ellis were starting to do well on offense, but injuries have derailed their recent scoring streaks. Let's hope Ryan Johansen's and P.K. Subban's recent run of form can help out. Plus, guys like Kevin Fiala are going to have start playing like top picks.
If Nashville is in a playoff position or a point off by Christmastime, I'll call the Preds a lock. However, they'll need to weather the storm and get healthy quickly.
FISHER: I thought the Predators were going to challenge for the Central crown this season, and that could still happen, but it has taken Nashville a while to get going for whatever reasons — likely the ones Dan alluded to. It does appear, at least on paper, that the Predators have turned the corner towards contender status again, having won seven of their last 10 games to get back above .500 at 10-8-3 overall.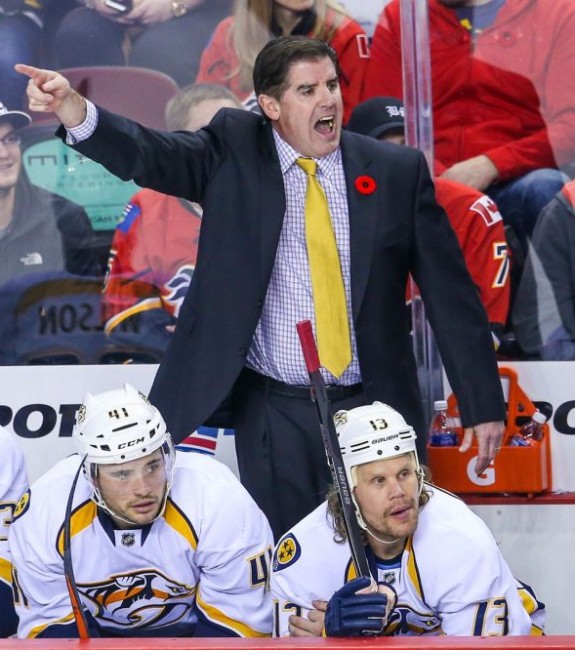 In all honesty, given Nashville's inconsistency out of the gate, I would have been less surprised if Peter Laviolette was fired than Gallant. Laviolette might be off the hot seat again now, but I'm not convinced he's pressing all the right buttons for the Predators. This team should, in my opinion, be better than it has been thus far.
Nashville's defence is as good as ever and Rinne has been flashing his Vezina-worthy form lately, which will be key to the Predators sustaining success. As Dan mentioned, even with the addition of Johansen last season, Nashville is lacking in firepower up front and its secondary scoring from the likes of Craig Smith, Colin Wilson and Mike Ribeiro has left a lot to be desired.
I'm tempted to point the finger at Laviolette for the shortcomings of those veterans, and for not getting more goals out of Filip Forsberg. Part of me thinks a coaching change could really spark this team, the way Bruce Boudreau has boosted Minnesota — offensively and otherwise. David Poile and I might not be on the same page there, but I'm no longer convinced the Predators will be playoff bound. They will probably have to scratch and claw for a wild-card spot at this rate.
BONUS TOPIC
Facing Off has spent plenty of time debating the Shea Weber-for-P.K. Subban blockbuster, especially during the last couple podcasts (Episode 4 and Episode 5). From your perspective, are the Predators missing Weber this season? Or is Subban more than filling the void now? Do you notice the difference, for better and/or worse, while watching the games? In hindsight, would you still make that trade from Nashville's standpoint?
MOUNT: I think Weber is loving life in Montreal. He's finally on a big stage and showing the world he's the big-time defenseman that Predators fans have been saying he was.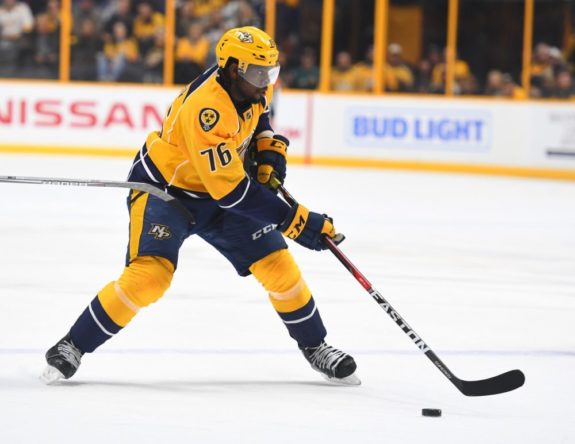 However, I don't think Subban is doing poorly in Nashville. He's starting to score goals and getting used to Laviolette's system. I think he and Roman Josi need to start playing together on the power play because that could really terrify teams, both with their shots and playmaking ability.
Montreal might win the trade the first couple of years, but Nashville will come out ahead because it's getting Subban in his prime years at a cheaper rate. Poile would make this trade again 100 times out of 100.
---
Who won this round of Facing Off? Feel free to weigh-in with your opinions in the comments below. We will be checking in periodically to both defend and expand on our initial answers. If you want us to face-off over a topic, we're open to suggestions as well.