The Arizona Coyotes started last week with a thud, as they dropped a 4-1 decision to the Vancouver Canucks on Wednesday night at Gila River Arena. Goaltender Mike Smith had a tough night, as he allowed four goals in less than thirty minutes of play before he was pulled and replaced by backup Louis Domingue.
Mid-2nd, #Canucks up 4-1 with three goals on their last six shots. 🔥 pic.twitter.com/mk0i98BFJl

— Vancouver #Canucks (@Canucks) November 24, 2016
The Edmonton Oilers came to Gila River Arena on Friday night looking to win their fourth straight game, but Smith made sure it didn't happen, as he bounced back with 32 saves on 34 shots in regulation and overtime and made two saves on three shootout attempts to give his team the 3-2 victory.
Following their victory at Gila River Arena, the Coyotes traveled to Rogers Place in Edmonton to finish out their home-and-home with the Oilers on Sunday afternoon and were able to pick up a 2-1 victory thanks to a late goal from Jamie McGinn.
McGinn regains the lead with this beauty pic.twitter.com/yQBe6IPDWO

— Arizona Coyotes (@ArizonaCoyotes) November 27, 2016
With the win, the Coyotes also extended their point streak against the Oilers to 25 straight games, which ranks among the longest such streaks in NHL history.
This is longest team-versus-team point streak in NHL since the Flyers had a 32-game run against the Kings from 1974 to 1983.

— Sarah McLellan (@sarah__mclellan) November 27, 2016
Staying in the Pacific
The Coyotes will be back in action on Tuesday night in San Jose. Arizona has beaten the Sharks at home twice this season, but this will be the team's first trip to the Shark Tank since being shut out 1-0 in last year's season finale. Puck drop is scheduled for 8:00 P.M. in San Jose.
Arizona will then head back home on Thursday for the first of five season matchups against the Los Angeles Kings. The Coyotes played well against the Kings last year, as they finished the season with a 3-1-1 record against their division rival. The game will be Arizona's eighth consecutive game against a divisional opponent. Puck drop is scheduled for 7:00 P.M. in Glendale.
The Coyotes will stay at home on Saturday, as they'll host the visiting Columbus Blue Jackets. John Tortorella's squad swept Arizona in the season series last season and averaged six goals per game while doing so. Puck drop is scheduled for 6:00 P.M. in Glendale.
Offense Struggling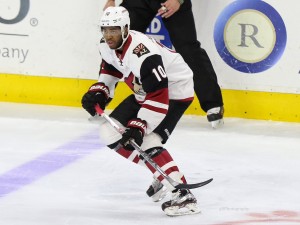 The Coyotes have scored just eleven goals in their last six games, but have somehow managed to earn points in five of those contests. Radim Vrbata currently leads the team with seven goals, but he hasn't had much help, as most of Arizona's other skilled forwards have struggled to get going in 2016. Notably, Anthony Duclair has been ice cold for most of the season — he scored a goal and converted on a shootout attempt on Nov. 3 against Nashville, but has done little else. Since he's still on his entry-level deal, he could be at risk of being demoted to the AHL if he doesn't get things turned around soon.
In addition, Shane Doan has gotten off to a slow start to the season — after scoring 28 goals in 72 games last season — the Captain has scored just twice in 20 games in 2016-17. His shooting percentage of 5.1% will surely improve as he gets some puck luck to go his way, and the Coyotes are hoping their team leader gets going sooner rather than later.
DeAngelo Shines
One player who has been a consistent option on offense for the Coyotes this season is rookie defenseman Tony DeAngelo. The 21-year-old has two goals, four assists, and a plus-one rating in nine games so far, and looks to be well on his way toward developing into one of the NHL's premier offensive defensemen.
5. #Coyotes rookie d-man @TonyDee07 has notched a point in four straight games and six of his eight NHL games.

— Dave Vest (@davestinaz) November 27, 2016
DeAngelo has outperformed highly-touted free agent acquisition Alex Goligoski, and, after just nine games, has vaulted past Jakob Chychrun, Luke Schenn, Kevin Connauton, and Michael Stone on the depth chart as well. If the youngster continues to contribute on offense, he'll be around in Arizona for a long time.
Domingue Injured
With Louis Domingue suffering from a lower-body injury, the Coyotes were forced to recall Justin Peters from the Tucson Roadrunners. Domingue is considered day-to-day, which suggests that his injury is relatively minor.
Coyotes G Louis Domingue (lower body) will go on IR & team will recall C Tyler Gaudet from Tucson w/Laurent Dauphin ailing after shot block.

— Craig Morgan (@CraigSMorgan) November 26, 2016
Other than Domingue and Brad Richardson, who is currently rehabbing from his broken leg, the Coyotes are skating healthy. Laurent Dauphin also sustained an injury from blocking a shot, but he stayed in the lineup and didn't miss a game.
Pacific Division Roundup
The Edmonton Oilers continue to lead the Pacific Division but sit just one point ahead of the Sharks and Kings. Here's how Arizona's other division rivals fared last week:
Anaheim Ducks (10-8-4)
Last week: 1-1-1
Analysis: Each of Anaheim's last five games have ended with a final score of 3-2, but the Ducks are just 2-2-1 in these games. They're playing better hockey as of late but will need to string together some wins in order to keep pace with the other teams in the Pacific.
Player of the week: Cam Fowler – Goal, assist, +4
This week: Tue vs MTL, Thu at VAN, Sat at EDM, Sun at CGY
Calgary Flames (10-13-1)
Last week: 2-2-0
Analysis: The Flames have won three of their last five, but prized offseason acquisition Brian Elliott has continued to struggle; the veteran goaltender allowed four goals on 32 shots on Monday in Buffalo in his first start since Nov. 12 and has lost six straight starts. His save percentage sits at an ugly .882 on the season.
Player of the week: Dougie Hamilton – 3 assists, +1, 12 shots
This week: Mon at NYI, Wed vs TOR, Fri vs MIN, Sun vs ANA
Edmonton Oilers (12-9-2)
Last week: 2-1-1
Analysis: The Oilers shut out the Chicago Blackhawks by the score of 5-0 on Monday, and followed that up with a 6-3 road victory over the Colorado Avalanche on Wednesday. However, they ran into their kryptonite over the weekend, as they suffered a regulation and shootout defeat at the hands of the Arizona Coyotes, who are 21-0-4 in their last 25 against the Oilers.
Player of the week: Milan Lucic – 2 goals, 5 assists, +3, 17 shots, 15 hits
This week: Tue vs TOR, Thu at WPG, Sat vs ANA, Sun vs MIN
Los Angeles Kings (12-9-1)
Last week: 2-0-0
Analysis: The Kings scored three third-period goals in 44 seconds to pick up a 4-2 victory over the Islanders on Wednesday, and defeated the Chicago Blackhawks in overtime by the score of 2-1 on Saturday night. They've now won five straight, and appear to be hitting their stride.
Player of the week: Peter Budaj – 2-0-0 record, 40 saves on 43 shots (.930 SV%)
This week: Wed vs SJ, Thu at AZ, Sun vs MTL
Peter Budaj stopped 19 shots to win his 12th game of the season, second most in NHL; has played in 20 straight, longest stretch of career.

— LAKingsPR (@LAKingsPR) November 27, 2016
San Jose Sharks (12-9-1)
Last week: 3-1-0
Analysis: The Sharks picked up wins in their first three games of the week, but lost to the Ducks on Saturday night. San Jose continues to be consistently inconsistent; they've yet to string together more than three consecutive victories this season and have suffered two separate three-game losing streaks in the month of November.
Player of the week: Brent Burns – 2 goals, 4 assists, +3
This week: Tue vs AZ, Wed at LA, Fri vs MTL
Vancouver Canucks (9-11-2)
Last week: 2-1-0
Analysis: The Canucks have turned things around since a nine-game losing streak, but they'll need to string some wins together in order to get back into the hunt for a playoff spot. They've alternated wins and losses over their last 10 games.
Player of the week: Bo Horvat – Goal, 4 assists, +4
This week: Tue vs MIN, Thu vs ANA, Sat vs TOR
The Coyotes have points in five of their last six games, and, with two more divisional games ahead, are primed to make up more ground in the Pacific this week. If they continue to get solid goaltending from Mike Smith, they should be able to hang around and climb back into contention.
A lifelong Phoenix resident, Louis has been following hockey since 2010, has covered the Arizona Coyotes since 2015, and has been playing hockey since 2020. So far, Louis has visited eight NHL cities, and one of his personal goals is to eventually make it to all 31 NHL arenas. For any questions or concerns, contact the writer via Twitter @LouisPannone.