As disappointing as losing both ends of a home and home set with the Arizona Coyotes over the weekend might have been for the Edmonton Oilers and their fans, the greater concern appears to be this team's inability to take care of business in their new shiny home. After years of being unable to gain any meaningful traction over at Rexall Place, the hope was the 2016-17 edition of the Orange and Blue would finally be able to take advantage of playing on their home sheet of ice.
Following yesterday afternoon's 2-1 loss to Arizona, the Oilers find themselves with a rather underwhelming 5-5 record at the quarter pole of their home schedule. Compare that to their Western Conference-best  7-4-2 mark away from Rogers Place and one can't help but wonder what gives. Could it be the pressure of playing in front of their fans? Perhaps but at this stage of the game, that really should not be an issue with a team that has as much NHL experience as this roster does.
The Oilers drop to 5-5 at home.
0-4 on Sunday's including losses vs. Ottawa, NY Rangers, and Arizona where Oilers have a combined 118 SOG

— Bob Stauffer (@Bob_Stauffer) November 27, 2016
Could it be due to a tougher than normal home schedule? Well, the Oilers have actually done quite well against teams most people felt were destined for strong seasons in 2016-17. Posting a 3-1 mark against the Chicago Blackhawks, New York Rangers, St. Louis Blues and Washington Capitals is no small feat and they were by far and away the better side in all three of those victories. However, they have not been nearly as lucky against the likes of the Coyotes, Buffalo Sabres, Calgary Flames, Carolina Hurricanes, Dallas Stars and Ottawa Senators.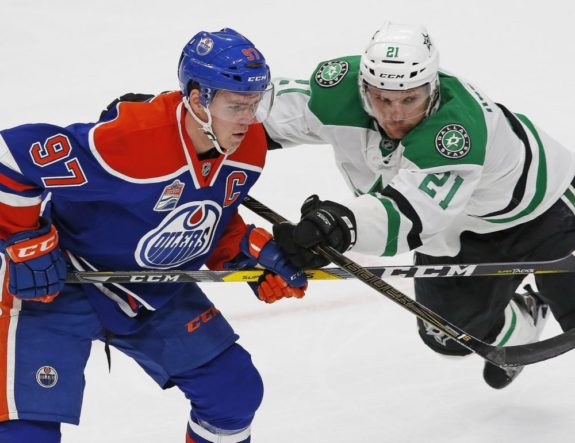 Oilers Generating Plenty of Opportunities
As if dropping four of those six games wasn't already bad enough, Edmonton pushed the 40-shot barrier in three of those games but still managed to lose all of them. While Senators netminder Craig Anderson had a night to remember in what turned out to be a pretty special evening in blanking the Oilers in late October on the strength of a 37-save performance, Kari Lehtonen and Mike Smith managed to stop 40 and 41 shots respectively in the other two…despite neither one getting off to particular good starts to their year.
Could it be nothing more than a combination of a few hot goalies and a bit of bad luck from the home side on the finishing end of things? The numbers suggest that is probably the case but there is one sticky point in that equation. After 23 games, Edmonton and the San Jose Sharks are tied for 17th in power play efficiency at 17.4% but when one takes the time to do a little digging into that matter, everything starts to fall in place.
The power play didn't result in anything, but the shift immediately after was all-world. -mf

— The Oilers Rig (@TheOilersRig) November 27, 2016
Through their first 13 games on the road, the Oilers are clicking at a rather impressive 21.6% on the man advantage, scoring on eight of 37 chances on the power play. Compare that to their success rate of just 12.5% over at Rogers Place, (4-for-32), and suddenly the reason for the difference in their home and away splits make perfect sense. In fact, if not for a two-goal outburst against the Blackhawks league-worst penalty killers early last week, Edmonton would be under 10% with the man advantage on home ice.
Oilers Power Play is the Difference
With that said, Todd McLellan's crew has still managed to ride the league's seventh-ranked power play on the road to a winning record away but could do no better than .500 in their own backyard, thanks in large part to their inefficiency with the man advantage. That may seem a little simplistic but it really is that simple. Like most NHL cities, the fans in Edmonton tend to get on the players when the power play isn't clicking and whether players want to admit it or not, that extra bit of negativity in the air only makes things tougher in what is already a difficult situation.
When things are not going well, athletes tend to overcompensate and try to do too much, which more often than not proves to be a recipe for disaster. However, the chances of that not occurring are next to nil. That said, go out and score a couple of more power play goals and suddenly not so many guys are squeezing their sticks so tightly. Again, easier said than done but that is the predicament this group currently finds itself in.
That.. That power play wasn't very good #Oilers too much finding the right shot and over passing

— Alan Smithee (@oiler_country) November 27, 2016
No matter how you look at it, the Edmonton Oilers are going to have to find a way to not only win more games on home-ice over the final four months of 2016-17 but also make Rogers Place a stop opposing teams have little interest in making. In order for this team to make that happen, the power play is going to have to get going because they are going to need it if they have any hopes of trying to hang onto their current position atop the Pacific Division for the foreseeable future.