Facing Off is a weekly column debating five of hockey's hottest topics each and every Monday. From current events like trades and hat tricks to bigger-picture stuff like scandals and expansion — you name it, we're debating it. Albeit, not always with a serious tone. We're keeping this column light, so keep that in mind when reading, and feel free to join in on the fun by leaving a comment. Follow us on Twitter (@FacingOff_THW) and get in on the debate there too.

A couple weeks ago, we were debating the NHL's playoff format.
Andrew Forbes and myself weren't big fans of the current divisional brackets for several reasons. Nobody likes the fact that the two Stanley Cup favourites — the defending champion Pittsburgh Penguins and reigning Presidents' Trophy-winning Washington Capitals — could realistically clash in the first round, or inevitably the second round barring an upset.
It would be strange, yet not, to see the New York Rangers crowned Atlantic Division champions. They are probably going to be the top wild-card team, finishing fourth in the much tougher Metropolitan Division and starting the playoffs without home-ice advantage despite likely having more points than the Atlantic's top seed, be it Montreal or Ottawa. That just seems wrong in every way.
Over in the Western Conference, it's not as big of a concern — and I would love to see a Battle of Alberta between Edmonton and Calgary in the opening round — but it's still not necessarily fair.
We were in favour of returning to the old 1-versus-8 format, but then friend of Facing Off, Alan Levine — aka Zeke here at THW — brought a better idea to our attention. And he's had this genius plan for a couple years, dating back to this article from June 2015. Give it a read because Zeke raises a few interesting points.
First and foremost, Zeke wanted to make the playoffs a pick 'em! As in the top seeds pick their opponents, at least for the first round.
Like old times, the top-eight teams would qualify for the postseason in both conferences, regardless of divisional standings. The No. 1 seed would have first pick, followed by Nos. 2, 3 and 4 assuming they hadn't picked each other.
Technically, Washington could still pick Pittsburgh in the first round, but that would be a highly unlikely scenario. However, if Sidney Crosby and Evgeni Malkin were both hurt heading into the playoffs and projected to miss the opening round, maybe just maybe the Capitals would choose to play the Penguins sooner than later — knowing they would be weaker in the first round than the second or third when those stars return, should Pittsburgh manage to advance without them.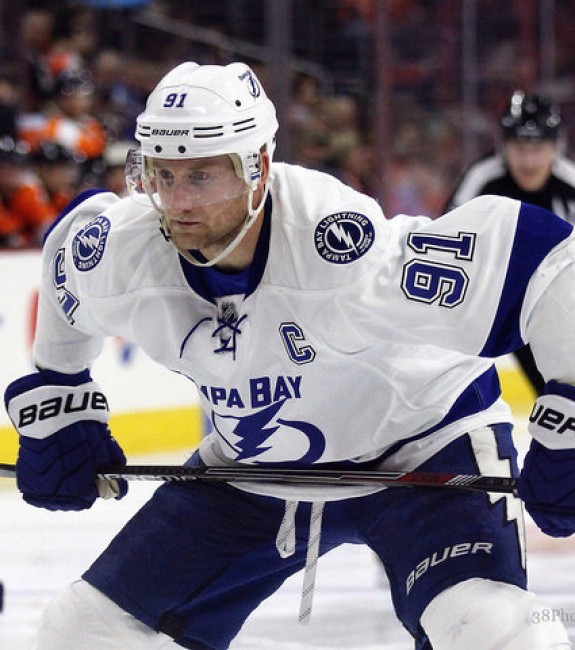 Realistically, Washington could be the No. 1 seed and Tampa Bay could still surge into the No. 8 seed in the Eastern Conference. If Steven Stamkos returns in time for the playoffs and the Lightning get healthy again, they would be a live underdog that nobody would want to play in the first round. Zeke's format would allow Washington to avoid Tampa Bay and pick a matchup more to its liking. Maybe Boston would be more favourable? Or whichever team is the most banged-up come playoff time, a few weeks from now.
The thinking behind this idea is that Washington has earned that right, to pick its poison, by being the best team in the regular season. Then have the next highest seed — even if it is the second-place team from the Metro rather than the Atlantic winner — pick its opponent from the remaining group. And so on and so forth until all eight teams have a dance partner.
As Zeke said, it would make for a great TV show — even more intriguing than the draft lottery. It would also make for great conversation amongst fans and media folks. And this format could incite fiercer rivalries than the forced divisional matchups simply because the teams getting picked would feel disrespected, resulting in hard feelings and plenty of motivation, not to mention 'be careful what you wish for' sentiments.
Zeke was willing to put some constraints on his format, if need be. Realizing the top-four seeds would be deserving of home-ice advantage — and the added playoff revenue from hosting those games — he suggested that perhaps the top-four seeds would only be able to pick an opponent from the bottom-four seeds. So, in that case, No. 1 Washington couldn't pick No. 2 Pittsburgh in the first round. The No. 1 team would have to pick from Nos. 5 to 8. That would lose a little bit of the drama, but it would be understandable.
Speaking of home-ice advantage, Zeke also suggested making it more of an advantage in the first round. In a best-of-seven series, give the higher seed five home games instead of the current four. Right now, teams play a 2-2-1-1-1 format. Make that a 3-2-2 format. The higher seed starts the series with three straight home games, but the lower seed is still guaranteed at least one home gate even if it gets swept. If the series goes beyond five games, the final two would also take place at the home of the higher seed.
Very interesting concepts, courtesy of Zeke, although I'm not convinced the teams would embrace this format either. They would probably prefer to keep the matchmaking out of their hands since this proposed system would put immense pressure on the top seeds, having handpicked their opponents.
Pressure aside, there would be too much pride and way too many egos involved. Reminiscent of how the All-Star draft — players picking players to form teams — was a big hit with fans and media but an epic failure in the eyes of the powers that be.
Zeke's playoff format would be a tough sell, as drastic changes always are within the NHL's old boys club, but it could be another boon for business from an entertainment standpoint.
As for this week's Facing Off, I'm joined by Dan Mount — one of our regular contributors, who covers the Nashville Predators for THW — and we'll be debating all the major awards with roughly 10 games remaining in the regular season.
Should we start calling Brad Marchand a superstar? Should we be giving him Hart Trophy consideration? Is he among your top-three MVP finalists right now?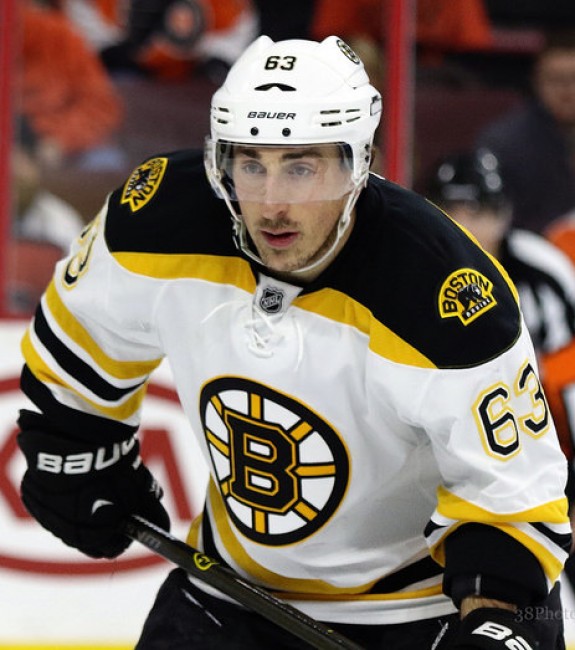 MOUNT: You have to put him on the list for the Hart Trophy. I know many people think Marchand leaves a bad taste in their mouth because of all the shenanigans that he's done over the years, but you can't deny he's carried this Bruins team. Boston was pretty much dead in the water when Don Sweeney and Cam Neely fired Claude Julien. However, Marchand has willed this team into playoff contention with a little help from Tuukka Rask.
Maybe Sweeney and Neely knew what they were doing when they installed Bruce Cassidy as coach, but I'm sure Cassidy owes a lot to Marchand if he becomes the permanent coach of the B's. That move should be a no-brainer if Boston makes the postseason.
I do think you have to put Marchand in the Hart conversation, along with Brent Burns and Connor McDavid. Burns is having a season to remember on the blue line and McDavid is on the edge of getting the Oilers into the postseason for the first time in over a decade. Crosby is on the edge of the list in case any of the trio slips up.
FISHER: We maybe should have saw this breakout season coming, based on Marchand's performance as Crosby's wingman at the World Cup of Hockey, but I'm still having a hard time calling him a superstar. I will go as far as to call Marchand a star, though. He's earned that much.
I'm also struggling to acknowledge Marchand as a Hart candidate, and I don't think I'm there yet. I can see the case for him and how he could be worthy, but Marchand wouldn't make my top three. Crosby is definitely ahead of Marchand on my list. He's leading the league in goals with 40 and tied for the lead in points with 80. If Crosby wins one or both of the Art Ross and/or Rocket Richard trophies, he has to be a finalist for the Hart in my opinion and I like his chances.
McDavid has been a finalist on everybody's ballot from Day 1, and I agree with Dan that he'll be the frontrunner if he captains the Oilers to their first playoff berth since 2006, which appears promising.
McDavid and Crosby are Nos. 1 and 2 for me right now, and I don't see a clear-cut No. 3. Marchand is in that mix, but so are a couple defencemen in Burns and Erik Karlsson as well as a couple goaltenders in Carey Price and Sergei Bobrovsky. I think I prefer any and all of those four to Marchand, but somebody else could still step up and force their way onto my ballot over these final 10 games. My mind isn't made up. Marchand might just win me over.
More on Marchand, is he the best left-winger in the NHL as of today? For the next three seasons, who would you want on your team: Marchand, Alex Ovechkin, Jamie Benn or some other left-winger? Or is Marchand a one-year wonder?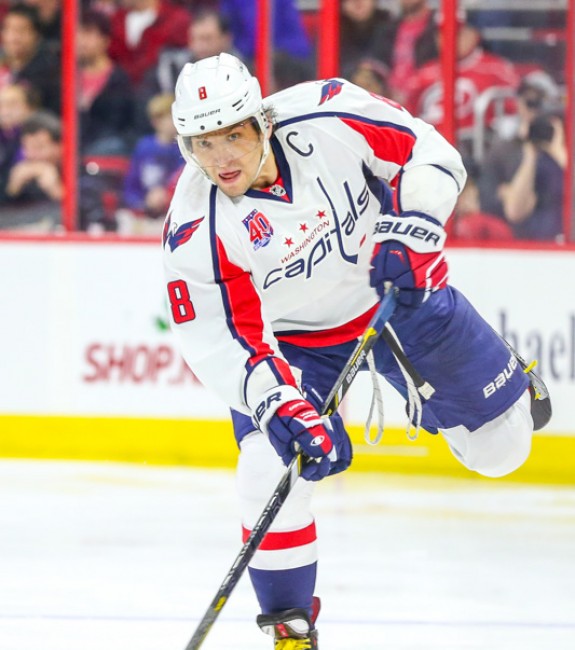 MOUNT: I'm still taking Ovechkin because he's so dynamic on offense. Ovie has improved his game so much since Barry Trotz took over for the Capitals because he's dedicated himself somewhat to defense. He won't ever be nominated for a Selke Trophy, but he's not a liability on the back end. How can you think anyone else but Ovechkin is the best left wing in the league? He's scary in open ice and is a monster on the power play.
Marchand and Benn are climbing up the rankings, as Marchand has cut the nonsense and extracurricular activities out of his game for this season. He's also been helpful on the defensive end as well. I don't think he's going to be a one-year wonder and he'll be in the Bruins' plans for a long time.
Benn is one of the few bright spots on a dismal season for the Dallas Stars, who can score plenty of goals but need to address plenty of concerns in net and on defense. General manager Jim Nill is going to have to figure out a solution in net and whether Lindy Ruff is the right man for the job.
FISHER: The stats don't lie and they show Marchand with 13 more points than the second-best left-winger, who is actually Artemi Panarin. Benn is 16 behind and Ovechkin trails by 20, which really speaks to the kind of season Marchand is having. We have to give Marchand his due and it's hard to argue against him being the best of the bunch right now.
In saying that, I'm with Dan in that I don't think Ovechkin is done by any means. I don't know if he'll have another 50-goal season left in him — he only has 28 this season and recently endured a career-long 10-game drought — but Ovechkin will always be more of a game-breaking talent than Marchand. Benn has played hurt a lot of this season, so he'll presumably be capable of more in the coming years too.
I would still take both those guys over Marchand, and I'd be tempted by Johnny Gaudreau, Panarin, Taylor Hall, Filip Forsberg, and maybe even Nikolaj Ehlers and Jonathan Drouin too. There are some exciting young left-wingers ready to take the torch from Ovechkin and perhaps overtake the likes of Marchand in the process.
I'm not saying Marchand will be a one-year wonder either, but I'd be shocked if he becomes a perennial 80-plus point player. I'm thinking this will be a career year for Marchand and he'll turn into a consistent 65- to 75-point player for the next half-dozen seasons. A star, but not necessarily a superstar.
Who's winning the Art Ross Trophy: Crosby (80), McDavid (80), Marchand (79), Patrick Kane (79), Nicklas Backstrom (75), Evgeni Malkin (72) or somebody else? How do you see the top-five point-getters being ranked at season's end?
MOUNT: I've got McDavid winning it, with Crosby and Malkin coming in second and third, respectively. So much of the Edmonton offense flows through the former Erie Otters center and that means he'll get plenty of chances to add to his point total. Edmonton's style of play and system allows more opportunities to get goals and assists. It also helps that he's got plenty of creative young playmakers and scorers on his team that know how to finish when McDavid gives them a nice feed.
Crosby and Malkin, once healthy, will make a push for the Art Ross, but I like the young one's chances. The Pens play in a division that has some good defenses (Columbus, Washington) and goalies (New York Rangers) and that will make games a little tighter down the stretch.
Also, can we give some love to Backstrom? I know he toils under the shadow of Ovechkin, but he's supremely underrated. He's a very big piece to why Washington has reached the postseason and why the Capitals have hit 100 points for the third consecutive season.
FISHER: This is going to be an awesome race to the finish now. Marchand does look a little out of place in that group, you have to admit, and I think he'll fade to the back of the pack. We should know better than to bet against Crosby, but I'm still leaning towards McDavid too. Crosby and Kane are both coming on strong, so McDavid will need to keep producing at more than a point-per-game pace to stay on top, but he's showing no signs of slowing down.
Everybody wants to win the Stanley Cup above all else, but this award is meaningful in terms of a players' legacy and those three, in particular, will take pride in winning the Art Ross this year. I think McDavid, Crosby and Kane finish top three — I'll say in that order — and I foresee each of them eclipsing 90 points. There probably isn't enough time left to get to 100, but I could see them flirting with that magic number. I think it'll take more than 95 points to win the Art Ross.
Backstrom will come close to 90 and Marchand might be in that range too. Had Malkin not been sidelined from blocking a shot of all things, I could have seen him topping 90 as well.
Who's winning the Rocket Richard Trophy as the league's leading goal-getter: Crosby (40), Marchand (37), Vladimir Tarasenko (34), Patrik Laine (33), Nikita Kucherov (33), Max Pacioretty (33), Malkin (33), Kane (32) or Auston Matthews (32)? Maybe Cam Atkinson (33), Jeff Carter (31) or somebody else? What order do you see that group finishing in, say the top 10? Do any of them get to the magic number of 50 goals?
MOUNT: I'm sticking with the top three of Crosby, Marchand and Tarasenko, but I think the St. Louis sniper makes a move to get past the frontrunners to get the Rocket Richard Trophy. The young Russian has been known to score in bunches and the Blues will try to open it up if they want to be comfortably in the postseason.
Unless someone goes on a tear, I only see these three having a shot at 50 goals. There really isn't a lot of time left. These goal-scorers are really going to have to get on the horse if they want to get to the magic number. It's a hard mountain to climb if you have to average a goal a game or more to get there. Plus, you may see teams rest guys and/or defenses key on players and that makes the task even harder if they want to get to that target.
FISHER: Crosby cemented himself as the favourite to win this award with Sunday's hat trick. He'll be tough to catch with how potent Pittsburgh has been and the kind of chemistry that Crosby has developed with Conor Sheary and Jake Guentzel. That is going to lead to more goals and 50 still isn't out of the realm of possibility for Crosby. He was scoring at a goal-per-game pace for quite a while and he still has 11 games left, so 10 more goals seems attainable for Sid.
I don't think Tarasenko or anybody else will top 45. The Jets don't have much left to play for — being 10 points back of a playoff spot — so I could see Winnipeg trying to help Laine win some hardware in his rookie season. Something tells me Laine still has another hat trick left in him this season and I could see him surging into second place in this category.
Matthews finally scored again on Saturday night, snapping out of a seven-game slump, so I could see him going on a little tear now too. Kucherov and Kane have had the hot hands lately. I'll predict the order to be Crosby, Laine, Kane, Kucherov, Tarasenko, Marchand, Matthews, Malkin, Pacioretty and I'm going to say Forsberg (29) squeaks into that top 10.
Sticking with the awards theme, does Matt Murray deserve consideration for the Calder? Who wins your rookie of the year right now? And who are your three finalists?
MOUNT: Murray has been a solid goalie, but I feel that there are some factors working against him this year. He's had a couple of injuries and he's on the defending champions. We've seen Marc-Andre Fleury pick up the slack when needed and you can almost put anyone in between the pipes at times for Pittsburgh. I still think he should get consideration and I have him in my top three candidates.
However, I've got Matthews and Laine as my top two, and Matthews is my pick as of now. I was worried that Mitch Marner was going to take some votes away from his teammate, but Matthews has raised his game to where that should not be an issue. The Arizona native should also be a lock if he gets the Leafs into the playoffs because the Toronto media will trumpet that accomplishment (which they should). I thought the Leafs would need a couple more years until they contended for the postseason, but it looks like things are ahead of schedule and Matthews is the main man behind the emergence of this young team.
Laine's season deserves recognition, but the Jets most likely missing the playoffs and his mid-year injury has handed the award to Matthews. I do think Laine is the backbone to Winnipeg's franchise, but he'll need to score at an epic pace in order to steal the Calder from Matthews.
FISHER: The rules clearly state Murray is eligible, so he does belong in the conversation. He'd be in my top five, but not my top three. Laine and Matthews — err, Matthews and Laine — are locks as two of the finalists in this stacked rookie class. I lean towards Matthews for the same reasons that Dan mentioned, plus he plays the tougher position as a centre, has had lesser linemates by comparison, and has posted better possession numbers. If Matthews finishes strong and Toronto makes the playoffs, he should be the winner over Laine.
My Calder ballot would be rounded out by the top rookie defenceman in Zach Werenski, who surprisingly took the league by storm in the early stages of the season and has stayed consistent for Columbus for the most part. Werenski has been logging top-pairing minutes and producing offensively, making him every bit as worthy as Shayne Gostisbehere was last year. Arguably more so, since he's still a teenager and three years younger than Gostisbehere as a rookie. Unfortunately for Werenski, those two forwards are still on another level.
Marner would be fourth on my list, just ahead of Murray. In a "normal" year, Werenski, Marner and Murray could all be finalists and nobody would complain.
Is Brent Burns a lock for the Norris? Any love for Erik Karlsson, Victor Hedman or somebody else as the league's top defenceman?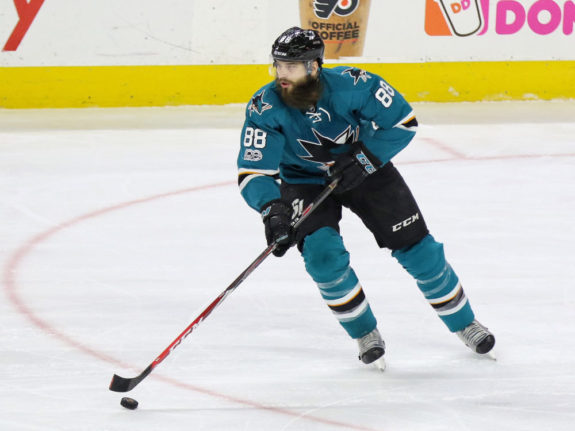 MOUNT: Burns pretty much is a lock for the award because it's tough for a defenseman to ever get consideration for the Hart Trophy. The bearded one is turning heads and inserting himself into the MVP race, so that means he should be a lock for the award barring an epic meltdown.
Karlsson would be a strong contender any other year, but Burns has set the bar so high that no one can catch him. Hedman's season has been lost in the injury-riddled campaign that has engulfed Tampa Bay. I think Hedman would have gotten some consideration if the Lightning had the season they had last year.
I do have to insert some kudos for Predators defenders Roman Josi, P.K. Subban and Ryan Ellis. The trio have shown flashes of brilliance, but injuries have derailed them at various points throughout the season. The Preds have been very inconsistent, but can give any first-round opponent headaches if all three are playing as best as they can.
FISHER: Karlsson couldn't will Ottawa to wins over Montreal on the weekend, but had the Senators' captain been the difference in that home-and-home, I might have been ready to declare him my winner today. It's a lot closer than people think when it comes to the Norris, or at least it should be.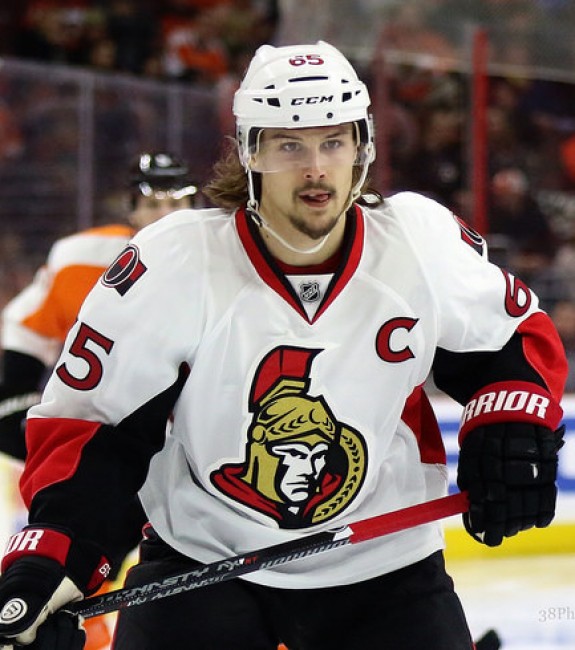 Burns has been slumping — goalless in his last 12 games and pointless in five straight — while Karlsson has been streaking with points in seven of his last 10 games, totalling 11 points over that span to Burns' five. Burns still has a five-point lead (70-65), but the Norris is about more than just points — as Karlsson has found out the hard way in years past, losing to Drew Doughty last season despite finishing with 31 more points (82-51).
There is a twist this year, though. A role reversal of sorts. Karlsson might just get my vote, based not on his offence, but on his defensive ability and all-around game. He clearly took last year's snub to heart and has been taking care of business in his own end first and foremost, as evidenced by leading the league in blocked shots (194).
Karlsson is no longer a rover, and the argument against him winning the Norris last year could work in his favour this time around. Providing the voters are paying attention and seeing past that stereotype.
Burns is no slouch defensively and he can still lock up the Norris with a late-season surge — if he scores 30 goals and gets to 80 points — but this award isn't the slam-dunk it was a month or two ago. Karlsson is going to make Burns earn it, that's for sure.
Hedman has been impressive too, but he'd be a fairly distant third on my ballot, with Werenski right behind him in fourth. Dougie Hamilton probably rounds out my top five and is deserving of a shout-out here too.
One more awards topic for good measure — well, a two-in-one — who are your Vezina and Jack Adams winners as top goaltender and coach of the year? Who are your three finalists for those trophies?
MOUNT: The theme for the Adams is rebirth. I've got Bruce Boudreau, John Tortorella and Glen Gulutzan as my candidates for coach of the year. I really thought Boudreau and Tortorella's styles were not long for this league as they're more of a gruff, old-school mentality. Many of us thought Torts would be one of the first to be fired after his disastrous performance at the World Cup. However, he's adapted to the personnel he got and turned Sergei Bobrovsky into his old self again.
Boudreau has made the Wild realize their potential. Many in the Twins Cities wanted results after the Zach Parise signing, but the defense hadn't caught up. Minnesota has rode Devan Dubnyk and the revived Eric Staal to a shot at home ice in the West.
Many left the Flames for dead, but Gulutzan has them on fire (sorry about the pun). The recent 10-game winning streak has Calgary in the playoff hunt and the Flames could be a threat in the Pacific Division.
As for the goalies, I've got a neck-and-neck race with Dubnyk and Bobrovsky for the Vezina. These two have propped up the playoff hopes of their respective teams. I really think it's between them, but if you had to put someone else on the ballot, then I suppose Price. The Habs really missed him last year and it shows how much he means to that team.
FISHER: I'm not as high on Dubnyk and he's another guy who has been struggling as of late, since the going has got tougher. Bobrovsky and Price are on my ballot, and while I might rank Price ahead of Bobrovsky for the Hart — as the most valuable player to his team — I think I'd give the Vezina nod to Bobrovsky, who has posted the better numbers between the two. Bobrovsky is leading the league in wins (39) and has the best save percentage among starting goaltenders (.931). Price is at 33 and .923 by comparison and has played only one fewer game.
Call me a homer, but I think Cam Talbot deserves serious consideration for the Vezina, and he'd get my third-place vote right now ahead of Dubnyk and last year's winner Braden Holtby. Their numbers are comparable — in fact, all three have 36 wins, and Talbot's save percentage (.921) is slightly inferior to Dubnyk (.927) and Holtby (.925).
However, Talbot has been an absolute workhorse, starting a league-high 64 games — six more than the next-busiest netminder in Toronto's Frederik Andersen — and facing the most rubber of any goalie, a league-high 1,884 shots, while also making the most saves (1,735). Last but not least, in making my case for Talbot, he's likely going to break Edmonton's franchise record for goalie wins in a single season — 40, belonging to Grant Fuhr from 75 starts in 1987-88. If the voters feel Washington, Minnesota, Montreal and Columbus are better overall teams than the Oilers, then that should bode well for Talbot too. In saying that, I would still vote for Bobrovsky as of now.
I would make it a Columbus sweep for these two awards, giving my Jack Adams vote to Tortorella. I was one of those pundits who predicted Torts would be fired before Christmas, if not Halloween, but boy were we wrong. Tortorella has the Blue Jackets firing on all cylinders, clinching a playoff spot and reaching 100 points for the first time in franchise history with Sunday's victory.
Unlike Dubnyk, Boudreau would be on my ballot for getting the most out of Minnesota. Boudreau's regular-season winning percentage continues to be off the charts everywhere he goes, and he has the Wild overachieving this season. Boudreau has also helped Mikael Granlund realize his star potential, while reinvigorating veterans like Staal and Mikko Koivu. A masterful job done on all fronts, though not quite as big of a turnaround as Torts and Columbus.
I do like Dan's suggestion of Gulutzan too, considering he's a guy who was potentially on the hot seat right out of the gate but didn't let that outside pressure get him down. The Flames are now one of the hottest teams in the league — and have been since the All-Star break — and Gulutzan deserves a lot of that credit.
I don't want to echo Dan entirely, so I'll throw out a half-dozen other candidates for the Jack Adams. I'll say it right now, if Toronto makes the playoffs, Mike Babcock should be in the running too for guiding a young group into the postseason ahead of schedule. The other coach in Ontario has done a pretty darn good job as well, with Guy Boucher getting Ottawa — including Karlsson — to buy into his defensive structure, which has translated into a winning record and a likely playoff berth.
Joel Quenneville has managed to keep Chicago on top despite an influx of youth throughout the Hawks' lineup. Alain Vigneault has kept the Rangers competitive when many projected them to be rebuilding this season. Mike Sullivan is underappreciated because Pittsburgh is so stacked on paper, but he's pulled all the right strings to make that roster work and he's magically turned Justin Schultz into a top-pairing defenceman. And, lastly, Randy Carlyle's return to Anaheim has been a resounding success, also pushing the right buttons and silencing his critics for the most part.
As you can see, there are no shortage of Jack Adams candidates, but I think I like Tortorella, Boudreau and Sullivan in that order.
---
Who won this round of Facing Off? Feel free to weigh-in with your opinions in the comments below. We will be checking in periodically to both defend and expand on our initial answers. If you want us to face-off over a topic, we're open to suggestions as well.
Larry Fisher is a senior writer and head scout for The Hockey Writers, having been an at-large contributor for THW since August 2014. Fisher covers both the NHL and the WHL, specializing in prospects and NHL draft content, including his annual mock drafts that date back to 2012. Fisher has also been a beat writer for the WHL's Kelowna Rockets since 2008, formerly working as a sports reporter/editor for The Daily Courier in Kelowna, British Columbia, Canada from 2008-2019. Follow him on Twitter: @LarryFisher_KDC.