Facing Off is a weekly column debating five of hockey's hottest topics each and every Monday. From current events like trades and hat tricks to bigger-picture stuff like scandals and expansion — you name it, we're debating it. Albeit, not always with a serious tone. We're keeping this column light, so keep that in mind when reading, and feel free to join in on the fun by leaving a comment. Follow us on Twitter (@FacingOff_THW) and get in on the debate there too.

April 29th can't come fast enough, right Oilers fans?
Wrong! The Oilers are in the playoffs this spring — with Edmonton leading San Jose 2-1 in their first-round series after Sunday's 1-0 victory — and, unlike the past decade, their fans don't have the NHL's draft-lottery date circled on their calendars.
They are living in the moment for the most part, enjoying every minute of this "Orange Crush" movement.
Cam Talbot has pitched consecutive shutouts and Zack Kassian has morphed into a beast with those mutton chops.
Adam Larsson is proving his worth — above and beyond Taylor Hall — every time he steps on the ice, and Oscar Klefbom didn't skip a beat despite playing through the pain of a banged-up knee.
Connor McDavid's point streak finally came to an end at 16 games and Leon Draisaitl is still pointless in the playoffs, but Edmonton is finding ways to win now — even without their contributions on the scoresheet — after getting overwhelmed in the series opener when the Sharks flipped their post-season switch following the first period.
I'm of the opinion that the Oilers suffered an adrenaline dump during that intermission — coming off an emotionally-charged initial 20 minutes that half the team had never experienced before, a raucous atmosphere right from the anthems. It only got louder, wilder when Klefbom opened the scoring and again when Milan Lucic made it 2-0 for Edmonton.
As a UFC fan, I compare it to the Octagon jitters that first-time fighters often endure on the biggest stage under the bright lights. That walk to the cage through a massive crowd, then hearing Michael Buffer announce their name for the first time, it's all so surreal. By the time it's go-time, so many debutants come out throwing hyped-up haymakers and end up 'gassing out' within the first round, sucking wind the rest of the way — resulting in defeat more than it should, or otherwise would.
It's one of those live-and-learn lessons, and the Oilers didn't make the same mistake twice. They were in control from start to finish in Game 2, putting together one of their better 60-minute efforts of the season for a 2-0 triumph that was actually a thumping.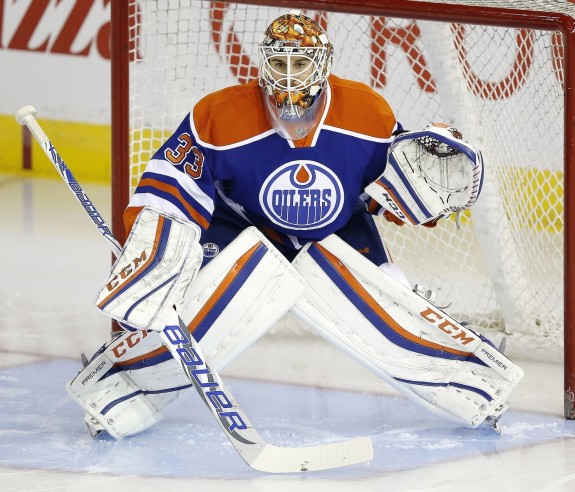 With the scene shifting to San Jose, Game 3 saw the Oilers weather an early storm — thanks largely to Talbot — and eventually take the lead on Kassian's second goal in as many games (he had seven in 79 regular-season games), then grind out a gritty road win in keeping the Sharks at bay.
Yes, the Oilers are playing playoff hockey and playing it well — and they seem to have found Martin Jones' weak spot, with four of their five goals thus far beating him between the legs. It's no secret that Edmonton is shooting five-hole more often than not and we can expect that trend to continue in Game 4 on Tuesday night.
It was a rude welcome back to the playoffs for Canadian teams, with all five losing their opener and each of the four that managed to score also blowing leads in falling to their American-based foes.
Fortunately for fans north of the border, the Canadian clubs responded by winning six of their next seven to date.
Montreal and Edmonton are now leading their series, while Ottawa and Toronto pulled even with improbable overtime victories — the Senators rallying from a two-goal deficit to beat the Bruins, while the Maple Leafs earned a somewhat shocking but well deserved split out of almighty Washington.
Some say the Capitals are looking vulnerable again — against the nothing-to-lose Leafs — but we shall see what happens tonight in the Big Smoke. This swing game should be awfully telling.
Only Calgary is in an 0-2 hole coming home — the Flames dropped both games in Anaheim — which is lessening the likelihood of the first Battle of Alberta since 1991. That would be must-see TV in the second round if it comes to fruition next week.
Here's a look at the Canucks and Jets' odds in the upcoming #NHLDraft Lottery. (@lukefoxjukebox)

👉 https://t.co/jZpqMS3KSq pic.twitter.com/VkkqZPfu1n

— Sportsnet (@Sportsnet) April 13, 2017
As for that aforementioned draft lottery, April 29th is only appealing to fan bases in Vancouver and, to a lesser degree, Winnipeg — as well as Colorado and Vegas.
From Edmonton's perspective, Bill Scott can retire his lucky socks for the foreseeable future — or keep wearing them throughout this playoff run. Maybe buy an orange pair since those ones were red if memory serves right.
Nevertheless, this week's Facing Off is a continuation of our Oilers' roundtable from the end of March. I'm joined by Jim Parsons and Shane Sander for part three in this series, focusing on the entry draft and Edmonton's prospects.
Facing Off: What are realistic playoff expectations for #Oilers? How far can they go? What is overachieving? https://t.co/ubWeULE7TH #THW

— Facing Off (@FacingOff_THW) March 28, 2017
Facing Off: Who's the #Oilers team MVP this season, Connor McDavid or Cam Talbot? #THW roundtable weighs in: https://t.co/ISoM4IJinL

— Facing Off (@FacingOff_THW) March 29, 2017
Be honest, were you still tracking Nolan Patrick and Nico Hischier's stats? Was it strange to be watching the standings and the playoff race instead of scouting the top-five prospects this year?
PARSONS: I wasn't, at least not as much. Mostly because the Oilers were where they were, but also because this coming year's draft class isn't getting a lot of attention. It's considered a weaker draft and things like the NHL Expansion Draft have caught a bit more media and my attention than the entry draft has.
It is a nice feeling to know that Edmonton isn't placing all its faith on the luck of a lottery ball.
SANDER: It was a very strange thing to be more invested in the playoff race than where and whom the Oilers will draft in June. Usually by March, Edmonton fans have scouting reports on the top prospects to read — this year it was who's the most ideal matchup in the playoffs. We all wanted Calgary but got San Jose instead.
FISHER: I'm a prospects junkie and publish an annual mock draft, plus I cover the league that Patrick plays in full-time for my bill-paying newspaper job, so I was well aware of their stat-lines — or injury status in Patrick's case. But it was weird not to be envisioning either of them in an Oilers jersey, and the draft lottery just won't be the same without Edmonton's presence this year. I'm kind of hoping Vegas gets lucky there, and I assume the Golden Knights would be proud to pick Patrick as the face of their expansion franchise.
If the Oilers were picking top-five again, who would you want them to take? Who would you have your eye on or how would you rank those prospects? More importantly, who do you have your eyes on for Edmonton's actual pick this year, at 24th overall? Or are you not paying any attention to the entry draft for a change?
PARSONS: The Oilers needs seem to be more related to forwards than ever before. Edmonton has done a decent job of filling their defense prospect closet, so I'd target right- and left-wingers. The top-five of this year's draft is heavily weighted towards centers, so at wing I'd look toward Owen Tippett out of Mississauga. He's six-feet tall and 200 pounds and the kid can score. The Oilers don't really have a pure sniper.
At 24th, I like Kole Lind of the WHL's Kelowna Rockets, who is a speedy and skilled winger but needs to add a little size. I also like Klim Kostin, who is a load of a player out of Russia's MHL. If the Oilers want a more well-rounded forward, they maybe look at Matthew Strome from the OHL's Hamilton Bulldogs. All that said, there is a chance the Oilers trade their first-round selection.
SANDER: If we're picking based off need, I'd take Timothy Liljegren, a Swedish offensive defenceman who could one day become a steady offensive top-pairing defenceman. It'd be nice to have a defenceman who can go end-to-end, similar to how Erik Karlsson, Brent Burns and Victor Hedman have changed their respective team's offensive attack.
At 24th, I'd take the best player available and there's plenty of options. Nick Suzuki (C) might have the best hockey smarts for his draft class and could be the best two-way centre of his class, Cal Foote (D) and Nicolas Hague (D) are two towering defencemen, and Isaac Ratcliffe (LW) is an intriguing power forward.
FISHER: In the top five, if I'm Edmonton, I'd stay closer to home and select the Calgary kid, Cale Makar — a right-handed offensive defenceman who is shooting up the rankings and seems to be overtaking Liljegren as the draft's top blueliner. I'm not as scared off as some by Liljegren, who is becoming this year's Oliver Kylington and might fall out of the first round, let alone the top five or top 10.
The Oilers do like their Swedish defencemen — look no further than their top pairing of Larsson and Klefbom, both Swedes — and if Liljegren is still available at 24th, I wouldn't pass on him. If Foote is there too, that decision would be a tough one for me. I've watched Foote live for two years now and I'd be shocked if he lasts past 15th, but who knows what will happen on draft day this year.
Any chance Cal Foote falls to the Oilers? I used to love to hate his dad but holy moly I think I'd like his kid on our team.

— Kelly (@pipefitter34) January 31, 2017
Jim makes a good point about the Oilers potentially trading their first-rounder — especially since Edmonton doesn't have a second-round pick. Assuming top talents like Liljegren and Foote are gone by 24th — and Suzuki too — I could see the Oilers trading down to add an extra pick in the top 62.
Defencemen and centres are more difficult to acquire via trade, so I prefer to draft those positions over dime-a-dozen wingers, but Jim is right about that organizational weakness. Kostin could be an intriguing option as another faller, but I'll throw out two more names in Kristian Vesalainen, a likely riser after shining at the ongoing under-18 tournament, and maybe Maxime Comtois, a good-sized kid out of the QMJHL who could be lingering in that range but might be too similar in skill-set to Tyler Benson, who the Oilers took 32nd last year.
Looking at the current prospect pool, what the Oilers needs or what are they lacking? What kind of players or which positions would you be targeting in this year's draft?
SANDER: To be blunt, the Oilers' prospect pool needs a little bit of everything. The system is filled with a plethora of long-term project forwards, with the payoff being that they might develop into NHL depth players. Outside of Jesse Puljujarvi, Ethan Bear and Caleb Jones, there are question marks about every prospect in the system. Even Benson isn't a guarantee anymore after having back-to-back injury plagued seasons. With 24 free agents this summer — 10 unrestricted and 14 restricted — Peter Chiarelli and the scouting staff have a unique opportunity to essentially give Edmonton's farm system a complete overhaul.
PARSONS: I think the Oilers will focus on forwards and getting some viable offensive prospects to help out players like Puljujarvi. Edmonton could use some backup goaltending help too, but the team has to be careful not to take a goalie too high.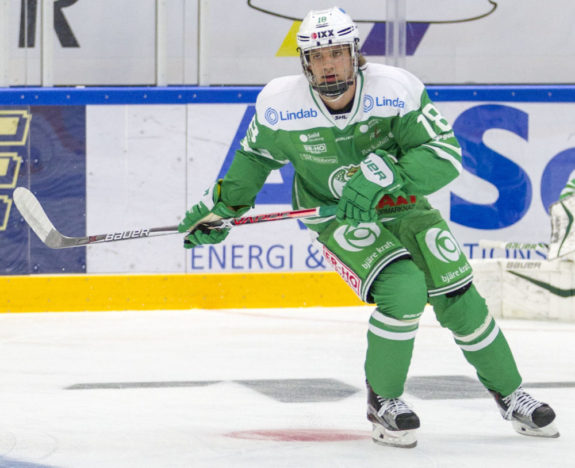 FISHER: If the "right" right-handed defenceman is there at 24th — Liljegren and Foote would fit the bill — I'd take him, but I'd avoid another lefty in the first round. I do like Jim's plan to draft mostly high-skill forwards this year, regardless of their size. If the Oilers traded down or managed to acquire a second-rounder, I'm still intrigued by Nikita Popugayev, the big Russian playing in the WHL, and I like Jordy Bellerive out of Lethbridge as a smaller sniper in the third or fourth round.
I think Chiarelli has been doing a good job at stockpiling prospects and, as Shane mentioned, I expect him to trim the fat this summer. I don't see any glaring needs at the moment, but the Oilers are already rich in left-handed defence prospects, so that would be the only position I might avoid picking in the 2017 draft.
If you could go back to the 2016 NHL draft, would you still pick Jesse Puljujarvi? Any concerns that he could be a bust? The next Magnus Paajarvi?
PARSONS: First off, it's a real bummer that Edmonton lost the lottery and fell out of its spot to take Patrik Laine. Can you imagine what Laine would look like on this Oilers' roster? But, that's what the lottery is all about and Edmonton had its fair share of undeserved first overall selections (see McDavid).
As it pertains to Puljujarvi, I think he had issues adjusting to the NHL, but I like how he's progressed since going down to the AHL and joining the Bakersfield Condors. I think I'd still take him at fourth overall, and I believe he'll have a solid career with the Oilers.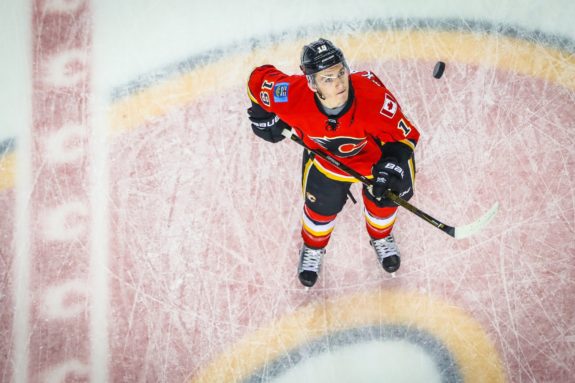 The only other option for me in that spot was Calgary's Matthew Tkachuk, but there is something about him that makes me think he might have issues staying in the league and not getting himself in hot water. He reminds me a lot of Evander Kane — extremely talented, but a real handful on your team and possibly not the best for team chemistry or morale. Puljujarvi seems happy all the time, and when his positive attitude and skill reach the same level, he could be a wonderful additional for the Oilers.
SANDER: I'd still pick Puljujarvi fourth overall if I were to travel back in time knowing what I know and how the season unfolded. The 19-year-old finished with 28 points in 39 games for Bakersfield and has grown his game across the board.
To paraphrase Condors head coach Gerry Fleming, they focused on simplifying Puljujarvi's game and honing his play away from the puck where he's become a much more responsible player.
Last season the Colorado Avalanche sent their prized 10th overall pick Mikko Rantanen to the minors, which surprised many. He'd go on to win the AHL Rookie of the Year honours, and that success has since translated back to the NHL, scoring 20 goals and 39 points as a rookie this season. Puljujarvi could follow that path next season.
FISHER: Oh man, McDavid to Laine would be incredibly lethal. That wouldn't even be fair. The Hockey Gods had to intervene there. I fully expect Puljujarvi to be recalled now that Bakersfield's season is over, but I doubt he gets into any playoff games, barring an injury to Draisaitl or Jordan Eberle. Puljujarvi will be part of the Black Aces and get to soak up the experience for as long as the postseason lasts, which will be both beneficial and also serve as motivation for next season. Once Puljujarvi is immersed in that Orange Crush — presumably in time for Game 5 against San Jose — he'll spend the summer doing everything in his power to stick with the Oilers in 2017-18, and I assume there will be a roster spot waiting for him when he gets back from Finland.
I do think Puljujarvi has a bright future with the Oilers, flanking either McDavid or Draisaitl once the latter makes the move back to the middle. Much brighter than Paajarvi. In saying that, Tkachuk has obviously outperformed Puljujarvi this season and already looks like a key cog for Calgary. So I'm a bit surprised that Edmonton fans and even media wouldn't trade Puljujarvi for Tkachuk straight up right now. I do wonder if those opinions would be different had the Flames made the playoffs and the Oilers missed with Puljujarvi in the minors, whether people would then be saying "Edmonton should have picked Tkachuk." Team success has a way of making everything right.
At the end of the day, that 2016 draft class was so stacked and it will be fun to do a redraft in a few years to see whereabouts Puljujarvi would have gone in hindsight. I believe he'll still be a top-five talent.
Which prospect already in the system, besides Puljujarvi, are you most excited about? Who do you have the highest hopes for? Which prospect(s) do you foresee making the jump to the NHL roster next season?
PARSONS: If you still classify Jujhar Khaira as a prospect (which I do), then I think he takes the biggest step forward next season. That's assuming he's still with the organization. I think there is a chance he gets selected in the expansion draft. Should he stay, there are spots on this roster that will open up for a player of his ability as the Oilers move out contracts and make space on their salary cap.
One player I'm keeping a close eye on is Ethan Bear, who was awarded the WHL Western Conference Defenceman of the Year Award. I don't see him making a big splash in Edmonton next season, but he's exactly the type of offensive blueliner the Oilers have been waiting for.
SANDER: Bear is the new flavour of the week and could develop into a second-pairing defenseman. He had a 28-goal, 70-point season and there's much fanfare around Bear, but the consensus top prospect behind Puljujarvi is Benson. However, Benson's had several recent injuries.
FISHER: I just got done watching Jones in the WHL playoffs — Kelowna knocked out Portland in five games — and now I get the watch Bear for the next couple weeks, with the Rockets up against his Seattle Thunderbirds in the Western Conference final starting this Friday. Jones tied for his team lead in playoff scoring — with 10 points in 11 games — and was an absolute workhorse throughout that second-round series. Bear has racked up 13 points in just eight games, tied for second on a Seattle team that is undefeated in the postseason after sweeping both Tri-City and Everett.
FYI…
Ethan Bear leads WHL D in scoring 3-10-3/8GP/+5 as SEA swept EVE last night
Caleb Jones (2-8-10/11+3) season over as POR lost to KEL

— Bob Stauffer (@Bob_Stauffer) April 16, 2017
I have high hopes for both those blueliners, and I'm also intrigued by two other bigger defenders in Ziyat Paigin, the Russian who reported to Bakersfield earlier this month, and Markus Niemelainen, a younger Finn who didn't have a great draft-plus-one season with OHL Saginaw but has all the tools to be a good pro in a few years. Filip Berglund was Edmonton's third defence pick of the third round last year — behind Niemelainen and Matthew Cairns — but Berglund might have the most upside of the three. That whole 2016 draft class could bolster Edmonton's roster down the road.
Goaltending prospect Dylan Wells is a perfect 8-0 in the OHL playoffs — with a league-leading .944 save percentage and a 1.94 goals-against average — and he has even scored a goal there.
My sleeper to make the jump to the Oilers next season is Joey LaLeggia, a skilled swingman who scored 20 goals as a forward for Bakersfield this year. He'll turn 25 in June and be a restricted free agent, but assuming Edmonton keeps him around, LaLeggia could find a role in Edmonton's bottom-six — perhaps alongside Drake Caggiula and Puljujarvi on a third scoring line. I'd feel sorry for Jack Michaels and the poor play-by-play men who would have call that trio of names on the fly.
---
Who won this round of Facing Off? Feel free to weigh-in with your opinions in the comments below. We will be checking in periodically to both defend and expand on our initial answers. If you want us to face-off over a topic, we're open to suggestions as well.