'The Nuck Stops Here' is a Vancouver Canucks news, opinion and analysis column that runs every Monday throughout the regular season.
News
Canucks Relieve Willie Desjardins, Assistants of Coaching Duties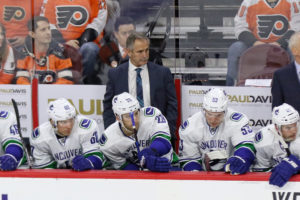 The Canucks announced this past week that head coach Willie Desjardins has been relieved of his coaching duties. Additionally, assistants Perry Pearns and Doug Lidster were let go by the club. Doug Jarvis, also an assistant coach, was retained. Desjardins coached the Canucks for three seasons, only qualifying for the postseason once in that time (his first season, 2014-15).
His three seasons in Vancouver were his first as an NHL head coach. In that time, he put together a record of 109-110-27. His wins total ranks fifth among Vancouver Canucks all-time head coaches, behind Alain Vigneault, Marc Crawford, Pat Quinn and Harry Neale. Prior to his time with the Canucks, Desjardins, 60, led the American Hockey League's Texas Stars to a Calder Cup championship.
Desjardins has reportedly received interest from other NHL clubs. The Canucks have yet to name a replacement for their head coaching vacancy.
Scores of the Week
The Utica Comets officially will not qualify for the AHL playoffs, after the St. John's IceCaps defeated the Toronto Marlies 4-1. The Comets defeated the Hartford Wolf Pack 5-4 this past Friday, driven by two goals from Nikolay Goldobin.
The San Jose Sharks (whose fourth-round pick was traded to the Canucks, and will turn into a first with a Stanley Cup victory), currently trail the Edmonton Oilers 2-1 in their first-round series.
Analysis
Evan McEneny Becoming a Valuable Prospect
The Canucks' prospect pool has grown considerably over the past couple of seasons, and that has included adding some respectable pieces on defense. Outside of the likes of Nikita Tryamkin and Troy Stecher, the organization boasts strong prospects such as Jordan Subban, Guillame Brisebois and Carl Neill. However, a name that oftentimes gets forgotten is Evan McEneny. McEneny, signed in 2012 as a free agent by the Mike Gillis regime, was largely written off as a depth signing. However, that has changed over the course of the past season.
Despite failing to establish himself as a regular in 2015-16, McEneny turned his game around significantly of late. McEneny, 22, won the trust of Comets head coach Travis Green and developed into a key player on both special teams units. While not astonishing offensive totals, he has demonstrated a strong transition game, while putting up eight goals and 23 points in 64 games.
His game became so impressive that he earned a one-game call-up with the Canucks, not looking out of place in the slightest. It seems unlikely that McEneny will ever become a star for the Canucks. However, he could well become a quality NHL player, which is much more than most expected of him.
Ben Hutton Will Shoulder More Responsibility in 2017-18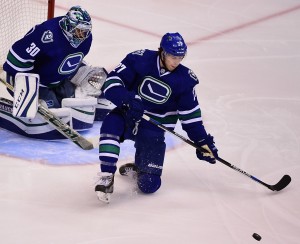 The 2016-17 campaign saw some valuable development from the likes of Troy Stecher and Nikita Tryamkin on the back end. As expected, the hype surrounding those two players took the spotlight away from Ben Hutton. The 23-year-old won the team award for best defenceman in 2015-16, which was also his rookie year. He put up a respectable 25 points and had fans excited for what the future may hold.
However, Hutton took a step backward this year, putting up just 19 points in four less games. While his second half saw him putting up points with more regularity, and playing a more composed defensive game, the season could still only be described as disappointing. That said, Hutton may be poised for a rebound in 2017-18. Should the Canucks hope to see more success in the standings, they better hope so.
With an Alex Edler or Chris Tanev trade being a popular thought among fans and media, and the organization going in a younger direction, Hutton may be expected to take on a top-pairing role next season. He anchored the second unit power play towards the end of the season and may be relied upon as their premier offensive defenceman going forward. Will Hutton be ready for all of this? Time will tell, but it seems inevitable that more will be expected of him next season. Hutton looks to occupy a key defensive role on the Canucks as they enter the next phase of their rebuild.
Around the Blog-O-Sphere
Fun links about the Vancouver Canucks from all around the internet.
The pressure is on Bo Horvat to lead the Canucks' rebuild [The Province]
Why Travis Green should be the Canucks' next head coach [The Hockey News]
And, is Green a lock for the head coaching job? [CanucksArmy]
The Canucks will be looking for a coach to lead the young core after firing Willie Desjardins [The Globe and Mail]
The Canucks are not three years into a rebuild, despite what Trevor Linden says [Vancouver Courier]
Troy Stecher's stature rises as the young blue-liner brings tenacity to the team [Vancouver Sun]