Now that the 2017 NHL Playoffs have begun, the postseason-less Detroit Red Wings have cleaned out their stalls and have held their year-end press conference. During his time at the podium, GM Ken Holland expressed his commitment to coach Jeff Blashill, despite the forgettable season and widespread player regression.
With two new assistant coaches and a few key veterans missing from the locker room, a slight drop off was expected. The reality was a bit different – the power play suffered mightily, the offense sputtered, and the defense was less reliable than the Detroit Tigers' bullpen.
Now that the Red Wings forwards, defensemen and goalies have been graded, it's time to evaluate Blashill and his coaching staff, before moving on to prospects and offseason roster management events.
2017 Entry Draft Preview
Post-Draft Top 25 Under-25 Rankings
Free Agency Preview
Grading the Red Wings' Team Offense
In John Torchetti's first year as the offensive associate coach, the Red Wings' offense achieved "wet blanket status" for its explosiveness and excitement level. Detroit's 2.4 goals per game ranked 26th in the league and was downright brutal at times.
Riley Sheahan's goalless drought epitomized the Red Wings' offensive struggles: the talent was there, but no one other than Henrik Zetterberg stepped up. The fact that Thomas Vanek finished in the top-five in team scoring—despite only playing in 48 games is embarrassing.
Apart from Zetterberg, Anthony Mantha, and, at times, Andreas Athanasiou, no other forward could create their own offense. The Red Wings rarely made opponents' defensemen uncomfortable and typically attacked in a predictable, methodical manner. In the offensive zone, play was kept to the outside and there was not enough creativity to force defensemen and goalies out of position.
No matter how you look at it, this season was a failure offensively. Zetterberg's season was admirable, but an NHL team needs more than a 36-year-old superstar in the twilight of his career to lead the offense.
Grade: F
Grading the Red Wings' Team Defense
After spending the previous ten seasons as the Boston Bruins' defensive coach, Doug Houda joined the Red Wings' coaching staff after his contract was not renewed in Beantown. He inherited a collection of second- and third-pairing defensemen and the team struggled to shut down opponents.
When you combine inadequate team defense and generally porous goaltending, it's no surprise that the Red Wings gave up three goals per game (26th in the NHL). Danny DeKeyser's first year as Detroit's go-to defenseman was a flop. Niklas Kronwall was a shell of himself after being diagnosed with a chronic knee condition. And the amount of offense contributed by defensemen not named Mike Green was pitiful.
Detroit needs a top pairing defenseman (or two). There's no doubt about that. But the team had to compete with what they had. Regardless of who was on the ice, there were just too many mental mistakes for an NHL team. Executing the game plan perfectly was just not a feasible goal. Anything less usually resulted in a quality scoring opportunity for opponents.
Grade: F
Grading the Red Wings' Special Teams
Despite coming on at the end of the season, the power play was bad for a long stretch of the season. Even a house-league pee-wee hockey player could see that Detroit's zone entry routes, set up, and passing were elementary. It's shocking three teams finished with a worse power play percentage than the Red Wings (15.1% effectiveness).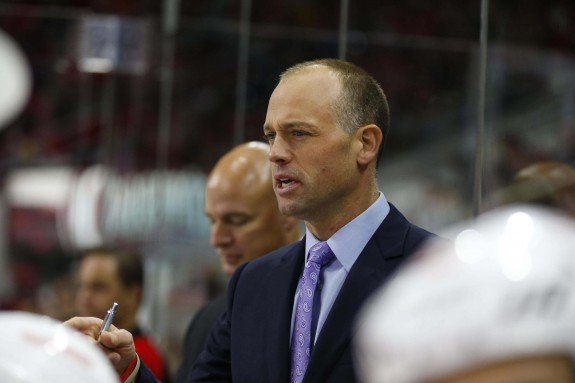 The penalty kill wasn't as bad though – Detroit's 80.9% kill rate ranked 16th in the league. Sheahan, Darren Helm, Luke Glendening, Frans Nielsen, and Steve Ott did a respectable job preventing opponents from setting up shop when attempting to enter the zone. However, once opponents gained possession in the Red Wings' defensive zone, things could get ugly.
Coach Houda's staggered approach to positioning the forwards took a while to catch on, and it resulted in a few ugly goals against. With forwards and defensemen not being on the same page, connecting cross-ice passes quickly turned into quality shots and scrambling among the penalty killers. On top of that, DeKeyser, Xavier Ouellet, and the other blue-liners struggled to clear the net, which was a major issue, considering Petr Mrazek's inability to track pucks through screens.
Grade: D+
Summary
No matter what aspect—team offense, defense, goaltending, or special teams, not enough was done to address the issues plaguing the Red Wings. Line combinations were baffling at times, not much was done to adjust in-game, and players were often unprepared to start games – especially early games and the second night of back-to-backs. You can blame player effort and inexperience to an extent, but it's ultimately up to the coaches to make sure the team is ready to compete. Blashill needed to do more than just "stick to the process."
What was the best (of the worst) aspect of the Detroit Red Wings: offense, defense, of special teams? Comment below with your pick.