It's officially the offseason for the Detroit Red Wings. Locker room stalls have been cleaned out and tee times are starting to be booked in exotic locations. Meanwhile, 16 teams are about to begin their quest for the ultimate prize: the Stanley Cup.
The end of the season also gives us time to reflect on the few things that went right and the many that went wrong. Now that the Red Wings' forwards have been graded, it's time to see how the defense and goalies performed, before moving on to the coaching staff, prospects, and offseason roster management events.
2017 Entry Draft Preview
Post-Draft Top 25 Under-25 Rankings
Free Agency Preview
Grading the Red Wings' Defense
Defensemen to suit up for the Red Wings this season were each graded based on their preseason projections and how they performed in the roles they were asked to execute within.
(Note: LHD = left-handed defenseman, RHD = right-handed defenseman.)
Danny DeKeyser | LHD

D-

Projected 2016-17 Stats: 82 GP – 6 G – 25 A – 31 PTS
Final 2016-17 Stats: 82 GP – 4 G – 8 A – 12 PTS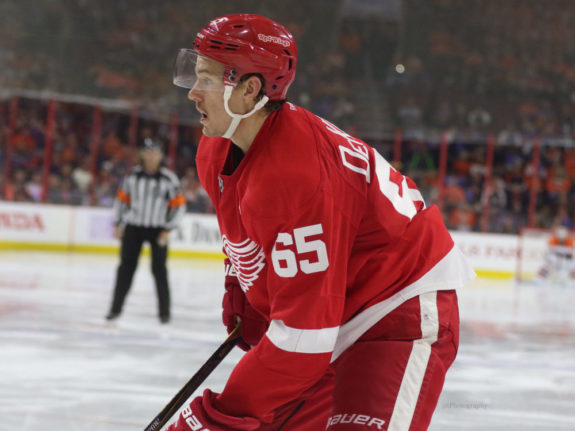 It was a rough year for Danny DeKeyser. The Western Michigan alum struggled this season playing against top competition night in and night out. He's still learning, though. Next year, DeKeyser will need to play more physically in his own end and contribute more offensively if he's going to be Detroit's top defenseman.
Jonathan Ericsson | LHD

C+

Projected 2016-17 Stats: 59 GP – 2 G – 6 A – 8 PTS
Final 2016-17 Stats: 51 GP – 1 G – 8 A – 9 PTS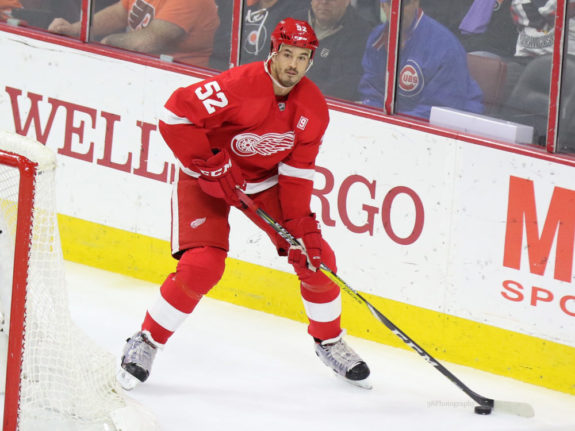 Shockingly, Jonathan Ericsson wasn't that bad this season. For a third-pairing defender, he actually did well. Ericsson had the highest five-on-five goals for per 60 minutes on the team (2.63) and started moreshifts in the defensive zone than any other Red Wings defenseman. As long as he's not utilized as a top-four defenseman, Ericsson can get the job done.
Mike Green | RHD

B

Projected 2016-17 Stats: 74 GP – 11 G – 36 A – 47 PTS
Final 2016-17 Stats: 72 GP – 14 G – 22 A – 36 PTS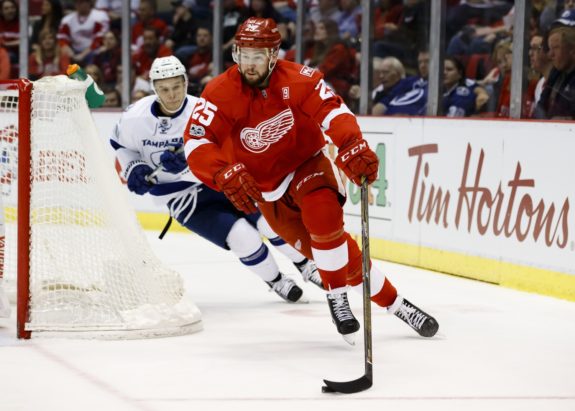 Mike Green had a fantastic offensive year for the Red Wings, and it could have been even better if his power play unit linemates could execute. Though he was the man-advantage quarterback throughout the season, it was not Green's fault that the power play faltered often. If the power play can click next season and Green can repeat his offensive performance, the Red Wings will finally have the perfect right-handed offensive defenseman since Brian Rafalski suited up for Detroit.
Nick Jensen | RHD

C+

Projected 2016-17 Stats: N/A
Final 2016-17 Stats: 49 GP – 4 G – 9 A – 13 PTS
Of all the defensemen who played for the Red Wings this season, Nick Jensen probably made the most of his opportunity. He was an afterthought when the initial 23-man roster took shape, with Detroit giving roster spots to Alexey Marchenko, Ryan Sproul, and Xavier Ouellet. But once injuries claimed a few key defensemen, Jensen took the reins and never looked back.
The Minnesota product used his speed to frequently jump into the play. He was also able to contribute offensively–something Detroit defensemen not named Mike Green struggled with. Jensen's 0.94 five-on-five points per game only trailed Green among Red Wings blueliners and ranked 40th in the entire NHL for defensemen playing over 750 minutes.
Niklas Kronwall | LHP

D+

Projected 2016-17 Stats: 68 GP – 5 G – 21 A – 26 PTS
Final 2016-17 Stats: 57 GP – 2 G – 11 A – 13 PTS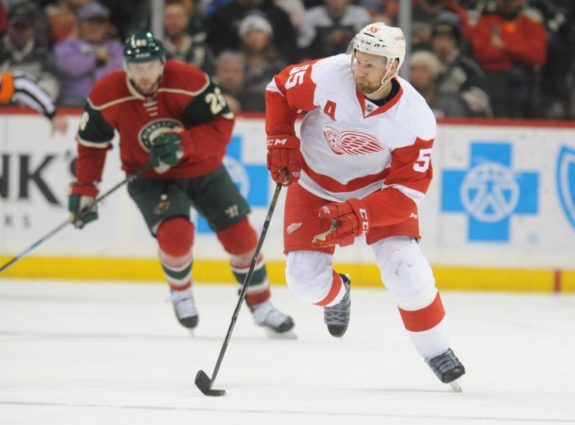 For a player with shot knees, it could have been a much worse season for Niklas Kronwall. In fact, as the season went on, Kronwall actually improved. Detroit's alternate captain allowed 2.33 goals against per 60 minutes of five-on-five play (minimum 750 minutes), good enough to rank near the likes of Roman Josi, Jay Bouwmeester, Adam Larsson, and TJ Brodie. Kronwall also excelled in defensive zone exits when opponents tried to dump-and-chase on the Red Wings.
Brian Lashoff | LHD

Inc.

Projected 2016-17 Stats: N/A
Final 2016-17 Stats: 5 GP – 0 G – 0 A – 0 PTS
When Brian Lashoff was pressed into action, it wasn't pretty. In just over 60 minutes of five-on-five play, he was on the ice for four goals against and only one for. The fact that Lashoff only played in five games prevented him from earning an "F" on the season.
Xavier Ouellet | LHD

C

Projected 2016-17 Stats: 45 GP – 2 G – 12 A – 14 PTS
Final 2016-17 Stats: 66 GP – 3 G – 9 A – 12 PTS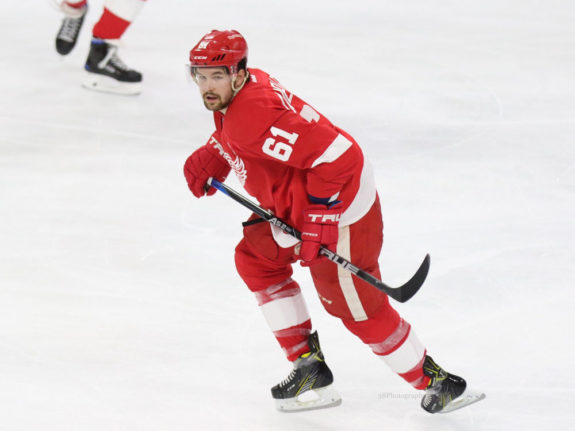 After making the team as a reserve defenseman, Xavier Ouellet quickly became a reliable defender for Jeff Blashill. Ouellet found a niche on the penalty kill, where he played the second-most shorthanded minutes among Detroit defenders and gave up the least amount of goals (4.78 goals against per 60 minutes of shorthanded play).
The Red Wings' French blueliner needs to improve his foot speed and contribute more offensively, but could develop into a solid, two-way second-pairing defenseman.
Dan Renouf | LHD

Inc.

Projected 2016-17 Stats: N/A
Final 2016-17 Stats: 1 GP – 0 G – 0 A – 0 PTS
In one game with the Red Wings, Dan Renouf did not look out of place but did not stand out either. He'll need to have a great camp in order to not get lost in the shuffle with Dennis Cholowski, James de Haas, Filip Hronek, Vili Saarijarvi, and potentially a 2017 lottery draft pick coming aboard.
Robbie Russo | RHD

C-

Projected 2016-17 Stats: N/A
Final 2016-17 Stats: 19 GP – 0 G – 0 A – 0 PTS
Zero points in 19 games is not ideal, even for a third-pairing defenseman. However, Robbie Russo did gain valuable NHL experience early on in his professional year and didn't get scored on very often–Russo's 1.32 goals against per 60 minutes of five-on-five play ranked number one among Detroit defensemen.
Ryan Sproul | RHD

D

Projected 2016-17 Stats: 15 GP – 0 G – 2 A – 2 PTS
Final 2016-17 Stats: 27 GP – 1 G – 6 A – 7 PTS
Ryan Sproul has a booming slap shot but needs to add more to his game in order to earn Blashill's trust. He was often ineffective in his own zone, leading to sheltered deployment–Sproul had the highest percentage of five-on-five offensive zone faceoff starts of any Red Wings defenseman.
Moved Defensemen
Alexey Marchenko | RHD

D+

Projected 2016-17 Stats: 71 GP – 3 G – 9 A – 12 PTS
Final 2016-17 Stats: 30 GP – 0 G – 6 A – 6 PTS
Because he's not an offensive defenseman, Alexey Marchenko found himself holding the short straw when other defensemen began to return from injury. After joining Mike Babcock and the Maple Leafs, Marchenko got into a few games before finding his way to the Air Canada Centre press box. Not a big loss overall, but one the Red Wings should have gotten a return for.
Brendan Smith | LHD

C+

Projected 2016-17 Stats: 77 GP – 5 G – 14 A – 19 PTS
Final 2016-17 Stats: 33 GP – 2 G – 3 A – 5 PTS
When healthy, Brendan Smith was a quality defender for the Red Wings. His main issue was that he did not develop into the offensive threat the organization had envisioned–five points in 33 games is not enough for someone of Smith's talent. The Wisconsin alum was also shifted around in the defensive pairings often, which probably did not help his confidence.
Red Wings Goalies' Grades
Detroit's three goalies were graded based on their overall play, independent of the much-maligned defense. While some goals can be blamed on the team around them, others are simply the goalie's fault.
Jared Coreau | G

C-

Projected 2016-17 Stats: N/A
Final 2016-17 Stats: 14 GP – 5 W – 4 L – 3 OTL – 3.46 GAA – .887 SV%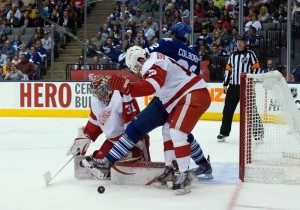 After Howard's injuries, Jared Coreau got the call-up and took advantage of his time in the big leagues. Coreau answered the question of whether or not he could compete at the NHL level, but did not perform well enough to lock down the backup job if Howard is playing elsewhere next season. Detroit may need a more reliable option, though Coreau's low 2017-18 cap hit is noteworthy.
Jimmy Howard | G

A-

Projected 2016-17 Stats: N/A
Final 2016-17 Stats: 26 GP – 10 W – 11 L – 1 OTL – 2.10 GAA – .927 SV%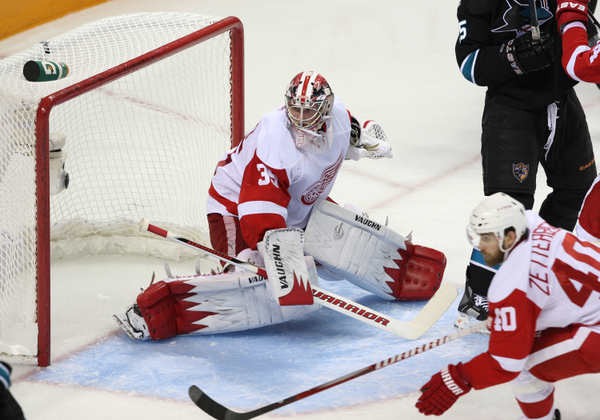 If it wasn't for a few ill-timed injuries, Jimmy Howard may have led the Red Wings to yet another playoff berth– though that may have prolonged a much-needed rebuild. When healthy, Howard was among the league leaders in both goals-against average and save percentage. If he survives the Vegas expansion draft, the Red Wings will be lucky to have him back.
Petr Mrazek | G

D+

Projected 2016-17 Stats: N/A
Final 2016-17 Stats: 50 GP – 18 W – 21 L – 9 OTL – 3.04 GAA – .901 SV%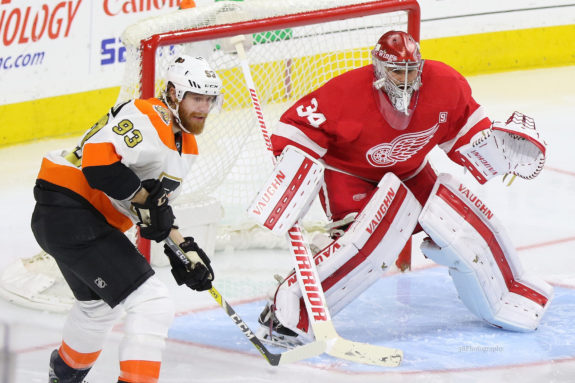 Though Petr Mrazek exhibited flashes of brilliance throughout the season, he also had plenty of issues with his fundamentals, leading to a down year overall. Poor rebound control, inability to see around/through screens, and improper angles contributed to Mrazek's rough campaign. Terrible defense aside, the young Czech goaltender needed to be better. He'll have the first shot at the starter's job next year, though.
Which Detroit Red Wings defensemen and goalies' grades are most fitting? Share your thoughts below.