When thinking of the problems that the Pittsburgh Penguins present for the Columbus Blue Jackets, it's easy to think offense. The usual suspects immediately come to mind: Sidney Crosby, Evgeni Malkin, Phil Kessel. No team in the NHL scored more goals than the Penguins, who lit the lamp 278 times (a 3.39 goals per game clip) in 2016-17.
But while the scoring edge clearly goes to the Penguins, it is perhaps surprising that the Columbus Blue Jackets may have an advantage on the defensive side of the puck.
When dissecting the Penguins defense, the conversation centers around Kris Letang, the organization's top defenseman and has been for a number of years. Unfortunately for Pittsburgh, the soon-to-be-30-year-old, who averaged 25:31 TOI per game this season, is out for the playoffs and beyond with a herniated disk in his neck.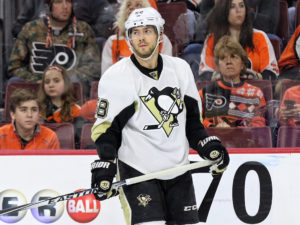 After Letang, the Penguins defense is solid but not overly imposing. Justin Schultz is a good offensive contributor, but his reputation as a genuine defenseman is still up for debate. Olli Maatta and Trevor Daley are solid, but each missed 25+ games this season due to injury. Both players recently returned from knee injuries, but the jury is still out if they're at 100% and ready for the grind that is the NHL Stanley Cup Playoffs.
Brian Dumoulin is a quality defender but won't intimidate teams with his two-way play. Ian Cole is a fine defender but certainly not a top-four pairing on a Stanley Cup team. Ex-Blue Jacket Ron Hainsey was acquired at the trade deadline and is tasked with playing just under 21 minutes per night. Nothing against the 36-year-old, but I'm not sure that's the matchup you want in a crucial playoff game, though (genuinely) who knows: no current player has played in more regular season games than his 907 without making the playoffs.
A Look at History
The last time the Penguins played in a playoff game was Game 6 of the Stanley Cup Final, a game they won 3-1, ultimately securing another Cup in the Crosby era.
In that decisive game, Letang played a staggering 29:23. Justin Schultz, on the other hand, played just 7:33. As much as Pens fans want to believe they can simply replace Letang with Schultz, the mental gymnastics present headaches. He simply isn't as trusted – nor should he be – as Letang. Trevor Daley was injured for the Final and current-New Jersey Devil Ben Lovejoy played 22:01. Safe to say this year's blueline looks significantly different than the one that proved capable enough to win the Cup.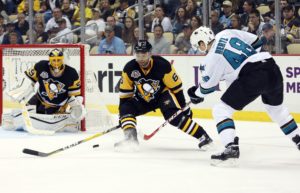 Per Corsica, Letang played 503 minutes in the postseason last year, compared to just 162 for Schultz, not even 11 minutes/game. From a possession standpoint, Letang posted a staggering 54.87 CF% in the postseason, leading all Penguins blueliners. This season, Letang (unsurprisingly) led all Pens d-men in CF% at 53.38%. Contrast that with this season's Trevor Daley (46.47%) and Ron Hainsey (48.11%), and you can see why there is some legitimate concern about the top two pairs in Pittsburgh.
As of Tuesday, the Penguins' defensive pairs were as follows: Dumoulin-Hainsey, Maatta-Daley, Cole-Schultz, with Mark Streit and Cameron Gaunce filling in the 4th pairing that will likely be scratched to start the series.
Blue Jackets Will Be Aggressive
Much has been made of how the Blue Jackets will look to hit the Penguins' star players at every turn. Fortunately for Columbus, playing a physical, grinding style comes naturally to them. Assuming lines stay as they were in practice today, the Blue Jackets will be a heavy, and, frankly, frustrating team to play against. They'll play noted-Sidney-Crosby-tormentor Brandon Dubinsky and Boone Jenner together on the 2nd line, and Matt Calvert and Josh Anderson will be together on the 4th line. Sprinkle in Scott Hartnell and Nick Foligno and this is a forward group that can wreak havoc and frustrates an opponent's defense corps.
Aaron Portzline of the Columbus Dispatch went as far as to write: "The Blue Jackets know they have to be physical with Pittsburgh. And as Hartnell said today, when you have a chance to finish one of their star players, you damn well better do it. With Letang out, you could make the argument that the Blue Jackets have a better team from the red line back."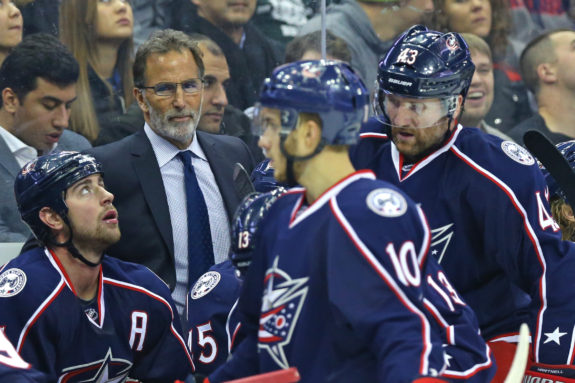 Perhaps nothing will be as important for Columbus in this series as establishing a forecheck. During their near-historic 16-game winning streak earlier this year, they won seemingly every '50/50′ puck. They played aggressively but not recklessly. They always seemed to have the puck in dangerous parts of the ice, suffocating their opponents. Over the past few months, their play has cooled, as one may expect. If the Jackets are to be successful in this series, they'll need to get back to that level.
The Penguins finished with the 2nd best record in the league. Even without Letang, they still have an incredibly talented roster with stars up and down the lineup. However, missing Letang, coupled with the fact that their d-corps has been battling injuries all year, presents a chink in the armor of the defending Stanley Cup Champs.
If there was an area of weakness for the Penguins, it starts and ends with the blue line. If Columbus is to win this series, they'll need to figure out how it can be exploited.