Now that the 2017 Stanley Cup playoffs are beginning, the Detroit Red Wings are sadly cleaning out their lockers for the summer. For the first time since 1990, Hockeytown will experience a spring without postseason action.
With the extended offseason, there's extra time to recap the season, identify the causes of Detroit's many issues, and discuss the upcoming expansion draft, entry draft, and free agent class. Including this piece, I'll be writing a series of articles this spring covering:
2017 Entry Draft Preview
Post-Draft Top 25 Under-25 Rankings
Free Agency Preview
Red Wings Forwards' Grades
Each forward to suit up for the Red Wings this season was graded based on preseason projections and how they performed in the roles they've been asked to execute within.
Justin Abdelkader | LW

D+

Projected 2016-17 Stats: 78 GP – 24 G – 23 A – 47 PTS
Final 2016-17 Stats: 64 GP – 7 G – 14 A – 21 PTS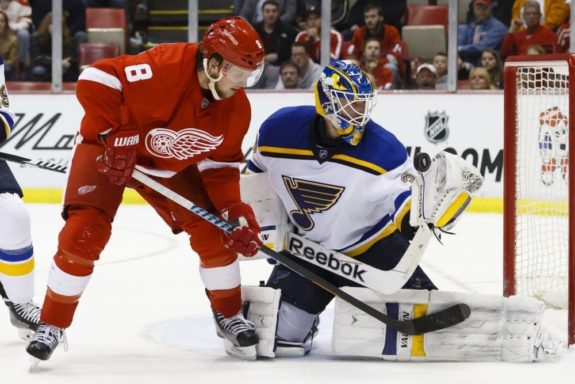 The injury bug—not the scoring bug—bit Justin Abdelkader this season. Detroit's newest alternate captain just could not get going and was shuffled around the lineup throughout the year. Like most on the team, Abdelkader will look to start fresh next season.
Andreas Athanasiou | LW

B+

Projected 2016-17 Stats: 44 GP – 9 G – 14 A – 23 PTS
Final 2016-17 Stats: 64 GP – 18 G – 11 A – 29 PTS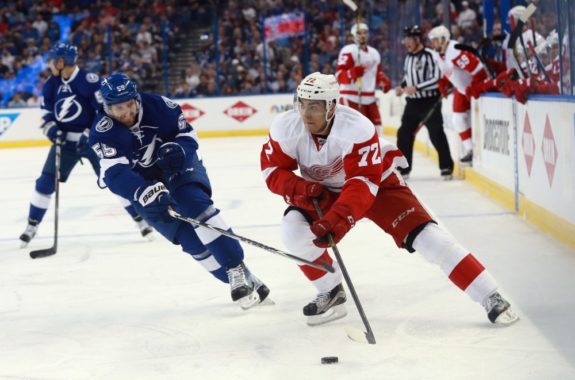 In Andreas Athanasiou's first full season with the Red Wings, the lightning-fast forward had some ups and downs. He scored 18 goals on the season—good enough to rank second on the team—but was frequently benched for not competing hard enough. Athanasiou was even scratched altogether for a few games.
However, the Red Wings found out that when Athanasiou is on his game, he can be a difference maker. His goal against Pittsburgh and overtime goals in back-to-back games late in the season were evidence of that.
Tyler Bertuzzi | RW

Inc.

Projected 2016-17 Stats: 7 GP – 1 G – 1 A – 2 PTS
Final 2016-17 Stats: 7 GP – 0 G – 0 A – 0 PTS
Though not ready for a real-time NHL gig, it was nice to see Tyler Bertuzzi in the lineup for a few games. He still needs to adjust to the speed and physicality of the big leagues before he locks down a roster spot. With Drew Miller likely leaving this summer, Bertuzzi will have the opportunity to earn such a role when training camp begins.
Mitch Callahan | RW

Inc.

Projected 2016-17 Stats: N/A
Final 2016-17 Stats: 4 GP – 0 G – 0 A – 0 PTS
In four games, Mitch Callahan did not get much of a chance to do anything – he played just over six minutes a game when in the lineup. Like Bertuzzi, Callahan also was overwhelmed by the pace of play and rough nature of the NHL. He did provide a little bit of sandpaper for a lineup that had just lost Steve Ott.
Luke Glendening | C

D+

Projected 2016-17 Stats: 82 GP – 7 G – 9 A – 16 PTS
Final 2016-17 Stats: 74 GP – 3 G – 11 A – 14 PTS
While Luke Glendening came close to reaching his projected scoring totals, his season was certainly nothing to write home about. He manned the fourth line all season but was rarely matched up against opponents' top players.
If the Red Wings are going to pay him nearly $2 million per season, Glendening needs to produce more–even if it's not in the box score.
Darren Helm | C

D+

Projected 2016-17 Stats: 70 GP – 15 G – 18 A – 33 PTS
Final 2016-17 Stats: 50 GP – 8 G – 9 A – 17 PTS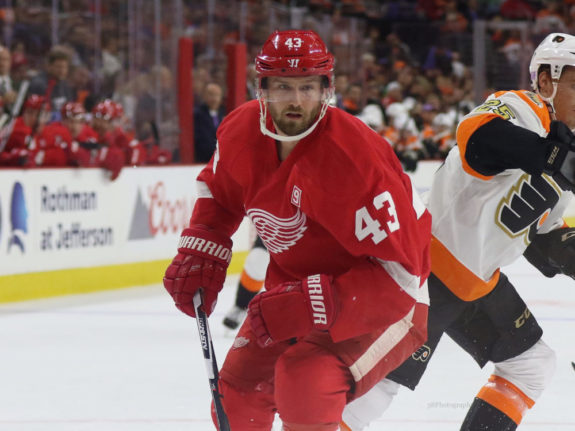 Even if Darren Helm hadn't been hurt in a freak collision, he likely would not have reached his expected point production for the season. Additionally, his faceoff percentage (51.4 percent) and penalty kill effectiveness (6.11 goals against per 60) were adequate at best. Given his diminishing returns, age, and contract, it would not be surprising to see Helm left exposed at the Vegas expansion draft.
Dylan Larkin | C

D+

Projected 2016-17 Stats: 80 GP – 23 G – 36 A – 59 PTS
Final 2016-17 Stats: 80 GP – 17 G – 15 A – 32 PTS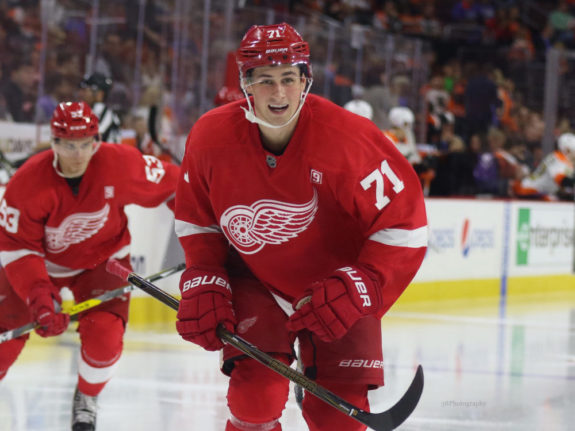 This year, opponents caught up (or onto) the speedy center. Dylan Larkin scored some, but not nearly at the rate the Red Wings expected him to.
Simply put, Larkin suffered from the sophomore jinx–a curse just as wretched as the freshman 15. Despite this, GM Ken Holland had strong praise for his franchise forward. Holland envisions Larkin as a center going forward and sees success in his future, given Larkin's past.
Matt Lorito | LW

Inc.

Projected 2016-17 Stats: N/A
Final 2016-17 Stats: 2 GP – 0 G – 1 A – 1 PTS
In two games, Matt Lorito did his job and didn't look out of place playing alongside Abdelkader and Larkin. Lorito was a great depth signing to improve the Grand Rapids Griffins.
Anthony Mantha | LW

B+

Projected 2016-17 Stats: 23 GP – 6 G – 8 A – 14 PTS
Final 2016-17 Stats: 60 GP – 17 G – 19 A – 36 PTS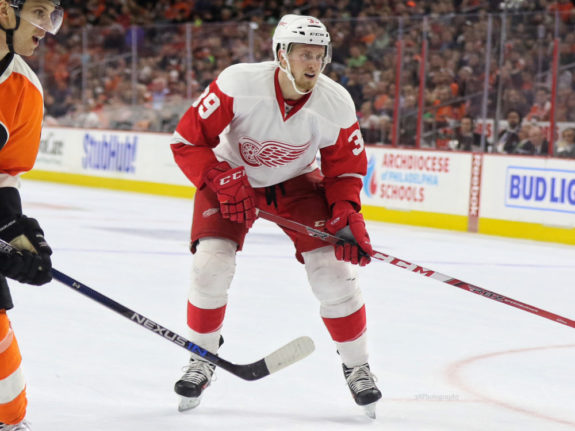 At times, Anthony Mantha looked like a young Johan Franzen with his size and laser wrist shot. He also had a few trips to Jeff Blashill's doghouse—just as Franzen did under Mike Babcock.
After joining the Red Wings one-quarter of the way through the season, Mantha instantly became one of Detroit's top forwards. And if Mantha can continue to generate his own offense and consistently move his feet, he'll easily develop into a perennial 30-goal scorer.
Drew Miller | LW

D

Projected 2016-17 Stats: 50 GP – 3 G – 5 A – 8 PTS
Final 2016-17 Stats: 55 GP – 5 G – 2 A – 7 PTS
This was Drew Miller's last season in Detroit. He's been a solid grinder for the Red Wings, but cannot keep up offensively anymore. His demotion to Grand Rapids earlier in the season was evidence of each.
Frans Nielsen | C

C

Projected 2016-17 Stats: 80 GP – 22 G – 31 A – 53 PTS
Final 2016-17 Stats: 79 GP – 17 G – 24 A – 41 PTS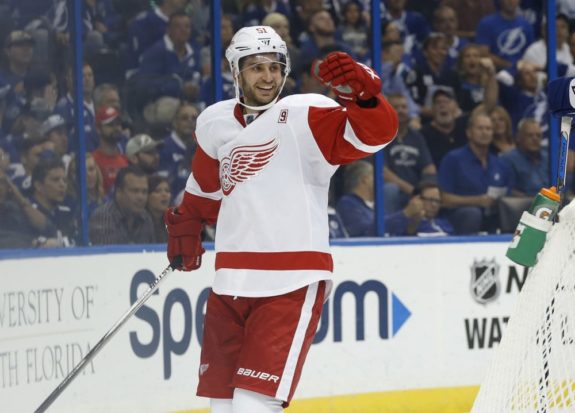 Like Mike Green the previous year, Frans Nielsen's first season in Detroit was less than optimal from an offensive standpoint. He did find some success centering a line with Athanasiou and Thomas Vanek.
Late in the year, Blashill slotted Nielsen between Helm and Riley Sheahan, creating a defensive second line to match up against opponents' top-six players. While Nielsen will be in Detroit's top-six next year, expect him to have more offensive teammates once the new season begins.
Tomas Nosek | C

Inc.

Projected 2016-17 Stats: 2 GP – 0 G – 0 A – 0 PTS
Final 2016-17 Stats: 11 GP – 1 G – 0 A – 1 PTS
After joining the Red Wings, Tomas Nosek used his size to effectively center the fourth line. In limited action, he won 54.4 percent of his faceoffs and played a few shorthanded shifts without allowing a power play goal.
Gustav Nyquist | LW

C

Projected 2016-17 Stats: 81 GP – 20 G – 29 A – 49 PTS
Final 2016-17 Stats: 76 GP – 12 G – 36 A – 48 PTS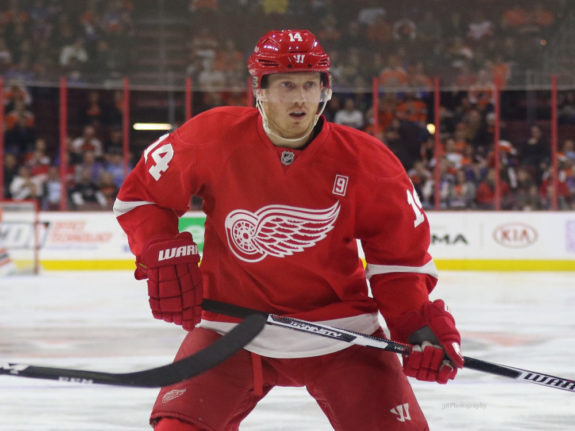 Gustav Nyquist had an unusual season. He is generally a gentlemanly player, but he was suspended for six games after slashing Minnesota's Nate Prosser in the face. Nyquist also did not generate much offense on his own, but thanks to playing alongside Henrik Zetterberg, he led the team with 3.04 five-on-five goals for per 60 (25th place in the NHL among forwards with over 750 minutes of five-on-five play).
Riley Sheahan | C

F

Projected 2016-17 Stats: 82 GP – 15 G – 20 A – 35 PTS
Final 2016-17 Stats: 80 GP – 2 G – 11 A – 13 PTS
Two (!) goals are significantly lower than Riley Sheahan's projected total. Two is better than zero, though. Detroit was hoping their young center could step up with Pavel Datsyuk no longer with the team. Instead, he slouched, tripped, fell, and could not get up. If he survives the expansion draft, expect Sheahan to come back strong and focused in the fall.
Ben Street | C

Inc.

Projected 2016-17 Stats: N/A
Final 2016-17 Stats: 6 GP – 0 G – 1 A – 1 PTS
Like with Lorito, Ben Street's recall was unexpected. It was nice that the veteran minor leaguer could suit up for a few games. Despite limited minutes on the fourth line, Street registered an assist and was not on the ice for a goal against.
Evgeny Svechnikov | RW

Inc.

Projected 2016-17 Stats: N/A
Final 2016-17 Stats:  2 GP – 0 G – 0 A – 0 PTS
In two games, Evgeny Svechnikov made an impression on the Red Wings and their fans, despite only scoring a (clutch) shootout goal. The Russian winger could be a dark horse candidate to lock down not only a roster spot but also a spot in the everyday lineup next year.
Tomas Tatar | LW

B-

Projected 2016-17 Stats: 77 GP – 28 G – 27 A – 55 PTS
Final 2016-17 Stats: 82 GP – 25 G – 21 A – 46 PTS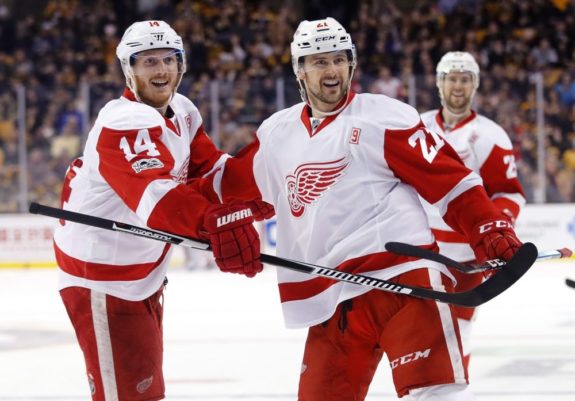 It took until the last full month of the season, but Tomas Tatar finally showed up as the scorer Detroit was hoping to feature. In March, Tatar was perhaps the Red Wings' best player, scoring nine goals in 16 games.
Next year, Tatar needs to produce at a more consistent rate. Only eight of his 25 goals came during the 2016 portion of the 2016-17 season. Detroit needs its sniper to be lethal if they want to compete.
Henrik Zetterberg | C

A+

Projected 2016-17 Stats: 74 GP – 20 G – 45 A – 65 PTS
Final 2016-17 Stats: 82 GP – 17 G – 51 A – 68 PTS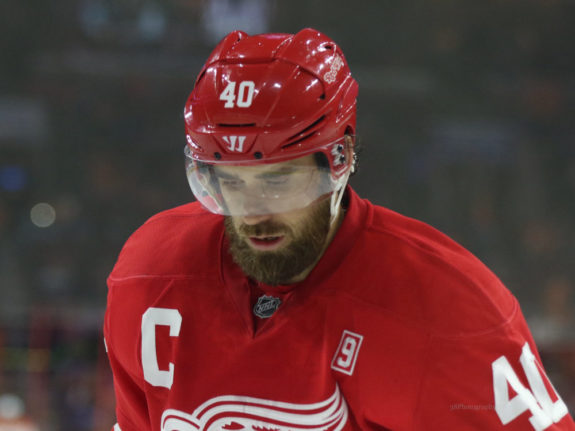 Henrik Zetterberg finally had a healthy season – and he sure made good of it. Detroit's captain posted a breakthrough 2016-17 season and single-handedly carried the team. If it wasn't for Zetterberg, the Red Wings' record would have been much closer to that of the Colorado Avalanche.
This was Zetterberg's best campaign in years. It's unfortunate that the rest of the team could not match the dedication exuded by their fearless leader.
Moved Forwards
Tomas Jurco | LW

F

Projected 2016-17 Stats: 32 GP – 4 G – 10 A – 14 PTS
Final 2016-17 Stats: 16 GP – 0 G – 0 A – 0 PTS
It was not Tomas Jurco's year. The former second-round pick started the year on injured reserve and never was able to lock down a spot in the lineup.
After being moved to Chicago for a third-round pick, Jurco had some choice words for the organization that failed to develop him properly. Time will tell if the departed forward finds success elsewhere or becomes the next Jan Mursak.
Steve Ott | C

B+

Projected 2016-17 Stats: 16 GP – 0 G – 2 A – 2 PTS
Final 2016-17 Stats: 42 GP – 3 G – 3 A – 6 PTS
For a depth, low-risk signing, Steve Ott was a great addition and exceeded expectations in Detroit. The gritty forward—who grew up a Red Wings fan—brought the right attitude to the locker room, effectively killed penalties, and won faceoffs (58 percent on draws) when called upon.
Now in Montreal, Ott will have an opportunity to challenge for the Stanley Cup with the Canadiens. The sixth-round pick acquired in exchange for Ott gives the Red Wings another opportunity to hit on a late-round draft choice.
Teemu Pulkkinen | RW

Inc.

Projected 2016-17 Stats: 35 GP – 8 G – 9 A – 17 PTS
Final 2016-17 Stats: 0 GP – 0 G – 0 A – 0 PTS
It's too bad Teemu Pulkkinen did not develop into an NHL forward for Detroit. His cannon shot will be missed, but his frequent penalties and lack of defensive awareness will not.
After Minnesota claimed Pulkkinen off waivers, the Finnish winger played nine games with the Wild. He only recorded one goal before being placed on waivers again. No one placed a claim on Pulkkinen the second time around. Or the third time. Then, the Wild traded him to the Coyotes for future considerations.
Thomas Vanek | LW

A-

Projected 2016-17 Stats: 71 GP – 16 G – 22 A – 38 PTS
Final 2016-17 Stats: 48 GP – 15 G – 23 A – 38 PTS
After Holland took a chance on the recently bought-out forward, Thomas Vanek delivered–and then some. In fact, he just about matched his preseason projection in 23 fewer games than originally hypothesized.
Surely, Red Wings fans were disappointed that the return for Vanek—a third-round pick and Dylan McIlrath—was less than expected. But getting another selection in the draft's first 100 picks is still something noteworthy–especially for an aging, one-dimensional winger.
What do you think of the Detroit Red Wings forwards' grades? Too high for some? Too low? Comment below.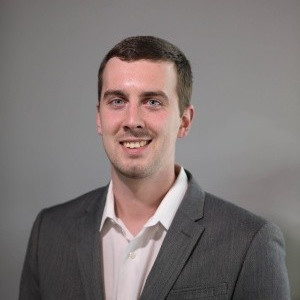 Tony Wolak is based in the Washington D.C. area and covers the Detroit Red Wings for THW. As a former junior and college hockey player, Tony has a unique perspective on Red Wings topics.