Finally, a break for the Detroit Red Wings. Unfortunately, it's not the break fans were looking for – a string of wins and/or favorable calls.
While the Red Wings are on break for their NHL-mandated bye week, the news about the team doesn't stop.
Trade deadline talk
Drew Miller trade request
Tomas Jurco dealt
Possible contract extensions
Coreau gets playing time
Next on the schedule
So check out what's going on with the Red Wings while they take a break from the action and rest up for the final stretch.
2017 NHL Trade Deadline
As he has been for some time now, Thomas Vanek has been attracting a lot of interest from playoff-bound teams. Having a rebound year in Detroit, Vanek is the most-coveted rental player on the roster.
Sportsnet's Elliotte Friedman noted in his '30 Thoughts' column that the Red Wings are "open for business." Vanek is among the Red Wings who will "likely" be dealt before the deadline. However, players like Andreas Athanasiou and Petr Mrazek are not available unless a young, top-pairing defenseman is part of the deal. Mike Green is most likely staying put as well.
Steve Ott and Brendan Smith are drawing interest as rentals. Ott would fit well with a young, playoff-bound team. Smith could provide depth on the blue line and be an effective third-pairing defender. The New York Rangers could be calling about Smith, according to TSN's Darren Dreger.
Drew Miller Requested a Trade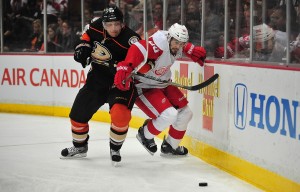 After he was waived and assigned to Grand Rapids, Drew Miller is now hoping to be dealt before the deadline. Like Tomas Jurco did earlier in the season, Miller requested a trade in hopes of finding NHL playing time elsewhere. It's possible he is moved for a conditional draft pick – the Red Wings would only receive compensation if Miller plays a certain amount of games down the stretch.
While no one is particularly surprised that Miller did not stick in Detroit, it is a sour note to some. For roughly the same amount Detroit signed Miller to over the summer, they could have signed New York's Michael Grabner to play a similar role. So far, Grabner has racked up 26 goals for the Rangers.
Tomas Jurco Traded to Chicago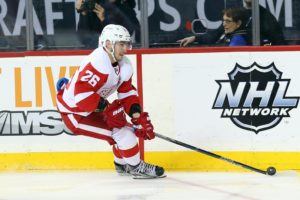 On Friday, Ken Holland dealt young winger Tomas Jurco to the Blackhawks for a third round pick. It will be nice for Jurco to get a fresh start, especially considering he'll suit up alongside Slovakian legend Marian Hossa.
Jurco did not develop as the Red Wings hoped he would. To his defense, Jurco was a frequent scratch over the past two seasons. When he did play, it was on the fourth line with the likes of Miller and Luke Glendening.
Contract Extensions Coming?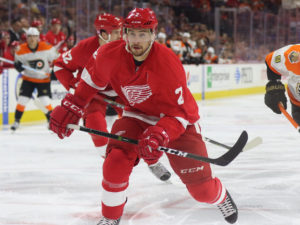 Before any trades are completed, Holland has been checking in with Smith and Vanek's respective representation about possible contract extensions. Both have been playing well as of late and enjoy playing in Detroit.
Vanek could also re-sign with Detroit in the offseason if he is dealt, according to Friedman in his latest '30 Thoughts' column. Why not get something in return for Vanek now and sign him later? Teams like the Washington Capitals, Montreal Canadiens and Los Angeles Kings could use some offensive help and could offer Detroit a nice return for the Austrian winger.
Coreau's Conditioning Stint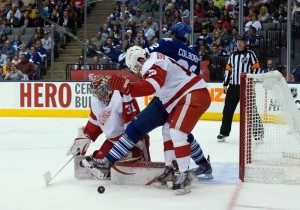 Like Jimmy Howard earlier in the month, Jared Coreau is heading to Grand Rapids for a conditioning stint. The goaltender has played sparingly in February, starting only one game – a 6-3 loss to the Minnesota Wild.
With the Red Wings making one last push for the playoffs, Mrazek got most of the starts in Hockeytown. The Czech goalie deserved it, as he's turned his game around lately. However, Coreau will likely get a few more NHL starts after the bye week with Jimmy Howard still on the mend and Detroit just about out of the playoff hunt.
Next Up
The Red Wings resume action Tuesday night in Vancouver against the Canucks – the team's last game before the trade deadline. This will also be the start of a Western Canada road trip, as Detroit is scheduled to visit Calgary and Edmonton next weekend. Then, the Red Wings are off to Toronto for a Tuesday night matchup against the Maple Leafs. Finally, Detroit follows the Maple Leafs game with a tilt in Boston the next night before heading back to Hockeytown.
A long road trip following the bye week isn't exactly what the doctor ordered, especially considering teams' struggles after their break. March could easily start off ugly for the Red Wings.