The Minnesota Wild have been enjoying continuous success throughout the 2016-17 season and have not lost back-to-back games since the beginning of December. Their forward and defence corps are both as deep as ever and a multitude of players are breaking through with career seasons.
Yes, there are a lot of positives happening in the North Star State but it's not all roses. Some of the team's veterans were rolling heading into the bye week but others are fading fast.
Staal Aboard or Last Call?
There has been plenty of praise and recognition in the media for Eric Staal this season and deservedly so. The 32-year-old centre had seen his offensive production hit a sharp decline over the last few years and many were left questioning how much he had left in the tank.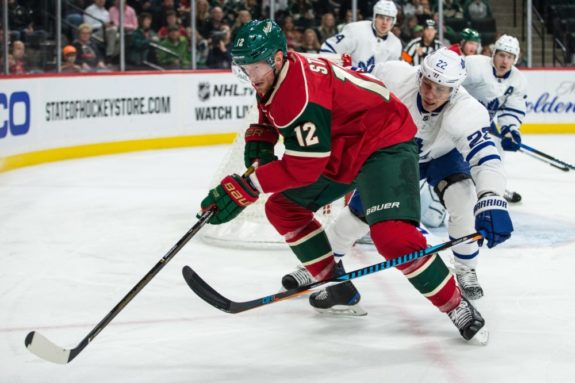 The former Carolina Hurricanes captain signed a three-year contract with Minnesota in July and came out of the gate looking rejuvenated. Staal led the Wild in scoring for the first part of the season and had an amazing stretch in late December/early January when he recorded 21 points in 15 games. Unfortunately for Staal, that rekindled on ice magic has hit a big time snag in recent weeks.
With only six points in his last 18 games, the Wild's bye week could not have come fast enough for the former second overall pick. The mandated five-day break will give the veteran some much needed time to rest up and hit the reset button. There's still plenty of season left and the Wild will want their first-line centre running on all cylinders as they embark on their march towards the Stanley Cup playoffs.
Should Staal continue to look fatigued coming out the bye week, questions surrounding his longevity and future will no doubt re-emerge. After such a significant dip in production over the past month, it's worth asking if Staal's early season performance was the real deal or if it was amplified by the adrenaline created by a fresh start and a new city. His first few games coming out of the break will be telling.
Living Ain't Parise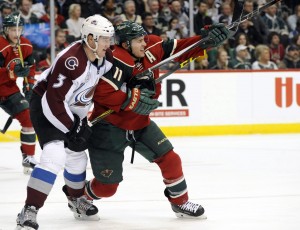 Somewhat of a forgotten man in Minnesota these days, Zach Parise has been mired in a forgettable campaign and is scoring at a rate well below his career norms. Once considered to be an impact player, the 13-year pro has been pushed into the background by the emergence of the Wild's younger core.
The effort level remains consistent from Parise but it is becoming more apparent that he's either lost a step or is still dealing with lingering injury problems. The former first-round pick's 2015-16 season was cut short due to a back injury and it's possible that he hasn't completely healed. Back injuries are tricky and can sometimes be very tough, if not impossible, to overcome.
Skating in a minute and a half less per game, Parise is registering the lowest offensive numbers of his career. The winger is on pace for 40 points and, with another eight years left on his contract at a cap hit north of $7.5 million, his sudden decline has to be a major concern for general manager Chuck Fletcher and the rest of his management team.
Parise opted to rehabilitate his back last year rather than have surgery. You have to wonder if this decision will be revisited during the offseason if his back is indeed still causing him problems.
Welcome Back to Pominville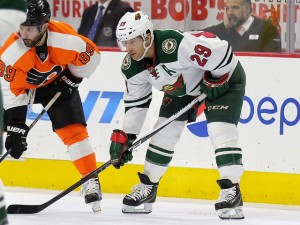 While teammates Staal and Parise are looking to snap out of their respective funks, another Wild veteran has found his second wind. Forward Jason Pominville, who had been talked about extensively as a buyout candidate last summer, has been on fire as of late.
The 34-year-old has already surpassed his point total from last season and it doesn't look like he'll be stopping any time soon. With 20 points in his last 16 games, Pominville is on pace for a 53-point campaign which would put him back on par with expectations. Even more impressive is the fact that the winger is producing while playing just a hair above 14 minutes per game and without the power play opportunities he's been accustomed to in the past.
There has been speculation that the Wild might ask Pominville to waive his no movement clause prior to this summer's expansion draft but his recent play could silence those whispers. The winger is only seven points back of Staal in scoring and he could effectively be playing his way back into the team's plans.
The way things are trending, it could very well end up being Staal who is excluded from the Wild's protected list come June. Leaving the former Hurricanes cornerstone unprotected might be easier for management to do rather than asking Pominville to waive the protection clause that they negotiated into his contract. The opposite directions of each forward's recent play might help make that decision easier.
Eyes on the Prize
It's important to remember that an NHL regular season is 82 games in length. It's only natural for the majority of the league's players to experience highs and lows throughout the year. What truly matters to a team is that their players have what it takes to show up when it counts the most – in the playoffs.
Staal has historically been a strong playoff performer and most notably helped guide his 2006 Hurricanes to the Stanley Cup. The centre bottomed out with zero points in five playoff games as a member of the New York Rangers last year but has 43 points in his previous 43 career postseason appearances.
Despite his recent struggles, Parise has enjoyed his fair share of playoff success in Minnesota. The former 45-goal scorer has 25 points in 28 career postseason games with his home state team. Pominville has also been known to show up come playoff time. The winger put up seven points in six playoff games last season and has 22 points in 29 career postseason contests in a Wild uniform.
These three former NHL captains will each be looked upon to play important roles for the Wild during the team's playoff run. Even if they aren't scoring, their leadership qualities and presence in the locker room alone can go a long way in creating team success.