It was a rough month for the Detroit Red Wings. But what else is new?
After a 4-1 loss to Carolina on March 28 — Detroit's third game in three nights — the Red Wings were officially eliminated from the playoffs for the first time since the 1989-90 season. Then, in their next game, top prospect Anthony Mantha broke his finger in an unnecessary fight with Tampa Bay's Luke Witkowski, ending his season.
March may have been the final straw, but there were a few bright spots. Jimmy Howard returned from injury to show off some incredible goaltending. The power play scored…a lot! And Andreas Athanasiou scored a couple of beautiful overtime goals. In addition, a few players had a strong March even though their season was essentially over.
In this week's edition of The Grind Line, the Red Wings coverage team from The Hockey Writers shares their picks for the March player of the month. Take a look and share your thoughts on the players.
Tony Wolak: Tomas Tatar
In the last full month of the season, Tomas Tatar finally broke out. The Slovakian sniper lit the lamp nine times in March — three of which came on the revitalized power play. Tatar's 26.5% shooting percentage led the team and his 14 points trailed only team captain Henrik Zetterberg (16) for the month.
It's no surprise that the power play found some footing once Tatar got his scoring touch back. Having "Tuna" on his off-wing ready to fire home a pass makes the power play more dangerous as a whole. It showed too. Detroit's power play ranked 12th in the NHL for the month of March with a conversion percentage of 20.5% — quite a jump considering their season power play percentage was in single digits for some time.
For a team that is primarily playmakers, having a true finisher like Tatar goes a long way — he's a catalyst who brings the offense up to par. If Tatar is on his game, Detroit's going to score enough to keep themselves in the game night in and night out. Of course, the defense is another story, but Tatar is responsible in his own zone at least.
And while a 0.56 goals per game pace is only sustainable for the league's elite, the Red Wings are hoping Tatar can continue his torrid streak through the final few games of the 2016-17 season and into the Little Caesars Arena era. With Tatar, Mantha and Athanasiou producing, maybe the rebuilding process will move a little faster and we'll see Detroit back in the playoffs sooner.
Tom Mitsos: Henrik Zetterberg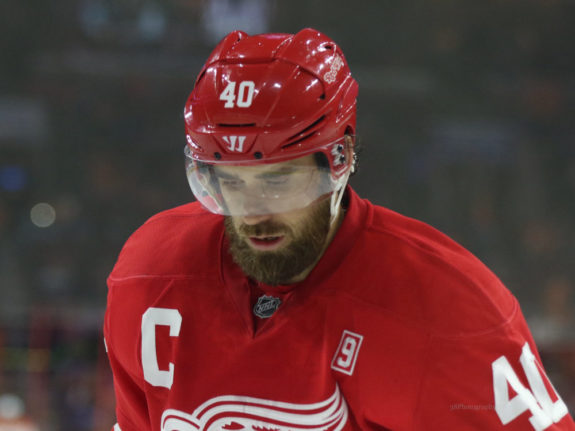 The ageless wonder, Henrik Zetterberg continues to produce during a season everyone thought he was going to begin his inevitable regression.
The 36-year-old had two goals and 14 assists in 16 games during March; he leads the team with 48 assists and 64 points, 22 more points than second-place Gustav Nyquist.
It's not as if Zetterberg is getting lucky with secondary assists, eight of his 14 assists are primary assists, which means he's creating space for his linemates to make plays.
There's no better example of that than Tomas Tatar's month, as the Slovak had nine goals — six of which Zetterberg had an assist on — in March playing on the top line with the captain.
Nobody wanted to extend the playoff streak more than Zetterberg, as he tried to carry the team on his back. He fought valiantly, but he didn't have enough support to keep the playoff streak alive.
Zetterberg put a lot of the blame on missing the playoffs on himself, which any captain would do, but without Zetterberg, the Red Wings would have been out of the playoffs at the beginning of March instead of the end.
Brandon Peleshok: Gustav Nyquist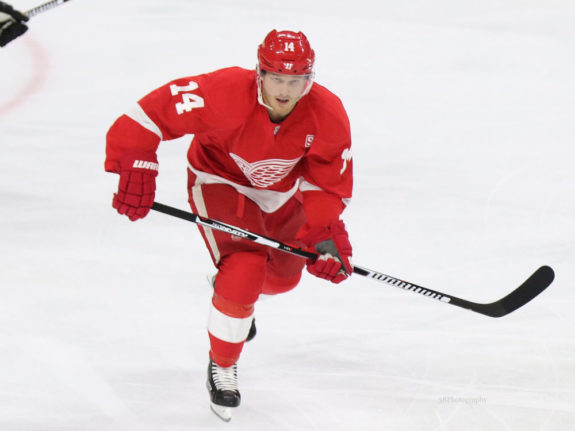 The Red Wings missed the playoffs for the first time since the 1990-91 season, yet several players stood out with their strong play during the month of March. While both Zetterberg and Tatar were impressive, Gustav Nyquist put together a strong stretch of play as well.
The Swedish-born forward played one fewer game than his aforementioned teammates, as he was coming off a six-game suspension after high-sticking Minnesota Wild defenseman Jared Spurgeon. Despite the time he spent sitting on the sidelines, Nyquist registered five points through his first five games and 13 points in total over the course of the month.
While the 27-year-old forward played well in March, he has struggled to find consistency through most of this season. In October, I discussed Nyquist rediscovering his game again, as he got off to a red-hot start this year. Unfortunately, he only managed to register 29 points through 56 games from November through February. Nyquist has carried the "streaky" label for quite some time, but the difference between his October/March points per game (.80 P/GP and .87 P/GP, respectively) and the rest of the year (.46 P/GP) is a bit alarming. Either way, it's nice to see him capping off the 2016-17 season on a high note.
Have a question about how the Detroit Red Wings will address the expansion draft, trade market, or free agent market? We'll be answering them in an upcoming mailbag edition of The Grind Line. Tweet us at @THW_RedWings!