According to the Detroit Red Wings faithful – fans, bloggers, journalists, and even the man himself – Gustav Nyquist has returned to form. The 27-year-old forward is off to a red-hot start this season, scoring three goals and five assists through eight games. Certainly, it is a welcome sight, but the idea that Nyquist disappeared for a season is a bit misleading.
When Nyquist posted 28 goals through 57 games during the 2013-14 season, he set the bar impossibly high. Fans of the Red Wings were ecstatic – the team finally had a legitimate sniper. The Swedish winger followed up that performance by scoring 27 goals the next year. In each of those seasons, his shooting percentage was well above the NHL average (roughly 8.90%), converting on 18.3% and 13.8% of his shots on goal, respectively. Realistically, Nyquist was bound to come back down to earth at some point, and that is exactly what happened during the 2015-16 season.
Don't Call it a Comeback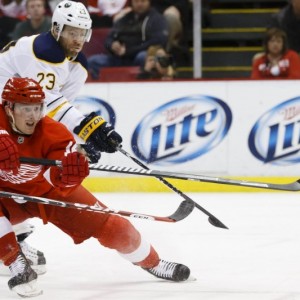 The season wasn't pretty in terms of offensive production, as point totals dipped across the board. Every single player among the Red Wings' top-six forwards registered fewer points per game than they had during the 2014-15 season. Nyquist's P/GP dropped by .14, placing him behind Henrik Zetterberg (.25) and Pavel Datsyuk (.29). Though he finished the season with just 43 points, most of the focus was on his reduced total of 17 goals.
There is no doubt that Nyquist struggled to score goals during the 2015-16 season. While his shooting percentage was still above average (10.6%), his shots on goal dropped from 195 to 161. Several factors contributed to the lapse in goal-scoring, but the Red Wings' dismal power play and Nyquist's time on ice per game dropping by over a minute (16:39 down to 15:10) are probably at the top of the list.
Despite these contributing factors, Nyquist managed to score 31 points at even strength (second to Dylan Larkin's 40 EVP), one more than his 2014-15 total of 30 EVP. He also registered two more primary assists than he did during the previous year. While many criticized Nyquist for an "off-year", he managed to weather the storm better than most of his teammates.
Can the Goose Stay on the Loose?
Seven games into the 2016-17 season, Nyquist finds himself tied for first in points (along with Thomas Vanek) among all Red Wings. He is unlikely to maintain his current point-per-game pace, but it's great to see his play trending upward. It's also worth noting that seven of his eight points have come at even strength.
Despite his torrid start, Nyquist's TOI/GP (15:09) is nearly identical to what it was last season. It's possible that Red Wings head coach Jeff Blashill's approach, in clearly defining roles for his players, is working.
Related: 3 Keys to Red Wings' Four-Game Winning Streak
Perhaps the most encouraging aspect of Nyquist's game this year has been his ability to turn his strong two-way play into point production. He's done a fantastic job of stripping the puck from his opponents in the offensive zone, as he did with an assist on Vanek's second goal of the season:
If he can stay hungry during his pursuit of the puck, the offense will continue to flow for the 27-year-old Swede. Certainly, the way Nyquist has started the 2016-17 season has even the most fervent of doubters believing in him again.