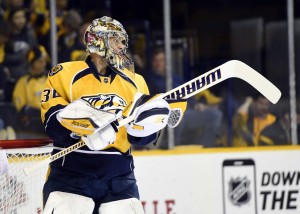 The Nashville Preators are 2-4-0 just six games into the 2016-17 season. They have seen their fair share of ups and downs so far, but for the most part it's been looking pretty good over in Smashville. Despite being slightly slowed down after much of the team was hit with food poisoning this past week, the Preds have to be feeling pretty good about themselves. They've had a tough schedule to start the year, but they've managed to be competitive in every contest thus far (besides last night's game against the Anaheim Ducks, we'll take that as an exception). Key elements to their success can be credited to the strong play of goaltenders Pekka Rinne and Juuse Saros, as well as the newly acquired P.K. Subban, three players we'll be examining more closely today.
Rinne and Saros in the Crease
Before Pekka Rinne was pulled out of Wednesday's game against the Anaheim Ducks, the Finnish goaltender looked to have been showing flashes of his brilliant Vezina-candidate play once again. The game against the Ducks was a rough one for Rinne, but it's thought that he was maybe rushed back into playing a little too soon after suffering from food poisoning last week. Before last night's game was Rinne 1-2-0 with a 2.71 GAA and .922 save percentage, respectable numbers for a netminder that has had to face the Chicago Blackhawks, Dallas Stars, and Detroit Red Wings in his first three games. He may be 33 years old, but Rinne could very well be back to top form and ready to be the backbone of the team once again. Hopefully Wednesday's game was just a rough patch in the road to a full recovery.
When Rinne needs a break, the Preds can look to their AHL starter Juuse Saros to step up in the crease. Saros has been regarded as the Preds' goaltender of the future, and when called upon, you can bet that he'll be ready. Seen as an "undersized" goaltender in today's NHL, Saros is an agile netminder with incredible instincts that help make up for his lack of size. Marek Mazanec remains to be Nashville's immediate backup, but Saros looks like he could be with the big club again soon on a more permanent basis if need be.
Saros got the start against the defending Stanley Cup champions the Pittsburgh Penguins on Saturday night, allowing just one goal and posting a .971 save percentage to get the win in his first start of the season. The 21-year-old Finnish netminder was brilliant between the pipes, making a number of key saves to keep his team in the game which eventually allowed them to pull away with the win. If his strong play continues to shine through, Rinne may be forced to split time with his Finnish counter-part as the season moves along. We'll see how the situation plays out, but having two strong netminders is certainly not an issue to worry about (with Mazanec looking like the third option in a long-term scenario).
---
Complete Predators Coverage From THW
---
P.K.'s Presence
The arrival of P.K. Subban has sparked a quicker jump in the Nashville blueline, and he has been everything people thought he would be for the Preds. Subban has two goals and five points in six games so far, and he's made the Nashville defense a little quicker than it was last year. This has allowed for pucks to be moved up ice quicker and players jumping up in the play more often, leading to a full-fledged Nashville attack nearly every shift.
Subban's been seeing 51.4% of his starts come in Nashville's zone so far, meaning he's already won the trust of coach Peter Laviolette to protect their own end and lead the charge up ice. It's only been six games, but Subban looks right at home and ready for a big season ahead of him.
Nashville finds themselves in the midst of a tough California road-trip as they look to move themselves up the standings. It's a continuation of stronger teams on the schedule, but the Predators look poised to fight a full 60-minutes night in and night out (given they aren't struck with injuries or illness). The team's record fails to reflect the team's story, and they'll be looking to add more wins to their total as they continue to find their form and get back to playing Smashville hockey. Let's see how things shake up.