The Toronto Maple Leafs have played six games in the 2016-17 season and have scored a total of 17 goals. That is not that bad of a total. The problem is that they have given up a total of 26 goals. This has led them to a record of 1-2-3.
Now, Frederik Andersen has been given a lot of grief for the record the Leafs currently have. Allowing 22 goals in five games played does not look good on a resume.
Frederik Andersen's 22 GA are tied for most by a goalie through the first 6 games of a #Leafs season since Allan Bester in '89-90 allowed 23

— StatsCentre (@StatsCentre) October 26, 2016
Having signed a five-year deal with the Leafs right after being acquired, the Leafs are "stuck" with Andersen for the long haul. This start has not endeared him to fans, who have endured what seems like a decade of bad to mediocre goaltending. However, fans should not rush to hate on Andersen just yet.
Why? Why? Why?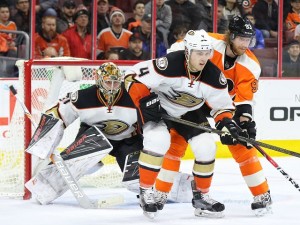 Let's take a look at some history. Jonathan Bernier came to the Leafs with lots of potential and some good performances in backup appearances with the Los Angeles Kings. He then came to Toronto and didn't do so well, to say the least. Why was that? How could he look good on one team and bad on another?
In Bernier's last season with the Kings (2012-13), the defense in front of him consisted of Drew Doughty, Slava Voynov, Rob Scuderi, Jake Muzzin and Alec Martinez. The defense in front of him in his first year with the Leafs featured a mess of Dion Phaneuf, Cody Franson, Carl Gunnarsson, John-Michael Liles, Mike Kostka, Mark Fraser, Jake Gardiner, Korbinian Holzer, Ryan O'Byrne and Mike Komisarek. Can you see the difference?
Andersen is going through the same problem. He went from a team that had a pretty good defense to a team that doesn't. No one should have expected him to be stellar in his first year with the Leafs. That's just unfair. The Leafs are a young team and the veterans are left over from teams that didn't do so well. He needs to get used to his new team and how it works.
Another factor is how long he had to get ready for the season. Mike Babcock said this when asked about the goaltending problem:
We think we have a really good goaltender. At the World Cup I had three outstanding goaltenders, and they all talked about how much time it usually takes to get ready. Our guy didn't have that opportunity because of his injury. We're real comfortable with him. Do we think he's played as good as he's capable of playing? No. Do we think he's going to? Yes.
Andersen, a native of Denmark, was originally set to play for Team Europe in the World Cup. However, he was injured in an Olympic-qualifying game and missed the tournament and most of the Leafs' training camp. He didn't get much preparation in terms of on-ice time.
To go along with this, it isn't the first time that Andersen has had a slow start to a season. Last year, Anaheim was slow out of the gate, going 1-7-2 to start the season. Andersen didn't record a win until his ninth game, not winning a game in the entirety of October. As we remember, the Ducks and Andersen both rebounded and made the playoffs. He would go on to post a record of 22-9-4 in 43 games. He then went on to win three out of the five playoff games. All in all, he has won more than half the games he has played in all of his three NHL seasons. That might take a hit this season, but hopefully not by much.
---
Complete Maple Leafs Coverage From THW
---
Fans shouldn't get on Andersen so much. He was bound to have some struggles when he came to Toronto and that's what is happening now. If he's still playing like this at the halfway point of the season, that would be cause for concern. Six games in is not the time to panic.