Hello there! Congratulations to your team, the Chicago Blackhawks, for making it to the Stanley Cup Playoffs and embarking on the fabled quest for Lord Stanley's Mug. Again. Seriously guys, let someone else have a turn.
Anyway, ahead of you is (up to) two months of sleepless nights, mood swings and pathologically checking up on your team's star players.
You're playing the Nashville Predators, you say? Right, well, let's get to it: the Preds finished the season in the Western Conference's second wild card spot. As this seeding suggests, they were a middling team throughout the regular season. Longest winning streak? Four games. Longest winless streak? Four games. Never too high, never too low. Right about average.
That said, they were not exactly fortunate when it came to health. Case in point, literally everyone on the Preds' back end, save for Mattias Ekholm, missed significant time this season due to injury. Yes, defense is a challenging, physically demanding position, but when your team is built from the blue line out, and players like Roman Josi, P.K. Subban and Ryan Ellis are out for long stretches of time, some understanding is in order.
Vital Statistics
The Predators employ the trademark up-tempo style of head coach Peter Laviolette, which is noticeably different from the more conservative mentality of former bench boss Barry Trotz. Though this is Laviolette's third season in the Music City, the Preds have yet to shake their reputation as a defense-first team.
Onlookers might therefore be surprised the Preds ranked a healthy 11th in National Hockey League goal-scoring during the regular season. This offense comes nicely balanced, as well, with only the Calgary Flames and Minnesota Wild having as many goal-scorers in double digits as the Predators (12 apiece).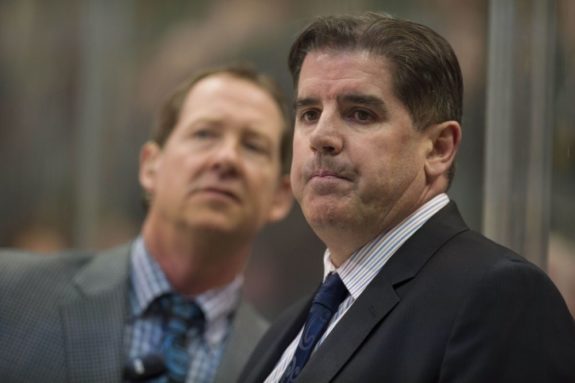 Defensively, the Predators were a respectable 15th in goals against. Not bad, especially considering the litany of injuries on their back end. Their goaltenders combined for the 14th-best team save percentage. The team ranked ninth during the regular season in Corsi For, seventh in shots for, 15th in shots against. Nashville's 13th-ranked shooting percentage and near dead-even PDO indicate that, by and large, the results we saw in the regular season are a good representation of the actual performance of this Predators squad. Nothing spectacular, just a good, solid team.
At Forward
The entire Predators team started slowly this season, most notably star winger Filip Forsberg, who was in the first year of a six-year, six million dollar per-year contract. How slow was his start, you ask? Well, consider that 29 of Forsberg's 31 regular season goals came from Dec. 13 onwards. There were some awkward questions asked of Nashville early on, no doubt. However, the pucks eventually started to go in, and the line of Forsberg, Ryan Johansen and Viktor Arvidsson was world-destroying down the stretch. They will surely be a handful.
Depth at forward, particularly at centre, is a concern for Nashville (stop me if you've heard this before). Behind Johansen, the Predators ice Mike Fisher, Calle Jarnkrok and, generally, one of Colton Sissons or Vernon Fiddler at centre. …yeah, not exactly Crosby-Malkin-Bonino-Cullen, is it.
That said, though not always offensive threats, the Preds' centres have been excellent on faceoffs this season, with no regular pivot under 50 percent on the draws. Fiddler (56.9%), Johansen (55.9%) and Fisher (54.7%) were especially good, meaning that the Predators, more often than not, will start play with the puck.
Don't sleep on the Predators wingers, either. Despite down seasons, both Craig Smith (three) and Colin Wilson (one) have put up 20-goal seasons in the past. James Neal also struggled this season, but nevertheless hit 20 goals for the ninth consecutive campaign. Trade deadline acquisition P.A. Parenteau has yet to score in eight games with the Preds, but he is coming off a finger injury and has shown in the past that, given the right situation, he can provide reliable secondary scoring.
Thus, teams that consider the Predators to be a one-line team should exercise caution. Nashville's forward corps, though not awash in elite offensive talent, gives the opposition fits with their speed. Furthermore, especially with the return of Miikka Salomaki, the Preds have some bite up front, as well.
Their wild card will be secondary scoring; even if the Forsberg-Johansen-Arvidsson line continues to produce at the same clip – highly unlikely given the tight-checking and line-matching nature of a seven-game series, the Predators will still need other players to put the puck in the net with some consistency.
On Defense
The Nashville Predators' top four defensemen are as follows: Roman Josi, P.K. Subban, Mattias Ekholm and Ryan Ellis. Any questions?
Okay sure, as mentioned, three of the four have been banged up this season. Even if one or two go down though, Matt Irwin and Yannick Weber have shown they can more than adequately fill in.
The increasing physicality and long overtimes of the NHL playoffs can really take a toll on a team's top defensemen. The Nashville Predators have a defense core that is as balanced as it is strong, rendering them as capable as any team at weathering the postseason storm. It might also help the Preds that none of the defenseman they will conceivably use are over the age of 29, which should mean a constant supply of fresh legs throughout the playoff slog.
The Preds also get a good amount of offense from the back end, with a league-leading three defensemen – Ellis, Josi and Subban – with 10 or more goals. Only the Montreal Canadiens and Minnesota Wild have as many defensemen (four) with 23 points or more. This production is particularly significant due to the aforementioned drop-off in offense performance after the team's first forward line.
That said, given how much of their play runs through their defenders, if a team is able to disrupt the Preds' defense, Nashville's offense may be neutralised.
In Goal
I wrote an article in the final weeks of the regular season suggesting that Pekka Rinne wasn't the best choice to start for the Preds in the playoffs. He promptly pitched a shutout. Such is life with Rinne; you're never quite sure what you're going to get. You can get the six foot five, 217-pound monster with lightning-quick reflexes who makes the opposition feel like they'll never score again. Or you'll get the goalie who has turned Nashville into North America's single biggest market for hair restoration products.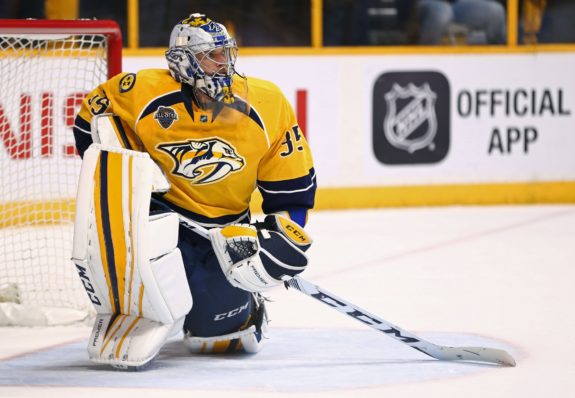 What we do know is that his regular season save percentage this year – .918 – was far superior to that of 2015-16, when he posted a .908. The Predators hope that this trend continues in the playoffs, as the .906 he threw up last postseason just won't cut it.
That said, it's not as though the Predators' second round loss to the eventual Stanley Cup finalist San Jose Sharks can be blamed on Rinne. He was brilliant when he had to be throughout last season's playoffs, particularly in game seven of the first round against the Anaheim Ducks. The Preds had absolutely no business winning that game, but Rinne stopped 36 of 37 shots – on the road, no less – to lead his team to victory.
For his part, understudy Juuse Saros got off to a hot start before cooling somewhat towards the end of the season, though he still posted 10 wins in 19 starts, with a .923 save percentage. If Rinne falters, the Predators have a viable secondary option in Saros, who might benefit from other teams' lack of experience playing against him.
Regardless of who starts in net, odds are that the Predators should have significantly better goaltending this time around. Even if they don't, they finally have the ability to make up for any puckstopping deficiencies with their offense.
Special Teams
The Predators special teams are, for the most part, unremarkable – 16th in power play efficiency and 15th on the penalty kill during the regular season. Be warned, though: the Predators get the sixth-most power play opportunities in the NHL, so even their league-average conversion rate will translate into more goals if they are afforded the man advantage with a similar frequency.
The Predators also lead the league in shorthanded goals, with 12; watch out for Viktor Arvidsson (five) and Filip Forsberg (three), in particular. When your opponents' best offensive players play the penalty kill, you're gonna have a bad time.
I should mention that the Predators are not exactly angelic, at least when it comes to drawing penalties. Everyone already knows about James Neal by this point (if you don't, here is a former referee calling him out), but Viktor Arvidsson recently provoked the ire of hockey fans with his flop against the St. Louis Blues. It remains to be seen if the Preds' now have themselves a team-wide reputation for embellishment, and if said reputation will have an impact on how their games are officiated.
And the Oscar goes to…

Viktor Arvidsson. #stlblues pic.twitter.com/aHrnKnOmlm

— Cristiano Simonetta (@CMS_74_) April 2, 2017
Happy Playoffs!
So there you have it. The Nashville Predators are a well-built and well-coached team that, during the regular season at least, receives consistent contributions from all around their lineup. Perhaps this season more than any other in their history, the Predators do not need absolutely everything to go right for them to have success.
Should you be worried? Well, not only will you soon have a sea of bright gold burned into your retinas, but your team will also have to play games at Bridgestone Arena, where the Preds are 24-9-8. Yes, yes, the Blackhawks are good at home, too. And, unlike the Predators, they can actually play a decent road game. Regardless, the Predators have a legitimate shot this year to dispense with the old guard and usher in a new era in the Western Conference. Is Nashville for real? Let's find out.
(All advanced stats are thanks to Corsica. All metrics are for all situations, unless otherwise specified.)