On trade deadline day, the Nashville Predators acquired right-winger P.A. Parenteau from the New Jersey Devils in exchange for a sixth-round draft pick in the 2017 National Hockey League Entry Draft.
The #NHLTrade calls keep rolling in to make things official.

Details: https://t.co/gZC2mI6bTD pic.twitter.com/S1MhRw8d5f

— NHL (@NHL) March 1, 2017
Parenteau joins his eighth NHL team – and ninth organisation (the Anaheim then-Mighty Ducks drafted him, but he only ever played in their minor-league system). For the immediate future, he should be seen as an addition intended to shore up the Preds' depth scoring behind a capable – and suddenly red-hot – first line of Filip Forsberg, Ryan Johansen and Viktor Arvidsson (14 goals and 28 points combined in the last five games).
What They Got
Nashville adds a relatively reliable scorer who's had a relatively healthy career. His possession numbers are respectable, consistently hovering around the 50 percent mark for Corsi-for. Buried on an anemic Devils team (28th in goals for), Parenteau was tied for sixth in team scoring at the time of the trade, with 13 goals and 27 points in 59 games. He limped into the trade deadline with only one goal in his last 21 games, but don't expect that to continue; even last year, as part of the Toronto Maple Leafs' skeleton crew of NHL(-ish) players, he managed 20 goals and 41 points. The Preds should expect Parenteau to finish with close to 20 goals and 40 points this season as well.
What They Gave Up
A sixth-round draft pick this June. Yes, that is really all that was required to pry a proven offensive talent out of a rebuilding team. Unfortunately for those tuning in to trade deadline coverage, most other teams did not seem to realise the soft market for just about everything, resulting in a fairly quiet day.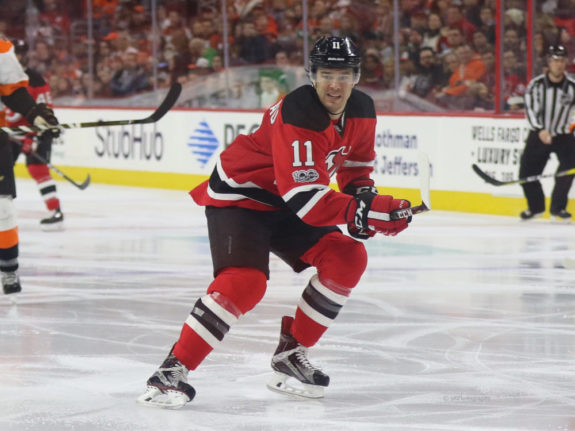 According to CapFriendly, the pick that the Predators traded away was their own, still leaving them with the New York Rangers' sixth-round selection in the upcoming draft. Given the current NHL standings, it looks like that pick will be slotted lower than the Preds' pick, but hey, it's the sixth round. A few positions here and there are all but interchangeable. At that stage of the draft, it comes down to the quality of a team's scouting – and a healthy dose of luck – to hit on a selection.
Where He Fits
The addition of Parenteau should give the Predators three capable scoring lines at even strength. Parenteau, being a right-winger, probably takes the spot of Craig Smith (just four points in 26 games since the new year) on the line with Mike Fisher and Kevin Fiala. Given his wicked shot, he should also provide a nice boost to an already-decent (12th-ranked) Predators power play, particularly on the second unit, which sees a rather significant drop-off in skill from the first.
Even though James Neal has had a couple of prolonged slumps this season (one point in seven games to start the year, two points in 10 games around the Christmas holidays), he has picked it up of late (nine points in his last eight games), primarily playing alongside Calle Jarnkrok and Colin Wilson. That said, if coach Peter Laviolette ever feels the need to load up a line, Neal, who can play either wing position, given his size and power, could be a nice compliment to the more waterbug-esque Parenteau.
That said, if past history is any indication, Parenteau is capable of an even larger role. His best statistical seasons came in 2010-11 (20 goals, 53 points) and 2011-12 (18 goals, 67 points) with the New York Islanders, where he played on a line with John Tavares. His best points-per-game average of 0.90 (18 goals and 43 points in 48 games during the lockout-shortened 2012-13 season) came when he played for the Colorado Avalanche on a line with Matt Duchene.
The takeaway? Not only can Parenteau keep up with elite talent, but he is at his best when he plays alongside it. Thus, he is a good option to be slotted alongside Johansen, should the Preds' top line ever falter.
The Verdict
Nothing but good news for the Nashville Predators. They pick up a guy who's done nothing but produce his entire career. Plus, at 33 years of age, and after having a bit of a nomadic history, the Preds might well have acquired a player that will want to be around for years to come. It helps that the team is expected to be competitive for the foreseeable future.
Considering Parenteau is only making $1.25 million on a one-year deal and hasn't exactly blown anyone's doors off this season, the Preds stand a good chance of being able to re-sign him, provided the team and the city are a fit for the player (and vice versa). Well, that's assuming the Preds don't spend all their money on the centre they need.
All in all, not the most exciting move, but an important one for the Predators nonetheless. The secondary scoring he adds will go a long way towards making the Preds competitive with their Central Division rivals, and also provides some insurance should the injury bug (or, knowing James Neal, the suspension bug) strike. I have a soft spot for P.A. Parenteau, and would like nothing more than to see him succeed in Smashville.
(All advanced stats are thanks to Corsica Hockey. All contract and draft pick information is courtesy of CapFriendly. Line combination information is sourced from DailyFaceoff.com,  DobberHockey and Left Wing Lock.)