With the Mar. 1 National Hockey League trade deadline approaching fast, observers of the Nashville Predators must be asking: "Really? Really guys? THAT's what you're gonna go with?"
And they would be absolutely right. Taking a look at the team's depth chart, one cannot help but notice that the Preds are embarrassingly thin at centre. Ryan Johansen is undoubtedly a top offensive threat, no problems there. But Mike Fisher, though still an effective player at 36, hasn't topped 50 points since 2011-12. Calle Jarnkrok's career high is 30 points, achieved last season (he is on pace for about the same this year). And no one is mistaking Vernon Fiddler or Colton Sissons for reliable offensive threats.
Help on the Way?
It was assumed that, after waiving Mike Ribeiro earlier this month, the Predators had a deal cooking for some sort of help down the middle. After all, one doesn't just jettison one's second-line centre without a backup plan.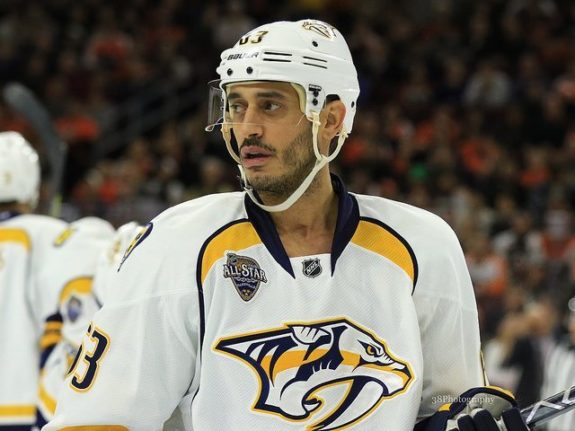 But, three weeks later, the Preds are still bumbling along around the playoff bubble, where they have been for much of the season. They've scored the 13th most goals in the NHL this year, but allowed the 13th most, as well. Pekka Rinne and Juuse Saros, after hot starts, have come back down to Earth of late, merely being good, if not average. That's a lot of mediocrity for a team whose embarrassment of riches on defense necessitates making moves to win – and win soon.
That said, pretty much every team in the league, save for the Colorado Avalanche and Arizona Coyotes, are still within striking distance of a playoff spot. Some will undoubtedly drop off as the season comes to a close, but the trade deadline is only five days away. Will there really be a lineup of teams willing to admit defeat and sell?
What's on Offer?
The Avalanche come immediately to mind, with an absolutely pathetic season seeming to precipitate a retooling of the team's core. With Nathan MacKinnon having locked down the number-one centre role, fellow star Matt Duchene has been dangled as trade bait.
The centreman was one of Canada's most impressive players at the World Cup of Hockey back in September and, unlike many deadline pickups, is under contract for the 2017-18 season – and at a very reasonable six million dollars, to boot. Last month, it was reported that Avalanche general manager Joe Sakic was asking for a "top-level defenseman, a first-round draft pick plus." Right, good luck with that. It will basically be a game of chicken to see who caves first, the Avs or a team desperate to make noise in the postseason.
The perennially woeful Coyotes seem to be looking to unload, too. Could veteran pivot Martin Hanzal be a target for the Predators? His career high of 41 points is enough to make even the most optimistic of prognosticators a little clenched. That said, he has played his entire career on Coyote teams which, outside of a run to the conference finals in 2012, has struggled to compete. At six-foot-six and 226 pounds, he is also well-suited to playing the heavy game of the Western Conference. Arizona's
At six-foot-six and 226 pounds, he is also well-suited to playing the heavy game of the Western Conference. Arizona's asking price seems to be a top prospect, a first-round draft pick and a conditional pick. We'll see if that price comes down closer to deadline time, especially considering Hanzal's contract is up after this year.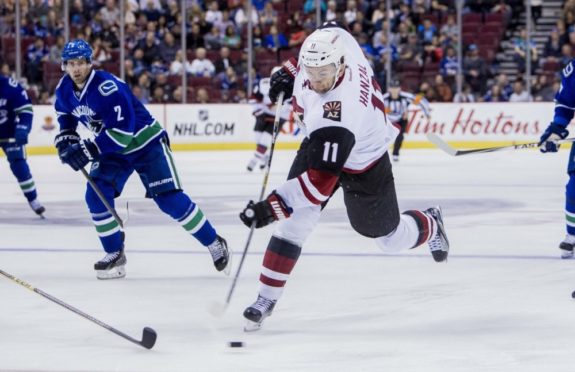 Who to Give Up?
The Predators have a glut of talented defensemen to offer teams in return. While P. K. Subban and Roman Josi are probably not going anywhere, Mattias Ekholm and Ryan Ellis might well be in play as part of a deal for Duchene – or someone of his calibre. Both are signed for years to come at very reasonable cap hits, and Matt Irwin showed earlier this season that he can step up and fill a second-pairing role.
Ellis is signed for two years after this one at $2.5 million per season, while Ekholm is locked up until the end of the 2021-22 season at $3.75 million per. The term and affordability offered by these players may well curry favour with prospective trade partners.
For a lesser centre, such as Hanzal, Ekholm is likely off the table. Along with Ellis, perhaps Irwin, a very serviceable rearguard making only $650 thousand next season, might be an option, though at 29-years of age, he is a few years older than most of his counterparts on the Predators back end.
Nashville is also nicely stocked with draft picks, possessing all seven of their selections in each of the next three drafts, save for this year's fourth (though they do have an extra sixth for the 2017 draft).
The point is, the Predators have lots to offer potential suitors. The most likely scenario is a piece of their vaunted blue line and perhaps a high draft pick or two – a fair value offer for Duchene might include a first – leaving in exchange for a quality centre.
Assuming this centre comes with term, or else commits to re-signing in Nashville, the Preds will likely have no issues protecting him in the expansion draft. After all, the way things look now, the team stands out as one of the only candidates to choose the eight skaters, one goalie expansion draft option, in order to secure their talented defense.
A Darkhorse Move?
Though Duchene and Hanzal are the most obvious trade targets for teams in need of help down the middle, Predators general manager David Poile has shown the propensity to make the unexpected happen. For instance, perhaps he could persuade the Edmonton Oilers to part with Ryan Nugent-Hopkins for one of his puck-moving defenseman.
The former first-overall draft choice has four seasons remaining on his deal paying him $6 million per season. However, due to the rapid ascent of Leon Draisaitl, The Nuge has essentially been relegated to the Oilers' third line. Still only 23 and with oodles of proven talent – back-to-back 56-point seasons — Nugent-Hopkins might well slot in nicely in the Predators forward corps, forming a potent one-two punch with Johansen.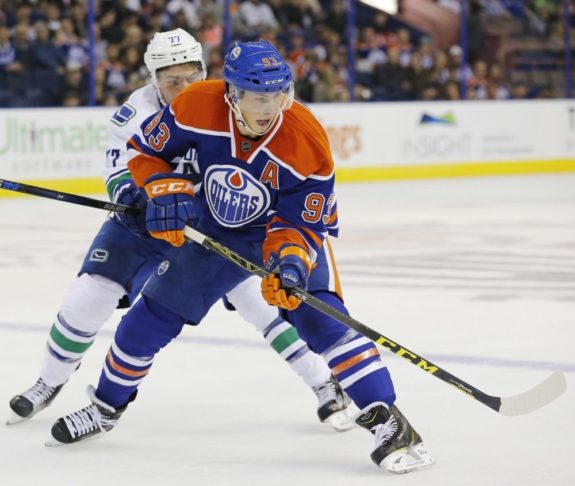 Help Wanted
Whatever the case, the trade deadline is looming and it is sure to be a dandy. The Predators cannot honestly believe that going into the playoffs with the status quo at centre ice is going to result in much success, not just based on what they have, but what they will likely be matched up against. All signs point to change being imminent in Smashville. Here's hoping it's for the better.
(All contract and draft pick information is courtesy CapFriendly.)