(All advanced stats are thanks to Corsica. All contract information is courtesy CapFriendly. All predictions guaranteed to be valid for as long as it takes me to write this piece.)
As 2016 draws to a close and we turn our attention to the year ahead, there are many questions that enter the mind of the hockey fan. What teams will get hot and make a push for the postseason? Who will emerge victorious in the scoring race? Who will be running the Florida Panthers? (That last one requires hourly updating)
But let's not kid ourselves; the thing we're all looking forward to is finding out who the Vegas Golden (maybe) Knights select in the expansion draft this summer.
Rules and Regulations
The National Hockey League stipulates that teams have to protect one goaltender, and then either seven forwards and three defensemen or eight skaters of any type. The Nashville Predators find themselves one of only a couple of teams – the Ducks and Flames come to mind – that might, at least as of today, choose the latter option. Having four elite defensemen – three of whom have salaries that should land Preds General Manager David Poile
Having four elite defensemen – three of whom have salaries that should land Preds general manager David Poile in prison for larceny – is an irreplaceable setup. And this after losing Cody Franson, Dan Hamhuis, Kevin Klein, Ryan Suter, Seth Jones and Shea Weber since 2010. Where do they keep finding these guys?!
Forwards
Filip Forsberg
Speaking of larceny, remember how David Poile traded Martin Erat and Michael Latta for some Capitals prospect? Well, that prospect turned out to be a serviceable NHLer. And by "serviceable" I mean "undeniable star".
Meanwhile, Latta was in and out of the Caps' lineup the past two seasons and is current playing in the AHL. Erat never again came close to hitting the previously automatic 50-point mark, and eventually left for the KHL.
Forsberg has started slowly in 2016-17 but is coming off back-to-back 60-point seasons, a track record that earned him a six-year contract at six million per season this past summer. Forsberg is an elite offensive talent with sparkling possession numbers, and he's only 22.
James Neal
Disciplinary matters, Twitter adventures and medalling in the Olympics aside, James Neal can score, period. In a goal-starved league, Neal scored 31 times last year and is on pace to exceed that total this season. He is a 'must protect'.
Ryan Johansen
Last season, the Predators FINALLY acquired a top-line centre: young Ryan Johansen. Undeniably talented and a veritable puck magnet, the young star excelled after arriving in Nashville. Despite a slow start to this season, I have no doubt that Johansen will continue to produce. He is scheduled to be a restricted free agent after this season, but don't expect him to still be as such when the expansion draft comes around.
Viktor Arvidsson
Blindingly fast, the young Swede played most of last year with the Predators, before rocketing into the collective consciousness of the league during their playoff run.
His speed makes him tough to contain at even strength and lethal on the penalty kill. Already effective in all situations and playing a beautifully simple game – skating fast and shooting lots, Arvidsson might well turn out to be an updated Mike Fisher. An RFA this summer, I would be very surprised if the Predators do not lock Arvidsson up long-term.
Defencemen
Mattias Ekholm
I'm not sure how to describe the game of Mattias Ekholm except that he does everything you'd ever want a defenseman to do. Offense? Check; 35 points last year. Defense? Check; he's usually got the puck, and he isn't afraid to block shots when he doesn't. Special teams? Check; both. Reasonable salary? Check; $3.25 million annually until 2022.
P. K. Subban
Only on the stacked Predators defense could P. K. Subban find himself not playing the most minutes on his team. Regardless, P. K. is elite at even strength, solid on the penalty kill, deadly with the man advantage and under contract until 2022. He's got a Norris Trophy to his name and averaged 0.64 points per game while playing in Montréal for a team that misused him on the ice and treated him like garbage off it.
Roman Josi
Josi leads his team in ice time, plays in all situations and can be relied upon to average half a point per game. According to Corsica, Josi consistently posts positive possession stats, numbers which have only improved this season since the departure of Shea Weber – Josi's former partner on the back end. A no-brainer, especially at $4 million per year until 2020.
Ryan Ellis
"Why would you spend a protection slot on a giant beard," you ask? Well, turns out there is a pretty darn good defenseman that's attached to it. The beard's human host puts up points, plays in all situations and has positive possession numbers (this is a recording). And all the beard asks in return is $2.5 million dollars per year. And until 2019, at that.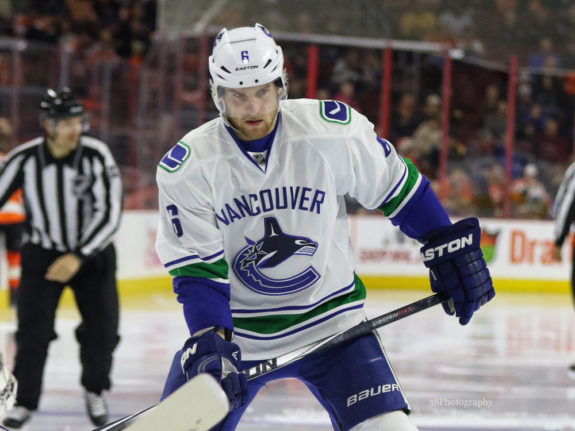 Protecting these four defensemen is contingent upon a fifth Preds rearguard (joining the four on the protection list above) meeting the NHL's exposure requirements. Both Yannick Weber and Matt Irwin (who has 12 games remaining to meet the threshold) should be eligible but need to be under contract for 2017-18 in order to be exposed. Both are currently unrestricted free agents as of this summer.
Goaltenders
Pekka Rinne
Rinne's contract has a No-Move Clause and a modified No-Trade Clause, meaning that, unless the Predators can get him to agree to a trade, he will have to be protected. And this is a good thing. Rinne is under contract until 2019 and, though he just turned 34, the three-time Vezina Trophy finalist is still very much a bona fide starting goaltender in the NHL.
On the flip side, inconsistent play season-to-season has been a hallmark's of Rinne's career. Additionally, prospect Juuse Saros – exempt from the expansion draft – has been lights-out this season in both the American Hockey League and in limited action in the NHL. However, this is only Saros' second year in North America and, given that Rinne is still a reasonably solid option in net, the Predators likely feel no pressure to make a move. Expect Rinne to stick around to be protected.
Conundrums
Mike Fisher (F)
This is a tricky one. How do the Preds not protect their captain? Especially after what is, up until this point anyway, a major bounce-back season? His contract is up at the end of the year, so he isn't currently eligible for protection. But I think we all expect that the Predators will want to bring back Fisher, considering how popular he is amongst fans and his extensive involvement in the community.
Leaving their captain unsigned and letting him get to unrestricted free agency is not a good look for the team, not to mention the fact they would be risking losing a leader and a still-effective player. There really is no good solution here.
Mike Ribeiro (F)
After, arriving for the 2014-15 season, Ribeiro has slotted nicely into the Preds' lineup as a second-line centre with sublime playmaking ability. His contract is up at the end of this season so, as with Fisher, Ribeiro does not have to be protected by the team.
Like Fisher, Ribeiro will be 37 by the time the Golden Knights make their selections. However, also like Fisher, Ribeiro is still a very useful player. He has obscenely good possession numbers and is a wizard on the power play, despite often playing on the second unit. That said, he doesn't shoot the puck very much and his skating leaves much to be desired.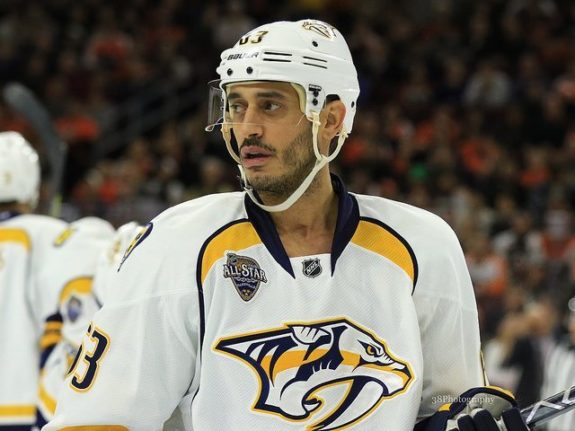 It doesn't make much sense to sign either player before the expansion draft, as Nashville will likely not want to protect one or both of the then-37 year-olds in place of a younger star forward or defensive stalwart. In terms of signing but not protecting Fisher and Ribeiro, signing them to reasonable contracts may inadvertently entice Las Vegas to bite, while overpaying will handicap the Preds moving forward.
Regardless, the Predators have lacked depth at the centre position for a number of years now. After June 21, 2017, they might well be even weaker.
"The Vegas Golden Knights Select, From the Nashville Predators…"
There are some tough decisions ahead for all NHL teams with regards to the expansion draft, but the Predators have an easier road than most. Protecting their elite defense core should be their top priority, while their irreplaceable forwards will be able to fit within the remaining slots. Anything beyond that is a roll of the dice.