The World Junior Championship has evolved greatly since it was first officially held in 1977.
When the inaugural International Ice Hockey Federation WJC took place, held in Banska Bystrica and Zvolen, former Czechoslovakia, the tournament featured a mere eight teams. Further, there was little to no parity, as the Soviet Union and Canada steamrolled the tournament while West Germany, the United States and Poland were of virtually no competition.
Now, an incredible 40 years later, the WJC has become an axis upon which the entire hockey season rotates.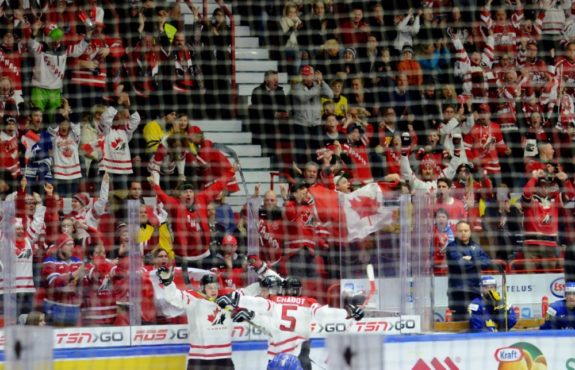 Drawing massive crowds and popularity and hosted by nations all throughout the world, the WJC showcases the best young talent the hockey community, as a whole, has to offer. Whether it be top NHL prospects, returning stars, or breakout talents, the skill on display combines to create one of, if not the most entertaining brand of hockey.
Further, virtually all nations now retain the opportunity to capture the championship, a fact which illustrates the immense reach, growth, and appeal of the game itself.
As such, the WJC has become more than simply a hockey tournament. Sure, players and fans alike look forward to the annual event with an inconceivable level of anticipation, but it is, perhaps, the presence and status of the WJC as a global brand which is far more valuable.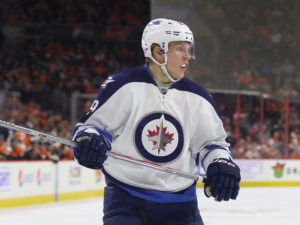 Given the extensive playing stage which the WJC has become, there is no better place for players themselves to showcase their elite skills and abilities. With the eyes of the hockey world upon them, a good showing or, conversely, a poor one, can have a major impact on the development of a particular player.
And, for those participating in the tournament who are the property of the Toronto Maple Leafs, the case is no different. In total, the Leafs have four players representing three different countries.
So, let's take a moment to learn not only who these particular players are, but also what specific skill sets they possess and their status' as developing prospects.
Leafs at the 2017 WJC
As mentioned, the Leafs have four players playing in the 2017 WJC.
However, Toronto also had a number of other eligible players who were not loaned to their respective countries. In particular, these are the team's rising stars; players whose development and NHL playing time were deemed far too valuable to surrender in exchange for weaker competition.
Of course, it goes without saying that these players, most notably Auston Matthews, Mitch Marner, and William Nylander, would have surely represented their countries if provided the opportunity.
Martins Dzierkals – Latvia
A third-round selection of the Leafs in the 2015 Draft, 68th overall, Martins Dzierkals is a highly skilled winger with great offensive flair.
Currently playing in his second season for the Rouyn-Noranda Huskies of the Quebec Major Junior Hockey League, Dzierkals scored 24 goals and 67 points as a rookie in the 2015-16 season and is on pace to set new career-highs in 2016-17.
Maple Leafs prospect Martins Dzierkals getting early taste of life at ACC https://t.co/JkjDi6EzHy @MikeyJ_MMA pic.twitter.com/jbONYv9HBB

— Sportsnet (@Sportsnet) December 28, 2016
Born in Ogre, Latvia, Dzierkals is, in fact, representing his country for the third time on the Under-20 stage. In 2015 and 2016, Dzierkals competed in the Ice Hockey World Junior Championship's Division 1 Group A, the level directly below the main WJC tournament. Although Latvia failed to win the tournament in 2015, the team did so in 2016, and as a result were promoted back to the WJC.
While Latvia as a team has not been overly successful in the WJC, Dzierkals has been a different story, as his strong offensive play has helped guide his nation against incredibly difficult competition.
As a meager yet highly skilled forward, Dzierkals carries the potential to become a sound top-nine player at the NHL level, especially so if his play continues to develop as it has in recent years. Further, given the Leafs' emphasis on high-end skill, Dzierkals' lack of size is a factor which Toronto is certainly not concerned with.
Although he will likely need seasoning in the American Hockey League before attaining a shot at the NHL level, Dzierkals is a player which Leafs fans and management should place focus on throughout the 2017 WJC.
Carl Grundstrom – Sweden
Selected by Toronto in the second round, 57th overall in the 2016 Draft, Carl Grundstrom is a highly energetic, physical and competitive player whose game is vastly similar to that of current Leafs forward Nikita Soshnikov.
In fact, despite his young age of 19 years, Grundstrom is already playing in his third season in the Swedish Hockey League, where he currently plays for Frolunda HC.
#Leafs prospect Carl Grundstrom scored his SHL-leading 11th goal today for Frolunda. pic.twitter.com/ETto70jdy6

— Scott Wheeler (@scottcwheeler) December 2, 2016
Originally, Grundstrom broke into the SHL at just 17-years of age, where he played in 24 games for MODO and registered five points. After playing in another 49 games for MODO in 2015-16, where he recorded 16 points, Grundstrom signed with Frolunda HC to begin the 2016-17 campaign.
Born in Umea, Sweden, it was Grundstrom's strong play with his new team this season which played a major role in his selection for Sweden's national team, as his 11 goals and 13 points in just 27 games placed Grundstrom on pace for new career-highs offensively.
As a hard-working winger who brings an intense and aggressive style of play to the ice on a consistent basis, Grundstrom is well-regarded by his teammates and is a natural leader.
Although he might not have the most natural offensive skill set, Grundstrom has no problem contributing at both ends of the ice and has a knack for putting the puck in the back of the net. Fortunate to retain a strong, crisp shot, Grundstrom can beat goaltenders with his release or drive to the net in search of a rebound.
Defined by his strong in-your-face style of play, Grundstrom truly is a player to keep an eye on, as his physicality and easily overlooked offensive abilities combine to make him a solid all-around threat.
Joseph Woll – USA
Easily overlooked as a third-round choice of the Leafs in the 2016 Draft, Joseph Woll has quickly established himself as Toronto's top goaltending prospect.
However, the Leafs knew exactly what they were getting when they selected Woll 62nd overall in June of 2016. Bruce Racine, Woll's goalie coach since the age of eight, is a former Marlies goaltender who has nothing but praise for the young netminder, who already stands six foot four inches and over 200 pounds.
He's a @brick_WOLL29! #USAWJC #WorldJuniors pic.twitter.com/4Z2pdh7K0P

— NHL Network (@NHLNetwork) December 29, 2016
What makes Woll so unique, according to Racine, is Woll's passion for the game and his enduring work ethic. Further, on the ice, there is Woll's flexibility. While many large goaltenders can struggle with their flexibility, it is one of the strongest areas of Woll's game, and a facet which sets him apart from the competition.
Given this ability, Woll can stretch to make second or even third saves which often come in the form of rebounds and often hold the highest opportunity to enter the net.
Currently in his first season in the NCAA, Woll's time with Boston College will do wonders for his development. Facing off on a nightly basis against some of the strongest competition the nation has to offer, Woll will surely be tested heavily by players much older and physically developed than he.
In terms of his future with the Leafs, the door would appear to be wide open for Woll come the conclusion of his NCAA career. If Woll does decide to play four years at Boston College, his arrival into Toronto's organization would coincide with the final year of Frederik Andersen's contract.
Could the 2020-21 NHL season see a transition in the Leafs' crease from Andersen to Woll? Well, of course, it is far too early to tell. In the meantime, though, Woll is a netminder upon which Toronto will surely place their attention.
Jeremy Bracco – USA
When the Leafs drafted Jeremy Bracco in the second round of the 2015 NHL Draft, the Freeport, New York native's developmental future appeared to be set in stone. Having committed to Boston College, Bracco was set to test and improve his skills against the incredibly strong competition present in the NCAA.
However, just five games into his collegiate career, Bracco endured a change of heart.
While Bracco had long been expected to enjoy a long and successful college career, few recalled the fact that he had also been drafted by the Kitchener Rangers of the Ontario Hockey League in the 2013 OHL Priority Selection. So, although the odds were slim, Kitchener held Bracco's rights tightly in the case that he decided instead to develop his game in the CHL.
Leafs' pick Jeremy Bracco to decide between the Kitchener Rangers and Boston College in the next week: http://t.co/uCrUcWIkKz #ohl

— Josh Brown (@BrownRecord) July 15, 2015
Well, as you likely know by now, Bracco left Boston College early in the 2015-16 season and signed with the Rangers, a decision which has proven to be a highly prosperous one for Bracco.
Jeremy Bracco scores OT winner to pass Steve Downie for 2nd longest point scoring streak in Rangers history.#26games https://t.co/TWzYIbmj4y pic.twitter.com/mSfjQhqO3W

— Josh Brown (@BrownRecord) December 10, 2016
Now in his second season with Kitchener, Bracco has cemented himself as a dependable and lethal offensive force. Scoring at a nearly two point per game pace, Bracco is a slippery and agile skater who is light on his feet and surprisingly quick. Once at full speed, Bracco is a pass-first playmaker, and undoubtedly amongst the best in the OHL when it comes to distributing the puck in order to create offensive opportunities.
A player of tremendous skill, Bracco's game is eerily similar to that of current Leafs forward Mitch Marner. Although Bracco is not quite on the same level as Marner, his raw puck and skating skills should allow him to develop into a consistent offensive threat in the professional ranks.
Given Toronto's emphasis on players of immense skill regardless of their size, Bracco is a player who the Leafs will surely place great value on, especially in the coming years.