A well-known scrappy player on the ice, who has spent time in Ottawa and Nashville, Mike Fisher, husband to Country superstar Carrie Underwood, has spent most of his professional hockey career giving back when possible.  Prior to coming to the Predators in 2011, forward Mike Fisher gained a reputation for being one of the most charitable Senators and constantly doing whatever possible to help out the community.  In the 2 years that Fisher has played in Nashville, the region is just beginning to see the degree of his dedication.
Fisher's Hard Work On the Ice Pays Off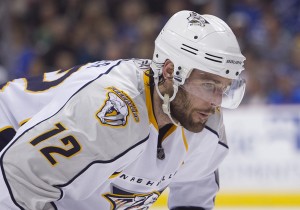 In only 113 games with the Predators, Mike Fisher, acquired in exchange for Nashville's 1st round choice (Stefan Noesen) in 2011 Entry Draft and Nashville's 3rd round choice (Jarrod Maidens) in 2012 Entry Draft from the Ottawa Senators, has made quite the impression on both the front office and the fans.  Tallying 31 goals and 36 assists for a total of 67 points during his tenure in Nashville, Fisher has provided the Predators with a solid work effort and a tenacity that is constantly displayed on the ice.
Playing on the first line this year, with a variety of wingers, including Sergei Kostitsyn, Gabriel Bourque, Colin Wilson, and Martin Erat among others, Mike Fisher has remained a steady influence for the offense.  One of the strongest skaters to ever lace up for the Predators, Fisher's physicality and forechecking have added new elements to the penalty kill and the power play.  Even though he only has 7 points in 17 games this year, Fisher has been a mainstay on the Predators top-ten penalty kill.
Making Charity Work Off the Ice a Priority
If Fisher's on-ice contributions aren't impressive to most, his charity work is more than enough to catch the eye of even the most casual fan.  To Predators fans, it shouldn't come as a surprise that Mike Fisher, winner of the 2012 NHL Foundation Award, which "recognizes a player who applies the core values of hockey – commitment, perseverance and teamwork – to enrich the lives of people in his community," is continuing to make a difference in the community.
 From the NHL's announcement of Fisher's nomination for the Foundation Award:
"Since coming to Nashville in February 2011, Fisher has developed strong relationships with a number of non-profit organizations: Room In the Inn, a full-service homeless facility located a few blocks from Bridgestone Arena; Monroe Carell Jr. Children's Hospital at Vanderbilt; and Cottage Cove Urban Ministries, a Nashville based non-profit organization that serves inner-city youth.

Fisher donated $40,000 to Cottage Cove to purchase a van for the youth center and renovate their music room. He's also purchased tickets for the Fisher's Friends ticket program for youth organizations. In September 2011, Fisher released the book, "Defender of Faith: The Mike Fisher Story," geared toward children ages 9-11 that highlights his faith journey, with all sales benefitting World Vision, and autographed copies sold at Bridgestone Arena raising money for Room In the Inn.

Fisher and his wife also are seen at various charity fundraisers in the Middle Tennessee area, including events for The Peterson Foundation for Parkinson's and Rocketown, and he is an annual participant in the Garth Brooks Teammates for Kids Foundation program."
Prior to his arrival in Nashville, Fisher played the role of unofficial community ambassador for the Ottawa Senators, taking part in multiple charity events hosted by the team and initiating others himself.  In addition to creating his hockey camp, which helps provide kids the chance to learn the game and sends the proceeds to multiple charities, including Make-A-Wish, he has taken part in a variety of charity celebrity games (and the occasional Celebrity Sporting Clay Shooting events as seen below) , and has been an active donor/participant for Roger's House, which provides a "home away from home" for children with life-limiting illnesses and their families.
"I've enjoyed doing that in Ottawa. I want to be successful on the ice and win, and I want to bring a lot to the community and be a leader as much as I can in Nashville. I'm excited about that," said Fisher shortly after being acquired by the Predators regarding his on and off ice contribution.  Whether he's contributing on the ice or giving back to the community, Mike Fisher has been a welcome addition to the team and the area.