Facing Off is a weekly column debating five of hockey's hottest topics each and every Monday. From current events like trades and hat tricks to bigger-picture stuff like scandals and expansion — you name it, we're debating it. Albeit, not always with a serious tone. We're keeping this column light, so keep that in mind when reading, and feel free to join in on the fun by leaving a comment. Follow us on Twitter (@FacingOff_THW) and get in on the debate there too.

It's been an eventful week in the NHL, with the long overdue Nail Yakupov trade and that devastating Jonathan Huberdeau injury among the many headlines.
There would have been plenty to debate, but with the regular season now upon us, our Facing Off team decided to put together a special preview and predictions edition. Something we can look back on at season's end and either boast or hang our heads in shame. Maybe a bit of both.
We doubled the topics from a typical week — weighing in on five team-related questions and five more pertaining to individuals — but kept our answers to point form for the most part. Short and sweet, even a little sassy in some instances.
Without further ado, here's how our five Facing Off regulars — Larry Fisher, Dan Mount, Félix Sicard, Andrew Forbes and Sebastian Hedley Noble — see the season shaking down.
Who are the Stanley Cup finalists? Who's the champion, and in how many games?
FISHER: Washington over San Jose in seven. Sticking with my offseason prediction from Aug. 11. The Capitals finally breakthrough and Alex Ovechkin gets his name on the Cup.
MOUNT: Chicago over Washington in six. The Blackhawks just seem to find the right parts no matter who they lose because of Stan Bowman's annual flirtations with the salary cap. The Hawks will win a pair of seven-game series (Nashville, Los Angeles) before getting to the final.
SICARD: Oh man, no holding back right off the bat! Gun to my head, I'd say Tampa Bay over St. Louis in six games. Don't quote me on that.
FORBES: The Blackhawks missed out on the final last season and they're likely headed back there this season, where they'll meet up with the Washington Capitals. While Ovi's still looking for that Cup, Corey Crawford and that talented team in front of him should once again hoist the coveted trophy.
HEDLEY-NOBLE: I picked the Washington Capitals last year and I'll stick with them this season as well. They beat out the Chicago Blackhawks in seven games. Ovechkin finally gets to hoist the Stanley Cup!
Ready, set…who wins the Stanley Cup in 2017? #NHL #THW

— Facing Off (@FacingOff_THW) October 10, 2016
Who are the four division winners in the regular season? Who wins the Presidents' Trophy?
FISHER: Washington, Tampa Bay, San Jose and Chicago. The first three seem like locks to me, but almost anybody could win the Central. I still like the Blackhawks. Washington actually got better in the offseason, so the Capitals repeat as Presidents' Trophy winners.
MOUNT: Pittsburgh, Tampa Bay, Los Angeles and Chicago. Nashville will miss out on the Central crown by one point to its hated rival (Chicago). Tampa Bay will win the Presidents' Trophy.
SICARD: Washington, Tampa Bay, San Jose and Nashville. Chicago could very well finish as a wild-card team, not sure what Larry is thinking putting the Blackhawks first in the division.
FORBES: Washington, Tampa Bay, St. Louis and Anaheim. Florida would be there, however the Panthers have taken on too many preseason injuries. Give it another year or so (and some goaltending changes) and you'll see Arizona up there as well.
HEDLEY-NOBLE: I have the same teams as Larry. The Capitals, Lightning, Sharks and Blackhawks. Presidents' Trophy goes to the Caps.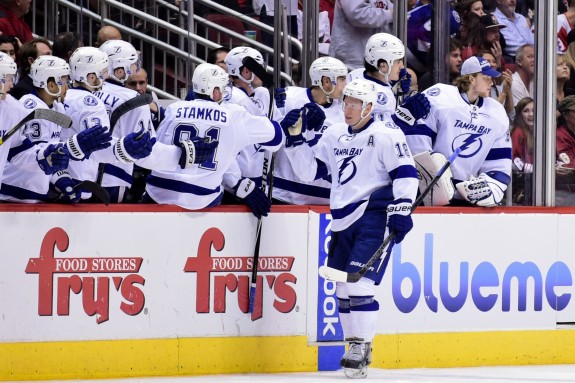 How many different playoff teams from 2016 to 2017? Who are the new teams and who do they replace?
FISHER: Four new teams — all Canadian teams. Winnipeg and Edmonton in the West for Minnesota and Anaheim, Montreal and Ottawa in the East for Florida and Detroit. Believe it or not — and these guys can vouch for it — I had the Panthers pegged to miss the postseason even before Huberdeau got hurt on the weekend. The Red Wings' playoff streak ends at a quarter-century, and the Oilers' playoff drought ends at a decade. Wouldn't that be something?
MOUNT: Three new teams will get in. Ottawa and Montreal will replace Detroit and Philadelphia in the East. The Rangers will get in by the skin of their teeth thanks to Henrik Lundqvist. Calgary will take Anaheim's place in the Western Conference by edging Edmonton. Winnipeg will also barely miss out on a spot.
SICARD: Four — Winnipeg, Montreal, Ottawa and Carolina. The Rangers will fall off a cliff, and Winnipeg will usurp Chicago in the Central. Montreal and Ottawa will nudge Detroit and Philadelphia out of the way.
FORBES: Four — Columbus, Montreal, Colorado and Calgary. Buffalo, Edmonton and Arizona are on the verge of taking that next step, but just aren't there yet. Look for Minnesota, Los Angeles, Detroit and Philadelphia to be the teams that don't make it and open up four playoff spots. However, if Carey Price goes down again in Montreal, the Canadiens could once again miss the playoffs.
HEDLEY-NOBLE: I'm going with three teams. The Boston Bruins instead of the Philadelphia Flyers in the East. For the West, going bold with the Colorado Avalanche and Edmonton Oilers over the Minnesota Wild and Anaheim Ducks.
How many different playoff teams from 2016 to 2017? #NHL #THW

— Facing Off (@FacingOff_THW) October 10, 2016
Which four teams will finish at the bottom of the standings? Who wins the draft lottery?
FISHER: Vancouver, New Jersey, Columbus and Anaheim in that order. Vancouver with the best odds for the lottery and . . . drum roll . . . the Canucks will, in fact, get the right to pick Nolan Patrick. That is, assuming Patrick is still the top prospect come June. I'm not convinced that will be the case.
MOUNT: Vancouver, New Jersey, Columbus and Anaheim. I think New Jersey wins the lottery and gives Ray Shero a shot at infusing some young life into an attack that still lacks punch.
SICARD: Book it now, Vancouver will finish 30th — followed by Columbus, Arizona and Toronto. The Canucks and Blue Jackets are actually terrible, while the Coyotes and Maple Leafs are systematically fending off relevancy for one more year. In other words — they're tanking.
FORBES: Believe it or not, the Leafs are going to be much better than people give them credit for (ahem Mr. Sicard). While Toronto won't make the playoffs, it will miss by about eight to 10 points. The bottom four will be Carolina, Minnesota, Boston and Vancouver, and the Canucks will get their hands on the winning lottery card.
HEDLEY-NOBLE: Calgary, Carolina, Vancouver and Columbus for me. The Blue Jackets finish last and also win the draft lottery.
Which team finishes at the bottom of the #NHL standings, with the best draft lottery odds? #THW

— Facing Off (@FacingOff_THW) October 10, 2016
Which team — outside of the team you cover for THW — is the most intriguing to start the season? Sum up why in one sentence.
FISHER: Toronto. The Leafs have so much young talent — Auston Matthews, Mitch Marner and William Nylander will all be on the roster — and Mike Babcock could turn this team around quicker than you think. No playoffs, but in the wild-card race until the bitter end.
MOUNT: Edmonton, with the installation of Connor McDavid as captain. Will some of the vets grumble if things go south? As a fan of teams that own the longest playoff drought in their respective sports (Buffalo in the NFL and Seattle in MLB), I empathize with the Oilers. They're starving for a winner and Peter Chiarelli is on the edge of getting this team back to the postseason.
SICARD: Colorado seems like the only sensible answer here. The Avs were downright awful last season, so it'll be interesting to see if Jared Bednar can steer them clear of the Patrick Roy era. Something tells me he will.
FORBES: That's tough. Edmonton, Colorado and Buffalo are all intriguing, but the most intriguing for me is Arizona. Jakob Chychrun. Dylan Strome. Christian Dvorak. That's just the new guys the Coyotes have suiting up this season. How about Max Domi and Anthony Duclair? If that team can get some goaltending that they can count on (sorry Mike Smith), this could be a very interesting team moving forward.
HEDLEY-NOBLE: It's really tough to select just one team. I echo Larry's thoughts on the Maple Leafs for sure, and I'll also throw in the New Jersey Devils. With the addition of Taylor Hall, along with rising youngsters, plus Cory Schneider in net, they are heading in the right direction.
Who leads the league in scoring and with how many points?
FISHER: Sidney Crosby, with a career-best 122 points and his second 50-goal season. Patrick Kane and Connor McDavid also top 100 points. How's that for bold?
MOUNT: Kane with 110 points. He'll want to bounce back after the Blackhawks' subpar (by their standards) campaign. Ovechkin will also eclipse 100 points this season.
SICARD: McDavid, with 94 points. Scoring is going down again this season guys, buckle up.
FORBES: After the World Cup he had, Crosby is the obvious favourite moving forward. I think he takes home the scoring title with 118 points. But the young and impressive McDavid won't be far behind. Look for him to knock out a season in the high-90s.
HEDLEY-NOBLE: Since Larry is picking all the obvious ones, I'll go way off the board and select Ovechkin with 114 points. McDavid will not pass 100. Who wants coffee besides me? Yes, that's a bet if Larry wants to take me up on it? (No thanks, not much of a coffee drinker Sebastian, make it a beer and you're on! In all seriousness, 100 points is a stretch for anybody in today's NHL.)
Who leads the #NHL in scoring this season? #THW

— Facing Off (@FacingOff_THW) October 10, 2016
Who wins the big awards: Hart, Norris, Vezina and Calder?
FISHER: Crosby for Hart, Erik Karlsson for Norris, Crawford for Vezina, and Matthews for Calder. Not nearly as bold — outside of Crawford, who will be key to Chicago winning the Central.
MOUNT: Price for the Hart and Vezina for willing Montreal to the postseason. Roman Josi for the Norris, and Matthews for the Calder. Price will prove his worth to the Hart voters. Josi will flourish with P.K. Subban and finally get the recognition he deserves.
SICARD: McDavid for Hart, Subban for Norris, Henrik Lundqvist for Vezina and Patrik Laine for Calder. Laine will light it up on a good team, while McDavid will get recognized for bringing Edmonton to within six points of a playoff spot. Lundqvist will add another Vezina to his trophy case, dragging along a severely flawed Rangers team, and Karlsson will once again lead all defensemen in total points on a resurgent Ottawa team.
FORBES: I expect Crosby to grab the Hart. Braden Holtby needs to be the favourite for the Vezina, and I expect another solid Norris season for Drew Doughty. While Laine and Pavel Buchnevich will put up solid seasons for a Calder nomination, I fully expect Matthews to run away with the Rookie of the Year award.
HEDLEY-NOBLE: The Hart Trophy goes to Ovechkin. Kris Letang wins the Norris (World Cup chip on his shoulder). Braden Holtby wins back-to-back Vezina trophies. Last but not least, my pick for the Calder is Mikko Rantanen, who is not getting nearly as much attention as he should.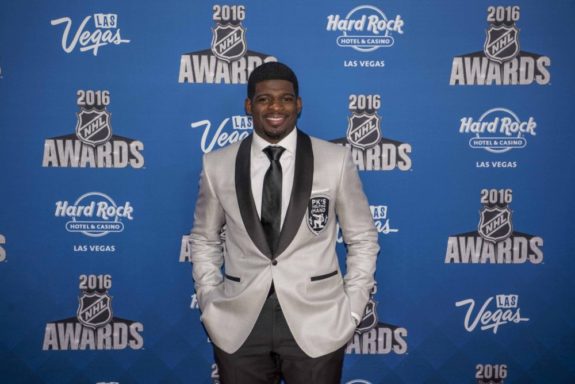 Which player will have the biggest impact on his new team this season — be it a rookie, free-agent signing or trade acquisition?
FISHER: Matthews. He'll be Toronto's top-line centre before the end of October and remain in that role for a decade. I foresee a 65-point rookie season.
MOUNT: Subban to the Predators. He and Josi will terrorize the Western Conference by turning up the heat on teams with a fast-paced international style that Europe played at the World Cup. Plus, Subban will have a chip on his shoulder after getting shipped to the Music City after a lot people blamed him (and unreasonably so) for the implosion of the Canadiens' season. A motivated Subban will be very dangerous.
SICARD: Matthews, really? I'd like to remind Larry that Subban plays in the National Hockey League. He'll be the lynchpin on a blueline of the likes that we've never witnessed before in the NHL.
FORBES: I think Hall will have the biggest impact for a veteran on a new team, as he'll add some significant offence to that Devils' lineup. From a rookie standpoint, I think both Matthews and Buchnevich will have the biggest impacts for their clubs moving forward.
HEDLEY-NOBLE: Matthews is definitely a solid pick — he's going to be a stud for years and years. To choose someone different than Larry, I'll say Hall with New Jersey. He's an elite player up front, and something the Devils have lacked since the loss of Zach Parise.
Which player will have the biggest impact on his new team this season — be it a rookie, free-agent signing or trade acquisition? #NHL #THW

— Facing Off (@FacingOff_THW) October 10, 2016
Who will be the biggest-name player to get traded during the season?
FISHER: Evgeni Malkin to the Devils, reunited with Shero. Strangely, Hall is part of the return, to play with Crosby and Patric Hornqvist on the Penguins' top line. Deal goes down in December.
MOUNT: Jacob Trouba to the New York Rangers. The Blueshirts need young defense in the worst way. Brady Skjei will be a good defender, but he's too young to make an impact right now. The Rangers will trade one of their players like Dan Girardi or Ryan McDonagh, along with Derek Stepan or Rick Nash and a pick. The Trouba deal will help the Rangers get into the postseason.
SICARD: Ben Bishop. The Lightning can't afford to lose him for nothing in the expansion draft or free agency, while the young Andrei Vasilevskiy has shown that he's ready to be a starting goaltender. The writing seems to be on the wall there.
FORBES: I'm going to say Nash. With the window closing in New York, the Rangers will need to find a way of restocking their young talent. While moving Nash won't get them everything they need to start opening their window again, it'll be a start for the aging Rangers.
HEDLEY-NOBLE: I'll throw Shane Doan's name out there — he's always a long-shot pick, but at least I'm not being completely crazy (like Larry). I don't particularly care where, as long as it wins him that elusive Cup!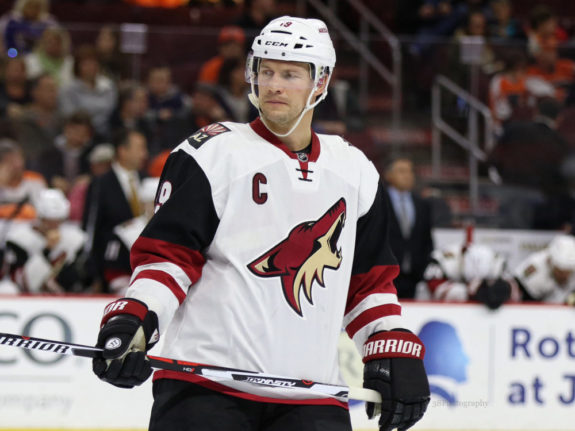 Who will be the first coach to get fired?
FISHER: John Tortorella. He failed with Team USA and Columbus would be wise to replace him as fast as it did Todd Richards last season (after just seven games, 0-7 start). The Blue Jackets should have caught Ralph Krueger before he got on the plane back to Southampton. This is the last we see of Torts as an NHL head coach.
MOUNT: Willie Desjardins. I expect bad things for the Canucks this season and he will be tossed under the bus after a horrible start. The media up there always has lofty expectations and a slow push out of the gate will send him to the unemployment line. (Good call, Dan. Travis Green is the coach in waiting there, so expect him to be promoted if you're right.)
SICARD: It will be a New York coach. Jack Capuano has yet to take the Islanders to the conference final, while time seems to be running out for Alain Vigneault's tenure with the Rangers. Since I have to pick one, I'll say Vigneault. The Rangers might be really bad this season, in which case Vigneault will be promptly shown the door.
FORBES: Tortorella. Why he was hired in the first place is beyond me. Just ask Max Pacioretty and the World Cup's U.S. team. He isn't the greatest when it comes to dealing with the young players on the team (and he's a fantasy hockey killer). I wouldn't be surprised to see him gone if the Blue Jackets get off to a rough start.
HEDLEY-NOBLE: I agree completely here with Mr. Fisher — Tortorella all the way. For a franchise looking to bounce back, the Blue Jackets picked a coach with tons of question marks and, as Larry mentioned, USA did not look good with him whatsoever — on or off the ice.
Who will be the first coach to get fired this season? #NHL #THW

— Facing Off (@FacingOff_THW) October 10, 2016
---
Who won this round of Facing Off? Feel free to weigh-in with your opinions in the comments below. We will be checking in periodically to both defend and expand on our initial answers. If you want to see us face-off over a topic, we're open to suggestions as well.