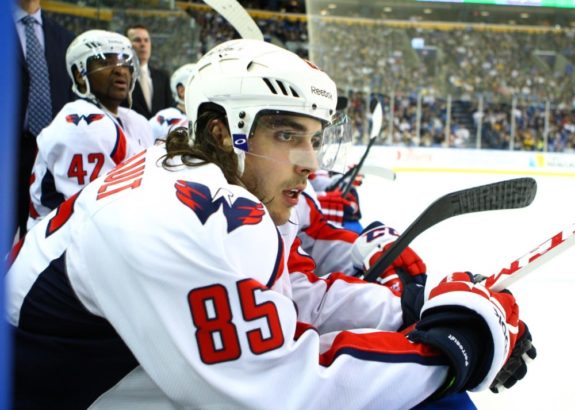 There is a glimmer of hope that exists among fans of professional sports teams like the Winnipeg Jets. Teams that aren't the top destination for free agents, but perhaps can find a way to land a big name, or even a couple of second or third line players who could add scoring depth.
Well, at least they had a good draft because so far the Jets have failed to get any better through free agency. In fact, they lost a few more players than they added.
Olli Jokinen, Zach Redmond, Al Montoya and Andrew Gordon are all on their way out of Winnipeg. Jokinen signed a one-year, $2.5 million deal with the Nashville Predators. Redmond joined a young Colorado Avalanche team on a two-year, $1.5 million contract. Montoya will backup Roberto Luongo in Florida on a two-year, $2.1 million deal. And Gordon, who spent last season with the St. John's IceCaps signed a one-year, $550,000 deal with the Philadelphia Flyers.
General manager Kevin Cheveldayoff resigned Chris Thorburn to a three-year, $3.6 million contract. Goaltender Michael Hutchinson inked a two-year deal worth just $1.15 million. Defenseman Adam Pardy signed a one-year, $700,000 contract, while a few restricted free agents received qualifying offers.
qualifying offers go out to #nhljets RFAs John Albert, Ben Chiarot, Patrice Cormier, Michael Hutchinson, Carl Klingberg & Eric O'Dell. #bn

— gary lawless (@garylawless) June 30, 2014
The lone free-agent they signed who wasn't on the team last season? Mathieu Perreault.
Mathieu Perreault
Perreault signed a three-year, $9 million contract with Winnipeg. A 26-year-old center from Drummondville, Quebec, Perreault spent the first four seasons of his NHL career with the Washington Capitals, before suiting up for the Anaheim Ducks in 2013-14.
He had his best season statistically, notching 18 goals and 25 assists for 43 points in 69 games. Perreault will essentially step in as Jokinen's replacement and should be an upgrade as a third line center.  Although he stands just 5'10" and weighs 185 pounds, Perreault is an effective center in all three zones and is especially strong in the faceoff dot where the Jets have struggled. He won 52.6 percent of his draws last season, averaged nearly 14 minutes in ice time and showed he could be an asset on the power play as well.
According to Tim Campbell and Ed Tait of the Winnipeg Free Press, Perreault is exciting to join a fast Canadian squad.
"It's a great fit for me. I talked to Paul Maurice earlier today. They want to change a little bit, they want to put three lines on that can score every night. I can bring a lot of speed. Winnipeg has always been a team about speed. It's a part of my game that I like to use. I'm a smart player, I can produce, I can play a little bit of power-play. I'm very excited to come to Winnipeg."
With Jokinen's play on the decline at age 35, the Jets add a player who could very well have the best campaign of his career in 2014-15. Perreault continues to improve with each year and the Jets are likely to give him plenty of opportunities to shine on the power play.
Mounting Questions
"We'd like to get another top-six forward. That's something we're still looking at. Again, are there some options out there? Potentially." Kevin Cheveldayoff said that early on in the free agency period, according to the Winnipeg Free Press. It's now July 8 and Winnipeg has yet to add another player.
The Jets have more than $13.5 million in available cap space.
The free-agent market is thin, but there are still a number of unsigned veteran forwards. This includes Dany Heatley, Steve Ott, Dustin Penner, Daniel Alfredsson, David Booth, Brenden Morrow and the Jets own Devon Setoguchi.
There has been very little news regarding any of these players of late and certainly none linking them to the Jets, aside from Setoguchi of course.
With all this in mind, there are a number of questions fans are likely asking. Questions like: is there more to free agents not wanting to come to Winnipeg than just the location? Will the team at least add another third line player like Perreault or a third-pairing defenseman? Is cap space being saved for a potential blockbuster trade? Which inevitably leads to speculation about Evander Kane's future, not to mention the goaltending situation.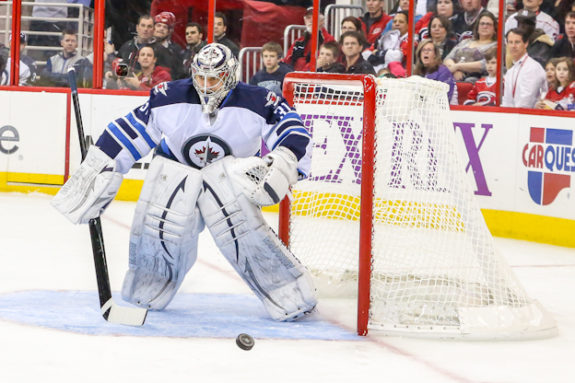 Management hasn't wavered on Ondrej Pavelec being the team's top netminder. Pavelec is set to make $3.75 million next season, making him just the 20th highest-paid goaltender in the NHL. Add in Hutchinson's salary and the Jets have fewer than $5 million committed to two netminders next season.
That's just one of the areas that needs to be addressed. As of July 8, 2014, the Jets look no closer to competing for a playoff spot in the 2014-15 season.
Lucky for fans, it's only July 8. There is still plenty of time to get better.