Many of you already know I'm a big proponent of Joe Pavelski playing his natural center position. Truthfully, the topic of Pavelski centering his own line has well been beaten to death. However, recently there has been some chatter on this topic (gasp) not initiated by yours truly and it has sucked me back in. A colleague and friend, one who gets too much flack on twitter in my opinion, Kevin Kurz of CSN Bay Area had the following tweet just a couple of days ago.
Getting a lot of "Pavelski should be on third line." OK, how will you replace the 40 goals in the top six? Burns isn't moving. #SJSharks

— Kevin Kurz (@KKurzNHL) January 7, 2015
Kevin does a better job covering the Sharks than most fans would, but this is a topic where he and I certainly disagree. The notion that Pavelski's 40 goals would need to be replaced in the top six is far from accurate. First off, 10 of Pavelski's 21 goals have come on the man advantage, where his role will not change regardless of where he plays at even strength. His 11 even strength goals lead the team but are only four more than top-9 tweener Tommy Wingels' seven. Will Pavelski score less goals on the third line? Probably, but he will also be facing weaker competition, so it actually isn't that black and white.
Flashback to 2010-11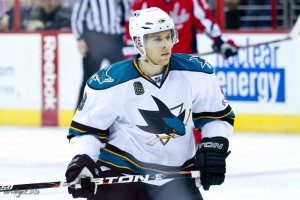 During the 2010-11 season Pavelski played a large portion of the second half of that season as the third line center. In 38 games from January 13th until the end of the that season, Pavelski scored 11 goals and had 39 points. That is a points per game rate of 1.02. Currently on the top line with Thornton, Pavelski has 37 points in 42 games, a .88 points per game rate. You read that right, Pavelski had a higher points per game rate at third line center in 2011 than he does this year on the top line. Of course there is the argument (one I use frequently) that goals are harder to score than it is to pick up secondary assists. In that sense, you can make an argument that Pavelski is making more of an impact points wise as winger on the Thornton line than he did as a third line center in 2011.
However, Pavelski put up those numbers with two small centers who are now complete after thoughts in the NHL. While I liked Kyle Wellwood as a player, he has since fallen out of the league despite only being in his early 30's and Torrey Mitchell is now a fourth liner for the Buffalo Sabres. That is what makes Pavelski's points per game total from the 2011 season so much more impressive. He carried that line by himself. The seventh round draft choice out of Wisconsin in 2003 is a dynamite stud performer even without Thornton passing him the puck. While the Thornton line won't be as strong at even strength if Pavelski moved down, both Pavelski and Thornton will make their linemates better. Pavelski would make probable third linemates James Sheppard and Tommy Wingels more offensively productive. Many forget Pavelski is as much a natural playmaker as he is a shooter. So while Pavelski may score fewer even strength goals, he will help his linemates perform better. Likewise, whomever lands in Pavelski's vacated spot on the Thornton line will score more goals in that spot than he would on a regular third line.
No Change in Ice Time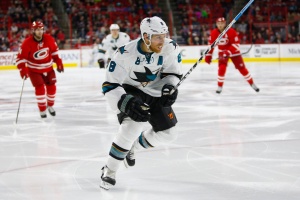 In terms of overall ice time, Pavelski averaged 19:39 during the 2010-11 season playing that hefty chunk of time at center. This year he is only averaging 20 seconds more at 19:59 while playing on the top line with Thornton. In other words the change in positioning at even strength is essentially negligible when it comes to ice time. It makes no difference either way. Again, moving Pavelski down to make the team have a stronger bottom six isn't a big deal in terms of losing his productivity on the top line. It is not about having to replace 40 goals in the top six. At even strength were really only talking about replacing 20 goals. The way an unknown guy like Melker Karlsson has come on, he can't score 12-15 goals playing with Thornton? He won't replace Pavelski's even strength tallies completely, but that will be made up by the vastly improved third line that now is a matchup nightmare for opposing teams with Pavelski on it.
I said this the other day on Twitter, but the Los Angeles Kings and Chicago Blackhawks have been successful the last few years because they come at teams in waves. All four lines can dominate any given shift. The Sharks with Pavelski on the top line are simply top heavy and that hasn't worked. Since 2011, they are a putrid 5-10 in the postseason with Pavelski in the top-six. They are 15-11 over the same span with him at third line center. With Pavelski bumped down, it gives the Sharks the ability to roll four lines and genuinely compete with the Blackhawks and Kings. With the overloaded top line, the Sharks are just good enough to get bounced in the first or second round. Teams don't have to worry about the Sharks bottom six with the way they currently configure it. Los Angeles and Chicago on the other hand, all their lines put fear into the opponents.