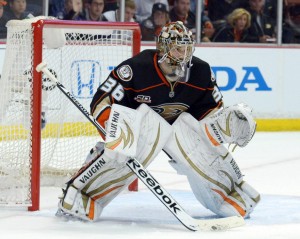 In last year's Stanley Cup Playoffs, Anaheim Ducks goalie John Gibson was one of the major highlights for the Ducks, as he led Anaheim to two wins – one of which was a shutout – while making several spectacular saves (video below) over the eventual-champion Los Angeles Kings in their best-of-seven series. So, entering the season, expectations were high for the 21-year-old.
But since a groin injury suffered in early November sidelined Gibson for six weeks, he has not suited up for the Ducks, but has spent time with the Ducks minor-league affiliate, the Norfolk Admirals. With Gibson's absence from the NHL, as well as Anaheim's signing last month of Ilya Bryzgalov, questions remain if the prospect will suit up again for Anaheim this season.
The Pittsburgh-native was 2-2-0 in four games with the Ducks this season while posting a .927 save percentage and a 2.28 goals-against average. After a season opening loss at Pittsburgh, Gibson led the Ducks to wins over Columbus and at Chicago before a loss at St. Louis. He was then injured in warmups when the Ducks traveled to face the Colorado Avalanche.
Gibson in Norfolk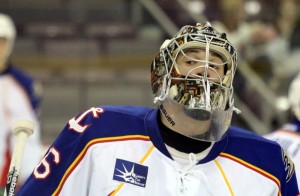 Gibson made his return to action Dec. 20 in a 2-1 Norfolk win over Bridgeport. In that game, Gibson made 30 saves. He has since made three starts for Norfolk, posting 42 saves in 3-2 shootout loss at Lehigh Valley; and then fielding a 22-save effort in a 2-1 loss Dec. 30 at Hershey and a 31-save effort 3-2 overtime loss against Lehigh Valley Jan. 2. Fellow Norfolk goalie Jason LaBarbera has started the Admirals' last two games.
Last year, Gibson was in net for the Admirals for 45 games, during which he put up a 21-17-4 record.
Andersen's Endurance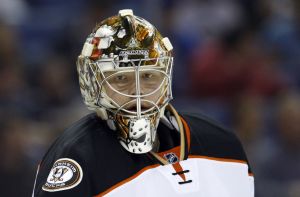 On average, starting goaltenders on Stanley Cup final-qualifying teams since the 2005 lockout have played roughly 47 games per season. The highest number of starts for any Final starter was Jonathan Quick this past spring with 69, 7 more than the next highest.
And even though starting goalie Frederick Andersen has been a key part of the league-leading Ducks success so far, he is on pace to start 74 games, leaving questions to if he will be able to keep up his play.
With all of Andersen's starts, Ducks coach Bruce Boudreau said this week at a morning skate that the Ducks are weighing their backup goalie situation. The first experiment came when the team faced the New York Rangers earlier this week, and Boudreau opted to start Bryzgalov for his first start this season, as opposed to calling up Gibson from Norfolk. Even though Anaheim fell 4-1 to New York, Bryzgalov stopped 26 shots but was betrayed by some costly Ducks turnovers that led to two third-period goals for the Rangers. The Rangers then scored an empty-net goal at the end of the game. But even though Bryzgalov could be one of the better backups in the league, he has also shown some inconsistency through his career, specifically during his time in Philadelphia.
The Ducks are obviously hoping that Gibson will be able to just get solid playing time in Norfolk this season and build toward the future, but the prospect could still be called back to Anaheim if either of the current top goalies falter.