History Not On Ducks' Side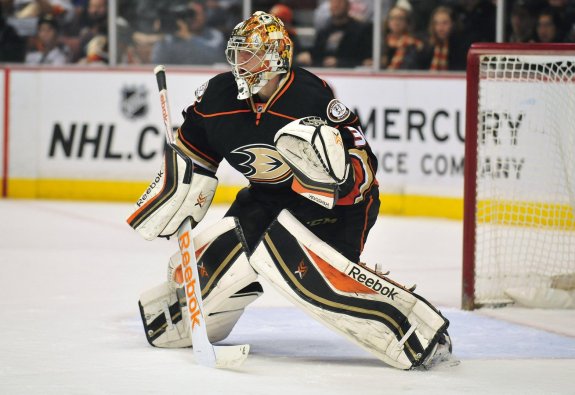 The Anaheim Ducks sit at the top of the National Hockey League. Starting goaltender Frederik Andersen has been key to that success, coming up big in a historical amount of one-goal games. On the surface, goaltending isn't one of Anaheim's concerns. History tells us though that it should be every bit their concern.
On average, starting goaltenders on Stanley Cup Final-qualifying teams since the 2005 lockout have played roughly 47 games per season. The highest number of starts for any Final starter was Jonathan Quick this past spring with 69, 7 more than the next highest.
To boot, only four starters in that group played 60 or more games. The past ten years demonstrate a clear trend: teams that make the Final give their starters proper rest. Andersen is on pace to start 74 games. Are the Ducks ignoring history?
The Bryzgalov Factor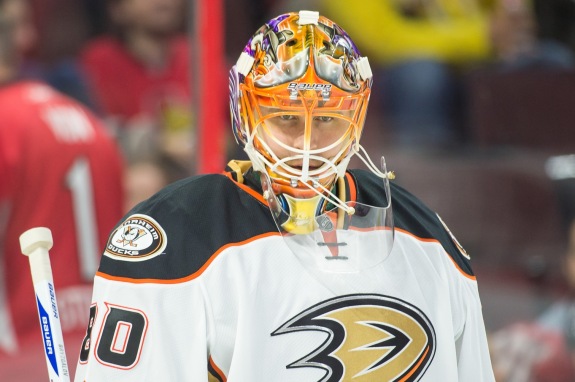 Bruce Boudreau can only take so much blame for giving Andersen a mammoth workload. He hasn't had a reliable backup to work with at all so far, and John Gibson is down in the minors to develop his game. Jason Labarbera has shown blips, but nothing more.
General manager Bob Murray tried addressing the situation by going out and over-paying a declining, yet familiar player in Ilya Bryzgalov. Even with the veteran's arrival, Boudreau has remained intent on starting Andersen nearly every game. As a result, Bryzgalov hasn't been able to get into any sort of rhythm. He didn't look terrible against the Rangers, but it won't be a game that he'll tell his grand-kids about.
There are two paths that Anaheim can embark on here. Either Boudreau lets Andersen continue on his current pace and see if he can defy a ten-year trend in the playoffs, or he can entrust Bryzgalov with more games to rest his starter.
Neither route is especially tantalizing: the odds are Andersen won't deliver in the playoffs given his current pace, and Bryzgalov hasn't shown that he's anywhere close to even his Flyers form, let alone his Coyotes tenure.
The decision really shouldn't be that hard though. Barring an utter meltdown, the Ducks will make the playoffs this year. For all the hype that home ice gets in the media, it hasn't been a tangible advantage in recent years.
Thus, the goal for Bruce Boudreau and his men should then be to make the playoffs with a healthy and rested squad. History says that rest is paramount to winning championships, and if the Ducks are serious about winning a Stanley Cup this season, they'll have to trust Bryzgalov with more games, whether they like it or not.