Flash back to the beginning of December.
No, this isn't the start of a Taylor Swift song. The Blackhawks finished November by going 8-2-0 in their last 10 games and took a three-game win streak into December, where the team was finally starting to roll.
Then Corey Crawford injured his ankle at a Rise Against concert on December 1.
Oh, what a difference a month makes.
Early Season Success
Before Pekka Rinne became the outright front-runner  for the Vezina Trophy, and before his aforementioned injury, Crawford was having a stellar season.
He carried the Blackhawks in October and early November as the offense sagged, giving up two goals or less 13 times in 18 games.
His performance was reminiscent of his 2012-'13 lockout shortened season, in which he went 19-5-5 in 30 games played and held a .926 save percentage and 1.94 goals against average. His efforts, along with teammate Ray Emery, earned the duo the William M. Jennings for fewest goals given up that season.
Oh, yeah: the Blackhawks won the Stanley Cup that year, enabling Crawford to give this speech (Warning: NSFW language) and forever establish himself in Chicago sports lore.
The start of the 2014-15 campaign was looking very similar for the recently-turned 30-year-old goaltender, but the injury changed the narrative.
Backups Pick Up The Slack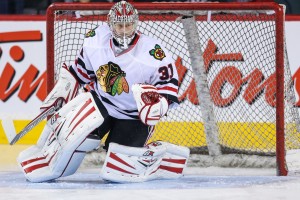 The Blackhawks enter play tonight with a record of 26-12-2, meaning that following tonight's game in Minnesota, the club will have reached the halfway point of the regular season.
Crawford's injury could have been devastating for the team in the midst of their hot streak, but backups Antti Raanta and Scott Darling were marvelous for Chicago in Crawford's stead. The tandem went 7-1-0 while Crawford recovered, helping the Hawks to a season-long eight game win-streak in the process.
Raanta and Darling have combined to go 11-4-0 over their 15 starts, with Raanta posting a 1.73 goals against average and two shutouts in eight starts. By comparison, Crawford has played in 25 games this season and has just one shutout.
With his backups picking the team up in his absence, Crawford's return could have meant the team continued to dominate play. Instead, it's been a roller coaster of a return.
Will the Real Corey Crawford Please Stand Up
Since he returned in a 3-2 shootout loss in Columbus, Crawford is 3-3-1 and has given up 20 goals over those seven starts. His play has been enigmatic, giving up two goals or fewer in three of those games, although two of those performances both resulted in losses.
He was chased from the net after giving up three goals on 13 shots in the first period of a 5-1 loss at home against Winnipeg two days before Christmas, with Raanta playing the remaining 75 percent of the game.
Worse, the Blackhawks have been behind by two goals in the first period in games against Winnipeg, Nashville, Washington and now Colorado over those seven games, and while not all of those slow starts can be blamed on Crawford, he has been a contributing factor.

His performance on Tuesday night in Chicago's 2-0 home loss against Colorado was a telling one. Crawford gives up a bad rebound, pushing the puck back into play and right to the tape of Nathan MacKinnon's  stick to put the Hawks in a 1-0 hole early in the first period.
It only took 24 seconds for Crawford to compound that error with another, as he lets in a soft goal to increase the deficit to 2-0.
Crawford physically looks slower; his lateral movement doesn't seem to be the same, and his reactions seem slightly delayed, compared to earlier in the season when he helped the Hawks get hot in November.
The Jekyll-and-Hyde performances have caused the good Corey Crawford–the one who carried the team during the 2013 Cup run, the one who almost single-handily brought them back from a 3-0 series deficit to Vancouver in 2011, and then a 3-1 hole against Los Angeles in 2014–to disappear into thin air.
When he'll come back, no one knows. But tonight's matchup against the Wild would be a pretty opportune time.
Wild times in Minnesota
With the opposition in relative dysfunction after head coach Mike Yeo's outburst yesterday, and with tonight's game marking the start of a back-to-back, Crawford will get the call between the pipes for his seventh straight start.
Crawford off first. #Blackhawks

— Tracey Myers (@Tramyers_NHL) January 8, 2015
The Blackhawks and Wild have only met once thus far this season, a 5-3 victory for Chicago with Raanta getting the start. However, Crawford was in net last postseason when the Blackhawks defeated the Wild in six games, giving up 13 goals on 163 shots. Crawford went 1-2-0 at the Xcel Energy Center in that series, and went 2-2-0, giving up 10 goals against Minnesota in the regular season.
Those numbers are all inline with what Crawford has done this season, even with the sluggish starts lately. Crawford sits at 15-8-2 with a .919 save percentage and 2.20 goals against average, fairly solid numbers, but far from the high of his season start or the low of his recent efforts.
With top-scorer Zach Parise out of the lineup for personal reasons and reeling on the heels of Yeo's tirade yesterday, the Wild should be motivated tonight and will look for another fast start.
Crawford needs to match that intensity and turn in a strong performance, something the good Corey Crawford has proven he can do.
If he's available, the Blackhawks would certainly appreciate having that guy back.