Radko Gudas is a big loss for the Tampa Bay Lightning because of his presence on the ice. If you are an opposing player in another jersey you always must keep your head up and be aware of Gudas on the ice. Gudas is one of the leading defenseman in the league in regards to hitting.
A really interesting chart showing hits per 20 minutes on the ice among Lightning defenseman as well as league wide can be found below using the link. The chart is featured in an article by my fellow Lightning Writer for THW Anthony Murphy. Gudas is a unique player on the Lightning blueline because he is a physical force of nature and is always looking to get involved physically. With every injury however is an opportunity for another player to step up and take advantage of their opportunity. It appears that opportunity will go to 24-year-old Montreal native Mark Barberio and 21-year-old Russian blueliner Nikita Nesterov.
https://thehockeywriters.com/lightning-will-be-hurt-by-loss-of-radko-gudas/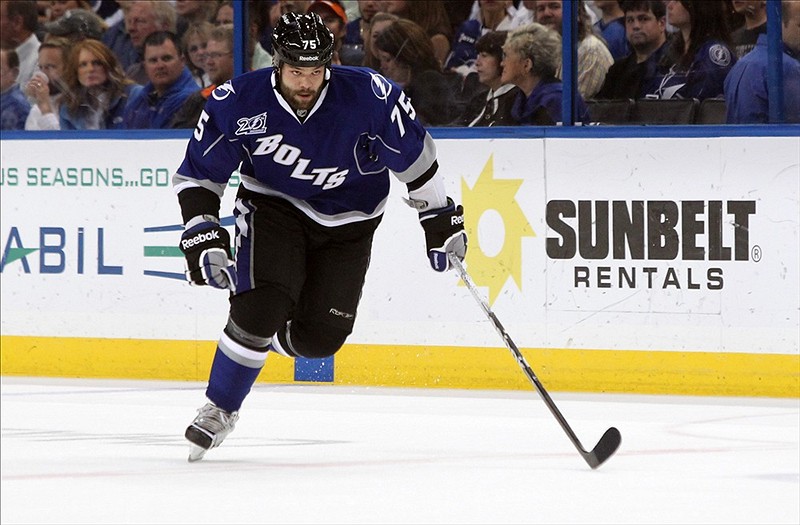 Who is the Better Option?
That is yet to be seen and I believe moving forward one of the two will establish themselves as the 6th defenseman on the team. Barberio should get the playing time early on because of his time in the NHL last season despite being a healthy scratch tonight.
Nikita Nesterov and Brenden Morrow will play for #TBLightning tonight according to Cooper; J.T. Brown and Mark Barberio healthy scratches.

— Bryan Burns (@BBurnsNHL) January 9, 2015
The 6'1, 185 lb defenseman played 49 games last season for Tampa Bay and was solid. Barberio was selected in the same draft as Steven Stamkos in 2008 and was a 6th round pick. Last season while appearing in 49 games he had 5 goals, 5 assists, 10 points, and was a +10. This season in 18 games he has an assist and is an even plus/minus. The offensive ability is there however as Barberio was a good offensive defenseman in the AHL. As the Lightning's 6th defenseman though he is not expected to put up points and should focus on defense.
Nikita Nesterov has Impressed
Nesterov was the Lightning's 5th round pick in 2011 and has played 2 games for Tampa Bay this season. He has impressed Tampa Bay Lighting head coach Jon Cooper by his skating and ability to get involved in the play as the puck is moving up ice. He made his debut on December 31st in Buffalo.
"You never really get an appreciation for him during games until you watch the game that night. He was always up in the play. His gaps were terrific. He can really shoot the puck. He was just aware all over the ice. He was breaking a puck out at one end and he was playing offense five seconds later, 200 feet from our net," said Cooper.
Nesterov had previously played 2 seasons in the KHL and one season in the American Hockey League last year. Last year on the Syracuse Crunch Nesterov set professional career highs in games played (54), goals (4), assists (12), and points (16).
This season he has appeared in 32 games for the Crunch and added 3 goals, 11 assists, and 14 points. His very good play was rewarded recently with a trip to a game he may not attend now because of his call up to the Lightning.
#tblightning prospects Vladislav Namestnikov and Nikita Nesterov selected as AHL All-Stars for weekend of Jan. 25/26 in Utica, NY

— Lightning Insider (@Erik_Erlendsson) January 6, 2015
According to Jon Cooper he has transitioned his game well to the NHL. Tampa Bay plays tonight at Amalie Arena against the Buffalo Sabres and it will be Nikita Nesterov who gets the start on defense.
Article Quote- http://lightning.nhl.com/club/news.htm?id=747728