A Much Needed Wake-up Call
The video currently circling around the web of Minnesota Wild head coach Mike Yeo going on a tirade at practice on Wednesday is something I'm extremely happy to see.  Yeo's little explosion perfectly emulates how most, if not all, Wild fans are feeling at this point.  This is a roster absolutely riddled with talent, promise, and depth.  Every year the season starts and the lineup (on paper) seems even more promising than the year before; yet somehow, the team's performance always seems underwhelming.  Following the playoffs last year and the signing of Thomas Vanek, I was confident the Wild would come back this year in stride.  Clearly, that has not been quite the case.  Many are pessimistic about the team coming up on the halfway mark of the season, questioning how much longer Yeo will keep his job and what changes need to be made to get this team back on track.

Problems That Need to Be Addressed
I saw the game against San Jose in person on Tuesday, and a few things were pretty clear.  First, the goaltending problem needs to addressed right now.  Darcy Kuemper has been disappointing.  In the game against San Jose, 2 of of the 4 goals he allowed should have been stopped.  How this problem should be taken care of is a bit murkier; the team can trade for a goaltender, or just ride out this cold streak of Kuemper's and hope that he elevates his game.  If I had to guess, I would say the team will choose the latter option.  We have seen that Darcy Kuemper has what it takes to be a true, every night starter in the NHL, he just needs to find his game again.
Second, the veterans need to step up.  Right now they are playing lazy and uninspired.  The first Chicago goal from Patrick Sharp on Thursday could have been prevented with some harder backchecking from Mikko Koivu, who has looked clumsy for a few weeks.  He has fumbled pucks and turned it over too much the past few games.  Granted, Backstrom also should have been able to stop that with a simple poke check, so the blame is shared.  The 3rd Blackhawk goal could have and should have been prevented by Jason Pominville, who coasted into the zone and merely watched Brian Bickell wind up for a slap shot instead of picking up the trailing man like he is supposed to.  Pominville has been much more productive lately offensively, but defensively he has been less than stellar.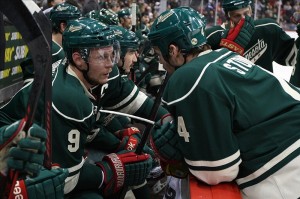 The young guns have been generating a lot of offense, something that is really nice to see.  Jason Zucker has three goals in the last two games, and he makes sure he makes a difference every shift he gets.  Also, guys like Coyle, Haula, and Neiderreiter have all been working hard and it's noticeable.  A perfect example is the third goal against San Jose, when Coyle found a streaking Zucker on a beautiful pass out front.  Coyle won the race to the puck with great speed and Zucker was right with him the whole time on a goal that resulted purely from effort.  Even Jordan Schroeder, who had just been called up, led the team with 7 shots on net in only nine minutes of ice time against Chicago.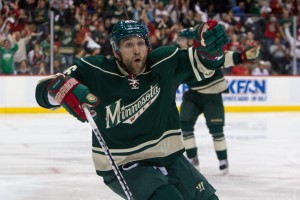 Even with the disappointing outcomes, the games against San Jose and Chicago are certainly moral victories.  The 44 shots against the Blackhawks show the team is starting to put forth more effort, and that is all that is needed for a breakthrough.  It also shows they're shooting the puck more, which is something that needed to happen.  They simply need to keep this up; bombarding a goaltender with shots is all the Wild need right now and the goals will follow.
The Reason for Optimism
As Allison Baker wrote on January 4th, "Maybe it'll take a trade or a coaching change to get these boys moving again."  I think what we saw from Mike Yeo on Wednesday at practice was exactly what this team needed.  The team is simply missing that spark that the best teams have, and Yeo may have just provided it.  He's a coach that you rarely see this kind of emotion from, but the frustration must have just boiled over.  It is uncharacteristic of Yeo, which is why it is the perfect wake up call for a team that has looked asleep for the past couple of weeks.  After an embarrassment in Dallas, two good games and frustrating losses against San Jose and Chicago, and a blowout by the coach, the time for the Wild to come storming back in the Central Division has never been better.  The talent, promise, and capability are all there; now it's time for the team as a whole to elevate their game and get results.