Buffalo conjures up images of cold and snow and Bills football. For hockey fans, the Buffalo Sabres are front of mind as well.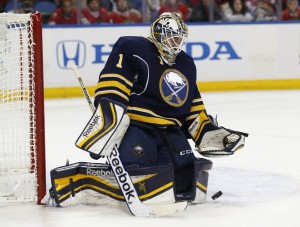 Lately, Buffalo in hockey parlance has come to be synonymous with the phrase, "really bad." Ironic in a way, because that same characterization also comes to mind when one mentions the Carolina Hurricanes. Thursday night in Raleigh, the Sabres were worse, losing 5-2 to the 'Canes.
Both Buffalo and Carolina are holding up the floor of the NHL standings, along with the Edmonton Oilers. These three juggernauts have a combined total of 89 points. Contrast that with the top two teams in any division who have well over 100 combined points. Needless to say, these three teams are really bad.
Buffalo wings
The Buffalo Sabres made the Hurricanes' wings look very nice Thursday night. And their centers and their defensemen. Jeff Skinner, on the wing with Riley Nash and the returning Alexander Semin got the scoring started for Carolina at 4:52 in the second period:
The assist from Semin was fantastic and Skinner made it look easy, lifting the puck deftly past Jhonas Enroth. The goal was the start of what was going to turn into a nightmare period for Buffalo and Enroth. This would not become evident right away, however, as Philip Varone got one past Cam Ward about a minute later:
1st #Sabres goal tonight.. Stewart feeds Varone, who drives toward the net & makes no mistake. [GIF] #BUFvsCAR pic.twitter.com/FdlQcik6zK

— Buffalo Sabres (@BuffaloSabres) January 9, 2015
Varone was the lone bright spot for the Sabres, collecting his first of what would be two goals on the night. What really did not appear to be two "really bad" teams for the next few minutes, turned into a scoring frenzy for the 'Canes. It's hard to tell whether Buffalo melted down or if Carolina was finding their lost scoring groove, but it was not pretty for Buffalo:
At 13:50 there was another nice goal from a 'Canes winger, as Jiri Tlusty was where he usually can be found when scoring, right in front of the net.
Enroth invisible
The damn had burst for Buffalo, as target practice ensued with Enroth in the line of fire:
Hurricanes team captain Eric Staal found the net about a minute later, sweeping the puck in as he came in from behind Jhonas Enroth. It was a sweet goal, and brother Jordan Staal was right in front of the net to attack a rebound if necessary. It wasn't necessary, and the Sabres found themselves down 3-1.
Buffalo was simply caught up in a gale force of Hurricane offense that has not blown across the ice very often this season.
Victor Rask got in on the action :26 seconds later, tipping in a shot fired by Ron Hainsey:
One more: Victor Rask gets us to where we are now with a 4-1 #Canes lead –> WATCH: http://t.co/L6DgcQEyQv

— Carolina Hurricanes (@Canes) January 9, 2015
I've been nothing but impressed with Victor Rask all season. He is growing every game into a legitimate NHL center. With his goal at 15:09, the Carolina Hurricanes were up 4-1, a lead over Buffalo they would carry into the locker room.
More?
Philip Varone wasn't throwing in the towel just yet, as he got by Cam Ward at 8:17 in the third period:
Varone with a clinic on tipping. His 2nd goal of the game. [GIF] #BUFvsCAR pic.twitter.com/Uu3EgdUbb9

— Buffalo Sabres (@BuffaloSabres) January 9, 2015
Varone's goal went right between the legs of the upright Cam Ward. Not a good look for Ward, but unfortunately for Buffalo, it would not be the spark they needed to get back into the game. It was Varone's first multi-goal game in his NHL career. Too bad for him, his team didn't do much to help.
At 10:10 in the third period, Riley Nash closed the door tight on the Sabres, with this goal to keep the 'Canes lead safe:
Nash was in front of the net to take the puck from Justin Faulk and slap it in. There is a theme developing here. "In front of the net" is the mantra that Coach Bill Peters has been preaching repeatedly to this team. Are they finally getting it? Or is Buffalo just really bad?
Ignored
Since my article on December 18th extolling the play of the "young guns" as I have glossed Jeff Skinner, Victor Rask, and Elias Lindholm, Coach Peters has been shuffling them around in different line combinations. Am I upset that Peters is ignoring my assertion that this is a great second line? Well, not really. Skinner and Alexander on the same line seemed to work. Coach Peters noted in the post-game interview
"I definitely thought Sems and Skinny moved the puck well together."
The only problem is the unpredictable Semin part of that equation. Is he going to finally revert to "great Alex" or stay in the land of mediocrity? Against Buffalo they did play well together. But, it was against Buffalo. How will the 'Canes fare when they go west to face the streaking St. Louis Blues Saturday night? How will Buffalo do in Tampa Bay tonight against the Lightning? They've not fared badly against them in the past:
The #Sabres' 27-12-3 (.679) all-time record at Tampa Bay is the team's best road record against any opponent. #BUFvsTBL

— Buffalo Sabres (@BuffaloSabres) January 9, 2015
Not bad historically, but chances are Buffalo will leave Tampa Bay still a really bad team.
Mark lives in the Raleigh, NC area and covers the Carolina Hurricanes.