Making Others Better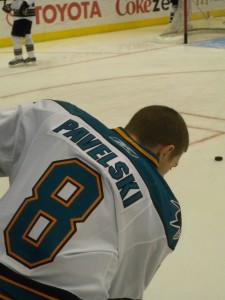 When the San Jose Sharks acquired Joe Thornton in late November of 2005, he immediately made players around him better. Jonthan Cheechoo went from a 28 goal scorer to a 56 and 37 goal scorer the next two seasons. Nils Ekman scored a career high 57 points next to Thornton and Patrick Marleau's top two career marks in goals 38, and 44, came on Thornton's wing. The list of players Thornton has made better goes on and on. Everybody in the league knows San Jose's elite set up man over the past decade makes others around him better goal scorers. Just last year Joe Pavelski scored his career high 41 goals last year playing primarily with Thornton. Unfortunately for Sharks fans, Pavelski's top line goal scoring will doom them come the postseason. The team has historically had much more success when he is in the play-making role of third line center.
While Pavelski scored 31 goals next to Thornton in 2011-12, and 41 last season, dare I need to remind Sharks fans about the team's playoff performances those two seasons? With Pavelski on the top line for the majority of last year's Kings series, the Sharks became just the fourth team in NHL history to blow a 3-0 series lead. A lead mind you built on two games with Pavelski at third line center. That series is probably still fresh in the minds of many, but maybe some of you have forgotten about the 2011-12 series vs St. Louis. That was the Sharks quickest postseason exit in team history. The top line of Marleau, Thornton, and Pavelski went dry. Thornton dominated the series individually but Marleau and Pavelski were both skunked on the score-sheet in the five game series. Zero points for each of them.
When the top guys couldn't score, there was no secondary scoring to back them up. This in spite of the fact the Sharks finished the prior seasons's second half 26-4-4 with Pavelski centering the third line between two run of the mill players. Kyle Wellwood is now out of the NHL despite only being in his early 30s and Torrey Mitchell is now a fourth liner in Buffalo.
Team Success at Center, Failure at Wing
After the debacle that was the 2011-12 season, a seventh seed finish, their worst finish since 2002-03 when they last missed the playoffs, the Sharks got back to Pavelski at third line center. In the second half of the lockout shortened season, the Sharks got hot again down the stretch, a third line of Pavelski centering Raffi Torres and Tommy Wingels thrived. The Sharks swept the Vancouver Canucks for their first sweep in franchise history. An injury to Martin Havlat and suspension of Torres bumped Pavelski up to the top-six against the Kings the next round. Had Pavelski been able to stay at third line center, that arguably would have been the Sharks best chance to go all the way. They had three dominant lines rolling in the first round.
The 2013-14 season started out great with more of the same. San Jose got out to a 10-1-2 start with Tomas Hertl sparkling alongside Thornton and Brent Burns on the top line and Pavelski at third line center. Then when Hertl went down with injury, Pavelski started scoring goals in bunches feeding off all the time and space created by Thornton and Burns on the top line. San Jose went into the playoffs with Hertl back in action. However, for some reason despite winning Games 2 and 3 with Hertl on the top line and Pavelski at center, they switched those two and went on to lose the next four games, three of which with Pavelski on the top line. Once again, the Sharks couldn't buy a goal with the overloaded top line after scoring seven and four goals in Games 2 and 3. Even the one game in the final four where they put Pavelski back at center, they played him with the stone cold Havlat and Wingels instead of with James Sheppard and Wingels, a line that dominated the Kings in Games 2 and 3.
Thus far here in 2014-15, shockingly, with all their numerous line alterations throughout the season, Pavelski has yet to play a game at third line center. He is still scoring tons of goals (not so shocking) playing on Thornton's wing. His 14 goals in 30 games this season puts him on pace for another terrific 38 goal total. However, hockey is a team game about winning, not just scoring goals.
Pavelski, as seen four years ago, can carry a line with average wingers as his own play-making center. Playing with Thornton, people forget just how well "The Big Pavelski" sees the ice as a natural play-maker himself. Particularly for those back east who don't get to watch Pavelski on a regular basis, the guy is one of the craftiest forwards in the league. Just take a look at this kick pass from last season.
https://www.youtube.com/watch?v=I_Prz8jFfrk
Pavelski finished with 46 assists back in that 2011 season, playing with those aforementioned wingers that few fans have heard of unless they played for your team. Despite their success as a line, the Sharks didn't even offer Wellwood a new contract the following offseason and let Mitchell walk as a free agent just a year later. Pavelski drove that line as a distributor, raising the level of the wingers he played with. Similarly, Sheppard and Wingels were good players these past two seasons, but not great. Pavelski, like Thornton has done his whole career, made them look that much better.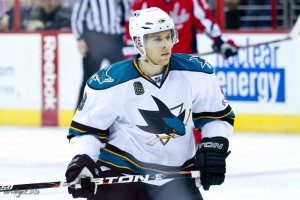 With the Sharks currently dead set on keeping Pavelski in the top-six, they will continue to see their star player light the lamp. But at what cost? The Sharks have not proven to have the depth players capable of providing secondary scoring with an overloaded top line. Sheppard is a really nice player and has been having a great season this year but he is no Pavelski. The Sharks when healthy are capable of rolling out three No. 1 quality lines with Pavelski at center. When he's on Thornton's line, they sometimes have a decent third line, but that's not good enough when the fourth line is contributing next to nothing. Teams that go deep in the playoffs and win Stanley Cups have a strong bottom six group. Just look at last year's New York Rangers with a bottom two lines of Mats Zucarrello, Benoit Pouliot, Derick Brassard, Brian Boyle, Dominic Moore, and Derek Dorsett. The Rangers were able to roll four lines that could all chip in offensively. All six of these guys are quality players. Even the worst player of the six, in Dorsett, has four more career goals (35) than Sharks fourth liner Mike Brown has points (31) in about the exact same amount of games. How does the saying go? You're only as strong as your weakest link? This season yours truly has soured on the Sharks because Pavelski is going to keep lighting goalies up in the regular season on the Thornton line but the Sharks will be bounced out in the first or second round yet again because they won't be able to roll four lines.
When it comes to the playoffs, the Sharks kick butt the last four years with Pavelski at center. They sport a .576 winning percentage with Thornton, Logan Couture, and Pavelski all on separate lines. With Pavelski in the top six, that winning percentage plummets all the way to a pitiful .333.
Andrew has been credentialed to cover the Sharks since 2010 and the 49ers since 2012. He graduated with his BA in Broadcast Electronic Communication Arts in 2013 from San Francisco State University.