Everyone loves the underdog, the player who came from nowhere, the one who defied all of the odds against them to make it. Joel Ward of the Washington Capitals is one of those underdog players; undrafted, offered tryouts and cut from training camps. Then he finally got his shot (albeit briefly) with the Minnesota Wild, he really made a name for himself with the Nashville Predators (especially in the 2010-11 postseason) before cashing in on a free agent deal with the Caps in 2011.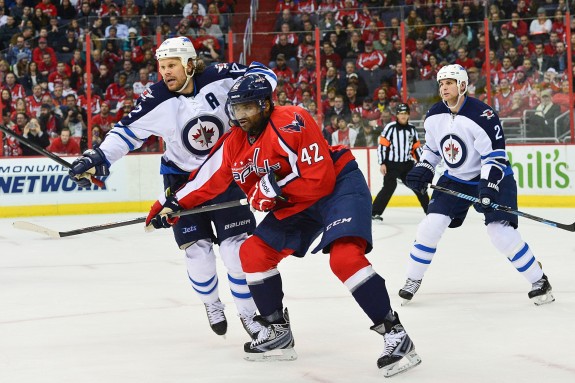 Last season, his third in DC, he set career-highs in points (49), goals (24) and assists (25) and this season he's been a key cog with 16 points (9g) in the first 27 games as the Capitals move into a new era with new coach Barry Trotz. Not only does Ward have a likeable personality, but his humble, team-first approach is what also makes him a successful player despite what any stats or fancy stats will tell you.
After a recent game in New Jersey, The Hockey Writers spoke with Joel Ward about the zig zag path he took to the NHL, which players influenced him the most and what his favorite goal that he's ever scored is among other things.
The Hockey Writers: You have a connection with the Caps new coach this season — Barry Trotz — from your time in Nashville; were you excited when you found out he was named Washington's coach?
Joel Ward: Yeah, obviously I knew Barry from when I first started in Nashville. He's still the same guy; a couple of different systems of course, but I'm happy he's here, to be part of this and contribute.
Joel Ward has 11 career playoff goals, here's one of them:
THW: When it was announced did a few of your teammates call and ask, 'What can you tell me about this guy?'
JW: Yeah a few of them did; I didn't want to leak out too much information (smiles). Let them figure it out, they're big boys, they can figure it out themselves. I tried not to give them too much.
THW: You had quite the journey to get here to the NHL; can you tell us about that path, the perseverance you showed?
JW: Sure, I believed in myself; growing up, I always wanted to play in the National Hockey League, just like every kid that played in Toronto — it's one of those hockey hotbeds as they say. Growing up there, you watch the Maple Leafs, you dream of scoring big goals in the NHL. I'm fulfilling my dream now; I'm enjoying it and having fun. I think that's the main thing — I play hockey for a living, so I can't complain.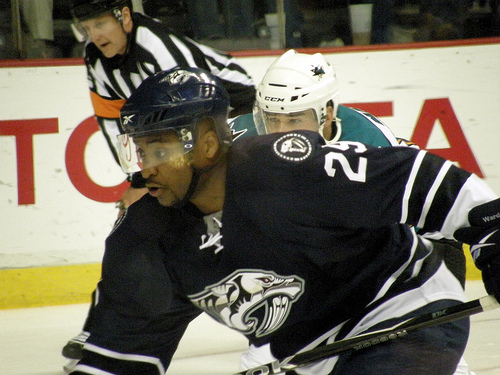 THW: How well do you remember your first NHL goal?
JW: JP Dumont gave me a pass out of the corner in St. Louis; Manny Legace was the goalie at the time there. It's something I definitely remember well.
THW: What do you consider to be the biggest or most memorable goal that you've scored?
JW: Probably the Boston goal, Game 7. That's one that is definitely a memorable goal for me. It was a good feeling at that time, moving on in the playoffs; it's such a good feeling.
Joel Ward eliminates the defending Stanley Cup champs. In their house. In Game 7:
THW: Was there a particular player or players that helped show you the way to be an NHL player when you were younger?
JW: I'd be here for three days if I could explain to you the amount of people that have helped me out along the way (smiles). Bryan Lundbohm who I played with in the minors in Houston, Jim Brown who lived on my street growing up who played in the OHL, Kevin Weekes was a big influence on me; I'd say every minor hockey parent in Toronto has helped me out along the way at some point (chuckles). Kevin Constantine was a pretty big influence coaching me when I was in Houston as well; just kind of teaching me to be a pro, to play the right way. When I was in Houston I learned a lot about myself, my game and just about how to be a pro.
THW: What was it like to play in Houston, which is not your typical hockey market?
JW: It was good it was good. It's a big city; when it's, 90 degrees on Christmas Day you're not really complaining too much (smiles) life was pretty good. It's a good minor league city, they don't have a team there anymore which is too bad but I think there was a good, loyal fan base there. For me it was just a great experience of the travel and the rigorous schedule — playing three games in three nights. At this level you have to be prepared everyday in what to expect and what to do.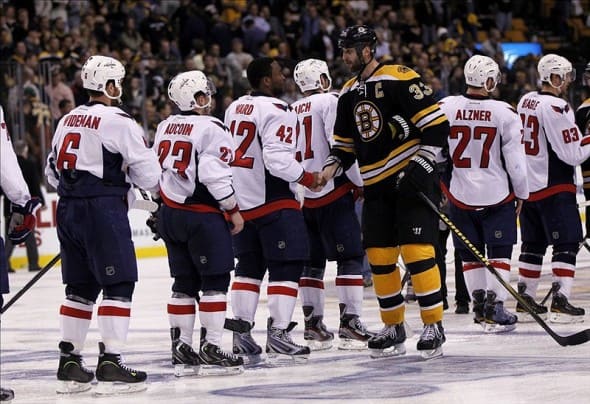 Joel Ward can be reached via Twitter: @JRandalWard42
Dan Rice can be reached via Twitter: @DRdiabloTHW or via Email: drdiablo321@yahoo.com
Dan Rice is in his 9th year of reporting for THW & has covered NJ Devils home games for 15+ years at various websites. He began his journey working for legendary broadcaster/writer Stan Fischler from 2002-04 & completed an internship at the ECHL; he also has been writing features for the NWHL (nwhl.zone) website since 2016.