When Zach Bogosian and Toby Enstrom suffered injuries that would keep them sidelined for an indefinite period of time, the Winnipeg Jets were caught in a bind. It is extremely rare that a team can survive, let alone flourish when the top pairing on the blue line is missing for a significant period of time. Someone needed to step up and someone did.
Jacob Trouba is quickly emerging as the stud defenceman every team craves for. While not a Norris Trophy candidate as of yet, the University of Michigan product is a rising star for the Jets.
More Ice Time For Trouba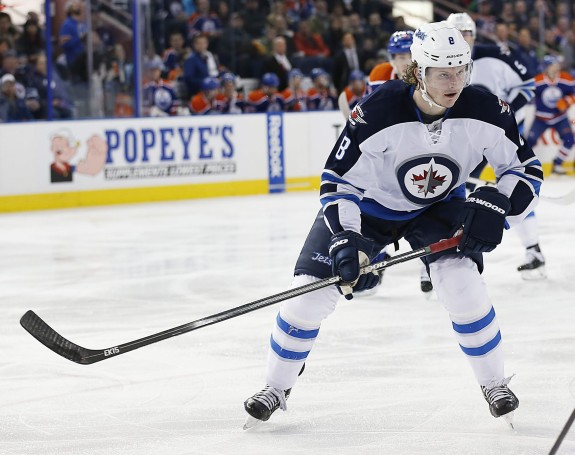 Trouba did get off to a slow start this season, as it did take a while to find his stride. However, his presence is becoming more and more amplified. Trouba leads the Jets defenceman with 4 goals and 8 assists so far this season. He also leads the team in total ice time with 487:15 played, 24 minutes over his defence partner, Mark Stuart. It is apparent that head coach Paul Maurice has more faith in Trouba as the young star keeps getting better.
Jacob Trouba heating up and getting big minutes in WPG. 8 pts in last 6 GP with 1g-1a today. 20 years old, looks like a seasoned vet.

— Chris Peters (@chrismpeters) December 7, 2014
Nice to see Jacob Trouba catching fire. It was only a matter of time. Kid is a stud.

— Matt Larkin (@THNMattLarkin) December 4, 2014
Trouba plays in all situations. Power play, penalty killing, five-on-five, close games late in the third period or overtime, Trouba is on the ice ready, willing and able to handle whatever issue arises. He has shown maturity beyond his years, while still having that youthful exuberance that can energize a team. Perhaps the most improved aspect of Trouba's game has been his work in the defensive zone. Maurice had this to say about Trouba courtesy of the Winnipeg Free Press.
"To be honest with you, I'm more excited about that part of his game developing right now than his offensive part. Because you know the offensive part is going to be there. But when he's done on the defensive side of the game — the physicality — when you think about where the offence is eventually going to get to… you've got a pretty exciting player at 20 years old that's physically strong.

He's playing a man's game now and he's just going to get better and better."
You want clutch plays? Trouba has provided them recently. It was his point shot that was tipped in by Mathieu Perrault that gave the Jets an overtime victory over the Edmonton Oilers.
http://youtu.be/MEL9oc9e1lM
Trouba also came up with an excellent individual effort against the Anaheim Ducks to tie the game, and give the Jets a crucial point against the best team in the NHL.
http://youtu.be/Zbp8n5_i9og
Future Is Bright For Trouba
Let's make this clear. Jacob Trouba won't win the Norris Trophy this season. Nor will he be one of the three finalists. That said, the Rochester, Michigan native is a rising star in the NHL. It won't be long until he is in the conversation for the Norris with the likes of Shea Weber, Drew Doughty and Mark Giordano. It is quite possible that if Trouba continues to mature beyond his years, he could be wearing the captain's "C' or the assistant's "A" in the not-so-distant future.
For the Jets to be successful in the future, Trouba will have to become the leader on the blue line, His play of late suggests that he is well on his way into becoming the type of player every team needs.
I share season tickets for the Winnipeg Jets since their return to the Manitoba capital in 2011. I have written about the Jets since 2011 on various sites.