ANAHEIM – In earning two more more points Wednesday night, the Anaheim Ducks clearly displayed why they sit atop of the NHL world.
Gaining a 2-1 victory over the Edmonton Oilers before 16,371 in the Honda Center, the win was the Ducks' 12th straight, one-goal victory.  Good teams usually find ways to win but teams which stay ahead the pack also demonstrate versatility. Better teams dominate in stretches in which the Ducks find themselves but their winning ways could stand improvement.
"We can't find that killer instinct," said coach Bruce Boudreau, after the Ducks recorded the NHL-best 43 point standing points. "Sure, we're winning but I think we need to learn how to bury teams."
Through their run, the Ducks have lost key personnel to injury but others have stepped forward.
taking advantage
Case in point is forward Matt Beleskey.
Scoring the first Anaheim goal on converting a pass into the slot from Kyle Palmieri on the power play, Beleskey picked up his second tally in the last three games. In the absence of Corey Perry, out for about a month with a knee injury and the Ducks leading scorer, Beleskey explained why he may be in the right place at the right time.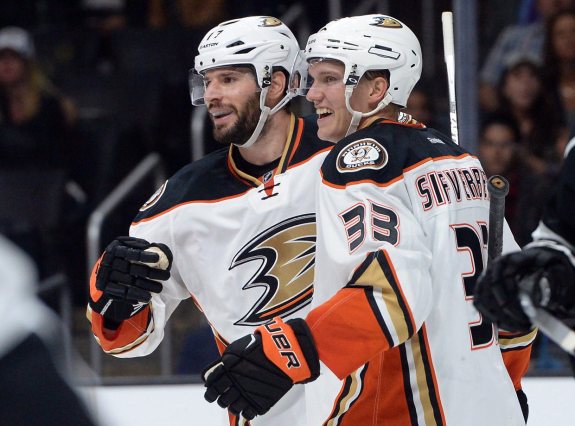 "I definitely want to take advantage of this situation," he said. "Just play my game and help create opportunities. It was a great pass (from Palmiieri) down low. If I get it between the (face-off circles), I have to shoot and hopefully score."
If the Ducks continue to lead the league in standing points and begin to create separation from other Pacific Division and Western Conference teams, they will likely display the kind of execution demonstrated against the Oilers. This is a team which has great puck control and players who make, quick, smart decisions. Plus, intangibles are creeping into the Ducks' style.
"There's a great deal of character in (the locker room)," said Ryan Kesler, who picked up the game winner at 10:26 of the second period. "This team keeps battling and we don't let much define us when we deal with adversity. We're continue to keep riding this."
Kesler, with five points in his last three games,  is another to elevate his game. For the winning goal, he converted a pass from Hampus Lindstrom into his 10th of the season and his fourth in his last three games. The veteran Kesler represents the criteria of "good players" which Boudreau cites as critical in winning.
Asked about why his team continues to lead the NHL, Boudreau did not have to think for very long.
"Depth, consistency and good players," he offered. "This team knows how to win and wants to be the best every night."
Mark Brown is a former sports editor for daily newspapers in the Philadelphia and Cincinnati markets. He was named Best Sports Columnist, honorable mention 2004 by the Associated Press Society of Ohio. He is a contributor to major daily newspapers, including the Chicago Sun Times, Philadelphia Inquirer, Honolulu Star-Bulletin, Milwaukee Journal, Arizona Republic, Nashville Tennessean and the Associated Press. He was a Featured Columnist for bleacherreport.com and covered the Arizona Coyotes.