There are six games in the NHL on Friday and the weekend starts with a Chicago team at home and trying to win their eighth straight game. Something tells me the Blackhawks are going to have their winning streak snapped, so I'm not focusing much on Chicago players, but at the same time, that gut feeling isn't strong enough to bet the farm on Washington players either.
Yesterday's Games
Jakob Silfverberg was the big fantasy winner on Thursday as he potted two goals and two assists in 4-2 Anaheim victory over the Carolina Hurricanes. Eric Staal had a big game and Steven Stamkos finished with a goal and two assists.
I predicted the Winnipeg Jets would come out with another strong performance and while they won the game, not a single player on the Jets' roster had more than a single point.
Tonight's Games
New Jersey Devils at Buffalo Sabres
Philadelphia Flyers at Toronto Maple Leafs
Los Angeles Kings at Ottawa Senators
Washington Capitals at Chicago Blackhawks
Dallas Stars at Edmonton Oilers
Winnipeg Jets at Colorado Avalanche
Centers
Connor McDavid ($8400)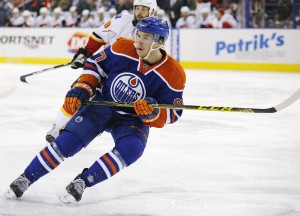 McDavid had three assists in his showdown with Sidney Crosby on Tuesday but the Oilers walked away losing the game in the final few minutes. McDavid and the Oilers will be returning home and going up against at Dallas Stars team who lets in more goals than a lot of other NHL clubs.
He now has 17 points in 14 games and he helped get Jordan Eberle going. This could be a combination worth banking on as McDavid is fantastic almost every night and Eberle is streaky. This could be a wave to jump on over the next couple games.
Claude Giroux ($6900)
The Flyers will be taking on an extremely poor defense in the Toronto Maple Leafs. I like the idea of taking both Giroux and Voracek in this match-up and Giroux has had two consecutive games where he's been strong. He has points in almost every game this season and now sits at 15 points in 14 games. His price isn't low, but it isn't terribly high either. This might be a right time right place scenario.
Giroux leads the Flyers with nine power play points and the Maple Leafs are bottom-third in the NHL for taking penalties and giving up penalty goals against.
Forwards
Jakub Voracek ($6600)
Voracek has had two strong games offensively and recorded multiple points in both contests. On Friday he'll be going up against a Maple Leafs team who is perennially poor at stopping teams from scoring. Voracek has fired 58 shots on net through 14 games and he's making it pretty easy to be confident in his ability to put up some fantasy numbers.
Jordan Eberle ($6700)
I mentioned that Eberle has a tendency to be streaky. On Tuesday he had two goals and an assist. He now has 11 points in 14 games and should be achieving a bit more as McDavid's regular right-winger.
Both of his goals were pretty goal-scorer type goals which may be a sign that Eberle is feeling his oats a bit. This is a good sign if you take him on your fantasy team.
Defense
Brent Seabrook ($5200)
Over Chicago's eight game winning streak, Seabrook has been extremely effective and has three points in his last two games. Surprisingly, Seabrook only has one goal on the season, but that should change as he's due to add to that total. The Blackhawks will eventually lose a game here and there is decent chance that Washington is strong enough to end that streak. Even if the Blackhawks lose, Seabrook is an effective shot blocker and this alone makes him worth the consideration.
Goaltender
Cory Schneider ($7800)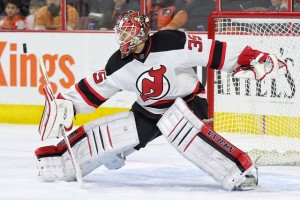 I'm not 100% sold that New Jersey wins this game, but the Devils have won two straight with Buffalo losing two straight. Schneider has a .928 save percentage, a 2.27 goals against average and has made over 30 saves in three of his last four games. He also let in four goals in two of his last three starts, but I think that is behind him.
Value Pick
Patrick Maroon ($4400)
Maroon has found real chemistry with Jordan Eberle and Connor McDavid and he's playing up on Edmonton's first line. He scored a beauty goal on Tuesday and four points in his last three games. The Oilers have a good chance at home against the Dallas Stars and if Edmonton's top line continues to roll along, Maroon could be the beneficiary of some easy points.