Flames' Tkachuk Day-to-Day
Calgary Flames rookie Matthew Tkachuk will miss Thursday's game against the Dallas Stars with a minor injury, the team announced.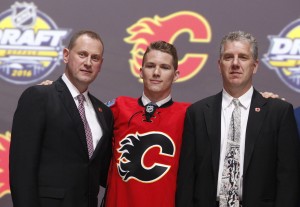 Tkachuk suffered a cut hand during Wednesday's practice and left before it ended. Flames head coach Glen Gulutzan has said the injury is "not concerning" despite Tkachuk's need for stitches to the area.
"He's just not going to be able to play, with where the stitch is," Gulutzan said, according to Sportsnet. "He's going to be day-to-day."
The 18-year-old forward made the Flames' roster out of training camp and recently played his 10th game of the season, meaning he is using the first year of this three-year, entry-level contract this season. Tkachuk has skated in 13 games with the Flames and registered three goals and three assists. He is also averaging 12:36 of ice time per game and has shown a more physical side by tallying 17 penalty minutes on the season.
The Flames selected the Arizona native sixth overall in the 2016 NHL Entry Draft after he helped lead the London Knights to the 2016 Memorial Cup championship in his only season of major junior hockey. At 6'1″, 202-pounds, Tkachuk has been able to utilize his size to adapt well to the NHL game early in his career.
The Flames will also be without Kris Versteeg and Lance Bouma during Thursday's matchup with the Stars.
Ekman-Larsson Fined for Diving
Oliver Ekman-Larsson has been fined $2,000 by the NHL for diving and embellishment under Rule 64, the league announced on Thursday.
The fine came after a play that took place during a game against the Nashville Predators on Nov. 3, which resulted in an interference penalty being called on Predators forward Kevin Fiala.
Ekman-Larsson had previously received a warning for a similar play that occurred on Oct. 3.
The Swedish defenseman has compiled two goals and five assists in 12 games this season and averages more than 25 minutes of ice time per game for the Coyotes.
If he is fined again, it increases to $3,000 as a second offense.
Canucks' Hansen Out 4-6 Weeks
Vancouver Canucks forward Jannik Hansen will miss four to six weeks with a fractured rib, the team announced on Thursday.
The injury stems from a hit Hansen took from Toronto Maple Leafs defenseman Morgan Rielly during a heated battle between the two clubs on Saturday. The Maple Leafs won the game 6-3 and there were 171 penalty minutes handed out along with multiple fights.
Jannik Hansen is out 4-to-6 weeks with a fractured rib, according to president Trevor Linden. pic.twitter.com/4GmDJXFUWo

— Vancouver #Canucks (@Canucks) November 10, 2016
Hansen, 30, is fourth on the Canucks in scoring with two goals and four assists in 12 games and off to a good start after posting a career-high 22 goals in 67 games in 2015-16.
The Maple Leafs and Canucks will meet again on Dec. 3 at the Air Canada Centre in what figures to be another physical battle between the teams.
Sabres' Ennis Out Several Weeks
The Buffalo Sabres will be without forward Tyler Ennis for several weeks as he recovers from groin surgery, the team announced on Thursday.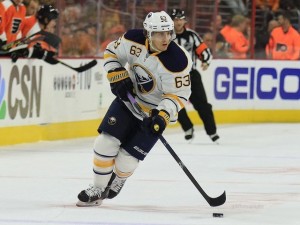 Ennis' injury is the latest in a string of injuries to key players on the Sabres early on in 2016-17. The Sabres have been without forward Jack Eichel since he suffered a high-ankle sprain at a team practice just before the season opener. Evander Kane returned to the lineup for Wednesday's 2-1 loss to the Ottawa Senators after missing 11 games with broken ribs he suffered on Oct. 13.
Ennis, 27, has skated in 13 games this season and tallied a goal and an assist as the team has gotten off to a 5-5-3 start. The left winger played in just 23 games in 2015-16, after scoring 46 points in 78 games the season before.
Ennis was originally drafted by the Sabres 26th overall in the 2008 NHL Entry Draft and has compiled 225 points in 380 career NHL regular season games.
NBCSN Adds Matthews-McDavid Game to TV Schedule
NBC Sports Network announced Thursday that they have added a game between the Edmonton Oilers and Toronto Maple Leafs on Nov. 29 to its 2016-17 NHL regular season TV schedule.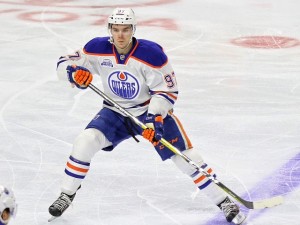 It marks the second meeting between young stars Connor McDavid and Auston Matthews, but the first time the two players will be playing against each other in front of a national TV audience in the United States.
The Maple Leafs hosted the Oilers on Nov. 9 in the first game the two players played against each other in the NHL. McDavid's Oilers won 3-2 in overtime, but both players were held scoreless in the contest.
The Oilers have gotten off to a 9-4-1 start to the new season and are currently first in the Pacific Division with 19 points. McDavid became the youngest captain in NHL history this offseason and the 19-year-old has had a strong start, compiling five goals and 12 assists in 14 games.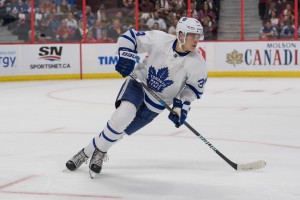 The Maple Leafs are 5-5-3 and sixth in the Atlantic Division, as the team has struggled defensively despite a much improved offense over last season. The team boasts the likes of forwards Mitch Marner, William Nylander and Matthews, and has been an exciting team to watch under head coach Mike Babcock.
Matthews, a native of Arizona, set an NHL record when he scored four goals during his NHL debut in a 5-4 overtime loss to the Ottawa Senators on Oct. 12. He has registered six goals and five assists in 13 games this season.
The national TV coverage of this game will give fans in America a chance to see two of the games biggest stars in what figures to be a highly anticipated matchup between the players throughout their careers.