On Saturday,  the NHL has a pretty full plate of action as there are 11 games on the schedule. One of the more interesting games will be the New Jersey Devils versus Buffalo Sabres rematch from Friday that the Devils won in overtime. Both teams will be travelling to New Jersey and the Devils have now won three straight while the Sabres have lost three in a row. This is the type of game on paper that you'd think the Devils win handily, but the story line is there for the Sabres to pull off the upset.
The match-up I like is the Minnesota game where I think the Wild take it against a struggling Flyers team.
Yesterday's Games
My suggestions fared pretty well, but some massive performances from games I didn't consider would have had a better result than my team. While Claude Giroux, Connor McDavid, Jordan Eberle and Patrick Maroon each had a point, Morgan Rielly got four points for Toronto and 13 other players had two point games.
Tonight's Games
Buffalo Sabres at New Jersey Devils
Detroit Red Wings at Montreal Canadiens
Minnesota Wild at Philadelphia Flyers
New York Islanders at Florida Panthers
San Jose Sharks at Tampa Bay Lightning
St. Louis Blues at Columbus Blue Jackets
Toronto Maple Leafs at Pittsburgh Penguins
Washington Capitals at Carolina Hurricanes
Anaheim Ducks at Nashville Predators
Boston Bruins at Arizona Coyotes
New York Rangers at Calgary Flames
Centers
Alex Galchenyuk ($6700)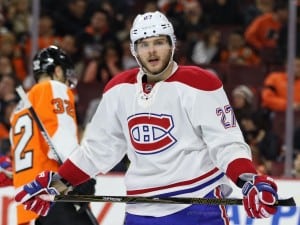 Galchenyuk has outplayed his fantasy points projection in seven of his last eight games and the Montreal Canadiens seem to be back on track after a devastating loss to Columbus. They've won three straight and Galchenyuk has been a scoring factor in all three games. He now has 14 points in 14 games.
Eric Staal ($5300)
In what looks like a rebound season for Staal, he now has 11 points in 12 games and has been a nice pick-up for the Minnesota Wild. On November 10th he had a break-out game against the Penguins with three points and six shots on net. He's taking on a Philadelphia Flyers team that is playing a back-to-back.
The Flyers lost to Toronto and let in six goals. They have now lost three straight and sit in 30th place in the NHL for goals allowed per game. This can only be good news for a Minnesota team how is already playing well.
Forwards
Patric Hornqvist ($6800)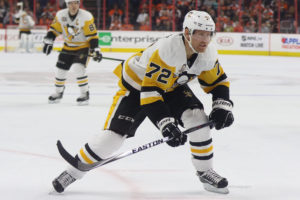 Hornqvist has had two very strong fantasy performances in a row. He's earned two points, two blocks and 13 shots in his last two games. He'll be taking on a Toronto team that ranks 26th in shots against per game and 26th in goals against per game. Hornqvist now has 12 points in 14 games and leads the Penguins with 57 shots on net — 21 more than the next closest player.
Nikita Kucherov ($7200)
In his last five games, Kucherov has eight points. He's also registered 19 shots on net. Those are huge fantasy numbers. He's at home against San Jose and the Sharks have been 4-4 on the road this season. Tampa has 5-1-1 at home. Kucherov has 16 points in 13 games with two game-winning goals.
Defense
Ryan Suter ($5600)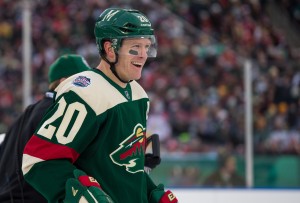 Suter has always been a minute-munching machine, but against the Penguins on Thursday he played over 31 minutes. I don't see the Flyers winning against the Wild, but the Flyers lead the NHL in shots per game and that means that Suter, with as many minutes as he plays, will have plenty of opportunity to block shots. He's also got 11 points in 12 games so he's not shy offensively.
Goaltender
Devan Dubynk ($7600)
With a 6-3-1 record, a .951 save percentage and a 1.51 goals against average, Dubnyk is the hottest NHL goaltender to have played more than 10 games. The only other player with a better save percentage and having played more than three games is Jimmy Howard of the Detroit Red Wings. The issue is Detroit is taking on Montreal and that's too risky a move to take Howard who would have been my other suggestion.
In his most recent game, Dubnyk made 39 saves for the win against a very hot Penguins team.