Montreal Canadiens head coach Michel Therrien broke from tradition against the Los Angeles Kings on Thursday. Notorious for sticking with the same lineup through thick and thin as long as wins continue to roll in, Therrien opted to sit forward David Desharnais. That's in spite of Montreal's blistering start to the season.
Playing Favorites with Desharnais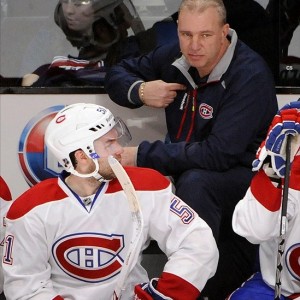 This is significant for several reasons, not the least of which is how all signs point to Desharnais, despite not having scored a point in his last nine games, being one of Therrien's favorite players.
For example, Desharnais had five points on the power play last season despite playing 2:18 with the man advantage per game, good for fifth among forwards on the team… so, a regular shift. Paul Byron had just as many points shorthanded.
Granted, Byron has speed and is a great weapon shorthanded, but that's just the point: Desharnais isn't… not at all… not anymore anyway.
Another reason? Montreal arguably played its best game of the season against the Kings with Desharnais in the press box. They won 4-1, and held the league's best possession team to just 24 shots on net (to the Habs' 23). Sure, they didn't come out ahead there, but it was definite progress from a team that had been outshot significantly in each of its previous four games and 163-92 overall in that span.
However, the wins still kept coming thanks in large part to goaltender Carey Price. The one game he didn't play ended up that infamous 10-0 loss to the Columbus Blue Jackets. Suffice it to say, not everything was all right with the team in spite of what is now a league-leading 12-1-1 record.
According to Plan
It remains to be seen if the ship has been righted for good or if the win against the Kings was the anomaly. It's not too outlandish to assume a team that went out and traded for Shea Weber to better insulate Price knows where its main strength lies and that everything was going according to plan over the course of those four horrible games it was so badly outshot.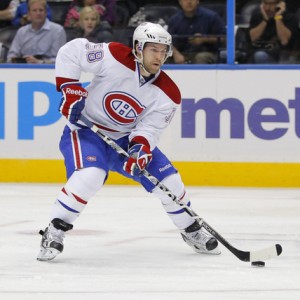 So, assuming on the off chance Therrien would prefer his team played as it did against Los Angeles from here on out, he owes it to the fans, his team and himself to see this thing through. He has to continue to sit Desharnais, until the team loses or at least starts to play poorly in front of Price again.
After all, the Kings game only serves as proof that the team can play the right way and win at the same time. Why purposely revert to a strategy that has been proven time and again to fail miserably during the playoffs?
Furthermore, captain Max Pacioretty played a good game for the first time in a while, outscoring his point total over the previous five games (one assist) with two assists. And, while the idea that Desharnais alone is responsible for the team's recent string of embarrassing performances is ludicrous, it isn't crazy that he adversely affected Pacioretty's play.
The two might have had chemistry at one point when the two were younger, but, whereas Pacioretty has developed into a legitimate top-line winger since then, Desharnais has lost a step.
Empirical Evidence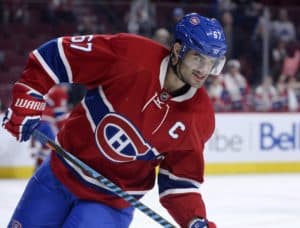 In essence, in spite of Therrien's purported view that the two work magic together, Desharnais only pulls Pacioretty down. Last season, their line with Dale Weise was deployed the second-most amount of time (of all the units Max Pacioretty played on). However, it accounted for the worst possession numbers of the top five and scored just twice, while allowing four goals.
So, there is empirical evidence to support the view that Desharnais does not belong anywhere close to Pacioretty in the lineup. There, unfortunately, isn't a big enough sample size to reasonably conclude he doesn't belong anywhere close to the lineup, period.
Not yet, anyway. That's why Therrien has to continue with this experiment, even if only to help prove his and Desharnais' critics wrong.
Yes, there is a whole host of variables that could have contributed to the successful outing against the Kings. And maybe all of Therrien's roster moves collectively gave the team the kick in the teeth it needed. However, Desharnais being an unavailable crutch might have just as likely sparked a positive chain reaction in the lineup.
It's not just that Pacioretty had two points. Without Desharnais, Philip Danault moved up to center Desharnais' third line and contributed a goal. Daniel Carr, who took Danault's spot on the fourth line, also scored. Sven Andrighetto drew into the lineup as well and didn't look out of place either.
Sooner or Later?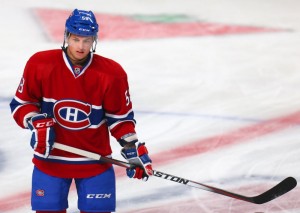 In other words, this team is not lacking offensive depth and it's about time the organization consider the very real possibility that it might be better off without one specific Francophone player. He's going to be an unrestricted free agent in the summer, so it's not something they can really sweep under the rug and avoid addressing.
They're going to have to make a decision eventually, and, considering this team is primed to contend now, better sooner than later. And, while burying entire contracts in the American Hockey League is not possible, the Habs would save the league's minimum salary ($575,000) + $375,000 by demoting him. That's $950,000.
The recently called-up Andrighetto has a one-way deal worth $650,000. And that's just one example of how the Habs can think outside of the box. Sending someone down who isn't performing up to expectations? What a novel approach.
To be clear, for all his shortcomings, Desharnais is not at fault here. He can only perform up to his ability whenever he's on the ice. He's not the one who decides when he plays and when he sits on the bench. And, right now, it's the press box that's the best place for him.