Last season New York Rangers' defender Dan Girardi had major struggles in all areas of his game and coming into this campaign the veteran from Welland, Ontario, appeared to be one of the teams' biggest question marks.
The season to forget, coupled with getting another year older, made it seem like the defender would be a major liability, but that hasn't been the case. His improved skating and overall decision making appear to indicate that last season was an anomaly and that he could still be an important piece on a good hockey team.
On the Brink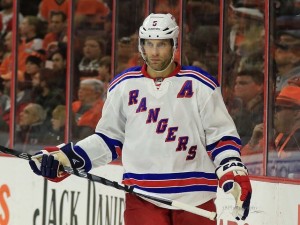 Girardi has gone through the mill several times for the Rangers over the past ten seasons, but the defender has played in 110 playoff games, blocked 1,849 shots and has played 19,090 minutes for the team altogether. To say the least, he's given a lot to the club over the course of his career. Despite the tremendous physical punishment that comes with being a shut-down defender in the NHL Girardi never seemed to get worn down, until last season.
Girardi missed eight games last year, which is more than he's ever missed at any point in his career. The tipping point for him seemed to come after he suffered a cracked kneecap last December.
He missed a couple of games but returned to play through the injury; the grit was respectable, but there was no doubt that he was struggling. The defender looked a step slow and, already not being the speedy type, he couldn't keep up with the play.
Suddenly a defender who was always so sure-handed with the puck seemed to struggle with even the most routine of plays. No play last season made his struggles more apparent than in this giveaway to Alex Ovechkin.

Fighting Back
After what was easily his worst season as a pro-player, there wasn't much confidence from fans in Girardi — but after just ten games this season the defender seems to have rediscovered his reliable brand of hockey.
Thus far he has five points, is a plus five and is playing 17:04 per game. He hasn't been overly fancy and has done a good job of getting pucks on net and by doing so has been rewarded.

It looks like a full offseason to recover from some of the beatings that he's taken has given him that lost step back. The club is also doing a better job of lessening his workload, as last season he was playing 20:19 per game, three minutes more than his current average. In the Rangers' most recent stretch of two games in two nights  Girardi was made a healthy scratch; Rangers' head coach Alain Vigneault said that it was for precautionary reasons.
Clendening in for Girardi. AV says was planned w/ b2b, precautionary since earlier groin injury

— Steve Zipay (@stevezipay) November 6, 2016
My Take
When Girardi was at his best, he was capable of shutting down some of the top players in the league, and despite tremendous wear and tear, he was always able to keep fighting forward. One thing I don't think he gets enough credit for is holding the fort for this defense through some adversity.
Girardi was there to help Ryan McDonagh develop and he was there to hold the fort when Marc Staal went through a horrific stretch of injuries. I'd say that without him this team would have nowhere near the amount of playoff success that they've seen in recent years. I'm not sure he'll ever get back to being a 20+ minute player, but that's fine. He's put in enough work for this club.