Following a frustrating 4-2 loss to the San Jose Sharks, the Florida Panthers awoke Friday morning at the bottom of the Atlantic.
No, the Panthers don't "sleep with the fishes," they're merely in last place in the Atlantic Division. And don't write off the Cats just yet, as they're only four points out of second.
There is cause for concern, however, as this young team is struggling right now.
From the roster to the front office to the uniforms, the Florida Panthers went through several major changes over the summer. Those changes created considerable buzz around the league, while causing some pundits to wonder, "How much is too much?"
Such questions are best left to summertime hockey philosophers. With the regular season underway, Florida can only deal in the present. What's the problem in Pantherland?
It's a Mistake
Through 14 games, the new-look Panthers are struggling to put together a solid 60-minute effort.
After Thursday's loss to the Sharks, head coach Gerard Gallant said, "…Like I said, we're coming out and we're playing well in the first period. Last year, they talked about us having bad starts in games and now we're starting well."
The coach is right: The team is starting games with a bang, scoring 14 goals in the first period, the fifth-highest total in the NHL. The problem lies in the final two frames, as Florida is just 4-3-0 when leading after 20 minutes. That's a win percentage of .571, which ranks 23rd.
"It's a trend that's been going on since the start of the year," said defenseman Jason Demers. "We've got to fix it soon, because, you know, it's embarrassing to keep getting games like that and playing hard and then having mental errors, mental mistakes by all of us. We let off the gas and let teams back into games."
Gallant echoed his defenseman's comments, saying: "We've got to play better. We made mistakes when we shouldn't make mistakes. We forced plays. We gave them the goals."
Keyword: Consistency
Some of the mistakes come from playing with unfamiliar teammates, a direct result of both the offseason personnel changes and injuries to Jonathan Huberdeau and Nick Bjugstad.
So far in 2016-17, the trio of Jussi Jokinen – Vincent Trocheck – Reilly Smith is the only forward line remaining intact from last season, and Jokinen just returned Thursday after missing nine games due to injury. Along the blue line, only the duo of Michael Matheson and Aaron Ekblad played together last year, and they were paired up for just a handful of games.
Beyond chemistry, inexperience is also a factor. This is a young team; these kids, while very talented, are still figuring things out.
Ekblad said it's his job to get on same page with Matheson and instill knowledge in him that he learned from Soup and Mitchell. #flapanthers

— Harvey Fialkov (@hfialkov) November 11, 2016
Matheson made the leap from NCAA hockey directly to the NHL last spring, and he's still adjusting. When asked what the biggest difference was between the two, the 22-year-old defender answered without hesitation:
"I'd say the consistency you have to have, every single night," said Matheson. "You're playing so many more games, so you have to make sure that you're preparing your body at all times, for each game, so that you can play at a consistent level…So I'm still trying to learn that part. That's what helps you have success in this league, and have success for a long time."
A Little Good News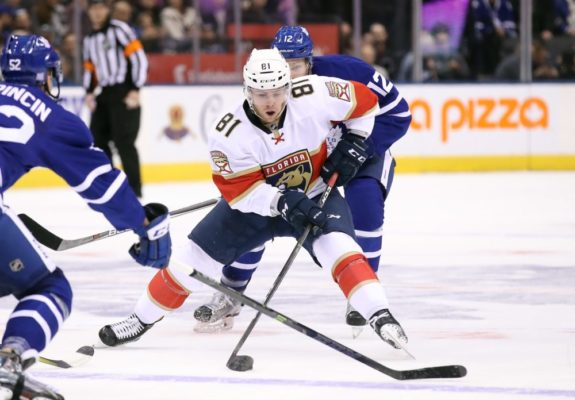 Matheson isn't the only young Panther learning, and sometimes struggling with, consistency. The good news is that they're making progress: 19-year-old rookie center Denis Malgin, after notching just one assist in his first eight games, has two goals and four points in his last six contests. Malgin's linemate, Jared McCann, has two points in his last three games after being held off the scoresheet in his first 11.
On the top line, Jaromir Jagr and Aleksander Barkov and are beginning to adapt to Jonathan Marchessault's style of play, and vice versa; the trio put in extra work together at the end of practice Friday.
And Demers found the back of the net twice against San Jose, his first goals of the season.
Baby steps? Maybe so, but they're steps in the right direction.