Something was missing in Columbus.
Although the Blue Jackets were recently in the playoffs, something still didn't seem right. The team entered the 2014-15 season with high expectations, only to have injuries derail their season.
Optimism was still around, as 2015-16 saw those same players return in hopes of duplicating 2013-14.
Then, thud.
Eight losses into the new season, the Blue Jackets were in shell-shock. Their coach was gone. In came someone in John Tortorella who didn't even know half the player's names upon his arrival.
The season steadied out some, but not nearly enough to challenge for a playoff spot. Now the real work began preparing for 2016-17.
Tortorella had a plan. He spent hours thinking about how the next year would unfold. He thought of everything from offseason workouts, to training camp, and everything in-between. He wanted to bring the Blue Jackets something that was desperately lacking before his arrival.
That was accountability.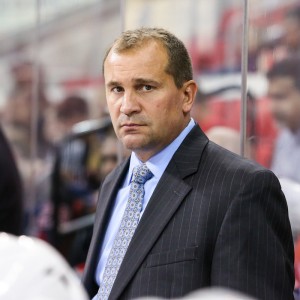 Before Tortorella
Think back for a moment to some of the dark moments in recent Blue Jackets history. Think about former coach Todd Richards. He was a player's coach. He got along well with everyone. Players loved playing for him.
But when things got rough, where was the accountability? If a player under-performed, there was no consequence for them. They generally trotted back out there the next game in hopes of doing better. Rarely was anyone benched for inconsistent play.
Things were easy in Columbus. The consistent culture of losing was in full force. Sure, the team would have some nice games and an occasional winning streak in there. But when they lost, accountability was nowhere to be found.
Tortorella vowed to change this. He didn't wait long into his tenure to start the process.
Tortorella has a simple philosophy. If you don't play well enough, you don't play. It doesn't matter what the name on the jersey was. The message was consistent.
Top Players Held Accountable
Ask Scott Hartnell. Ask Seth Jones. Ask Ryan Johansen. Ask anyone who has played for Tortorella. This is what he does. Brandon Saad almost became part of this list.
This isn't personal. Tortorella would rather have his best players out there. No, this is the culture of accountability. This is exactly what Columbus needed at the time of Tortorella's hiring. This is what they need now. This is what they're getting now.
#CBJ coach John Tortorella said he hasn't decided on a lineup yet, so can't say if Brandon Saad is officially a healthy scratch vs #Ducks.

— Aaron Portzline (@Aportzline) November 9, 2016
Players know they must bring their best effort to every game. If they don't, they sit. There are few feelings worse in hockey than being healthy scratched for poor play. It's embarrassing. It's upsetting. But it sends a message that they need to do more.
Oliver Bjorkstrand
Let's look at a couple of examples from this season that illustrate the point for us. Remember when everyone thought this was the year Oliver Bjorkstrand would stay in the NHL. He had everything going for him.
He dominated junior. He dominated the AHL, including helping Lake Erie win the Calder Cup. Surely he would stay in the NHL.
Bjorkstrand is in Cleveland. He wasn't bringing enough to the table in the sight of Tortorella. When the team feels he's ready to come back, the team will call him up. Until then, message sent. Past performance doesn't guarantee you a spot on the team.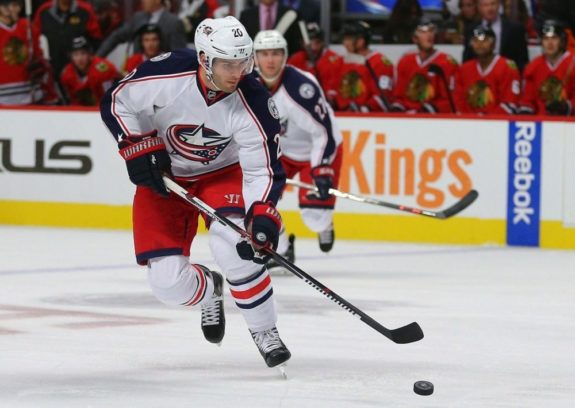 Brandon Saad
Let's look at Brandon Saad's situation. We know what happened in those two overtime games. Tortorella, without naming names at first, got upset at the lack of effort of certain top players. He didn't wait long to unveil new lines at practice. Saad became a fourth liner with a good chance of not playing in favor of Sonny Milano. Saad played, but only because Brandon Dubinsky suffered an injury.
The reaction to the news of Saad possibly getting scratched was met with a lot of resistance. This is standard Tortorella operating procedure. He needed more from Saad, especially with games on the line in overtime. What happens next? Although it started as a turnover, Saad breaks up a Ducks rush, allowing Alexander Wennberg to shoot up the ice, pass the puck to Zach Werenski, and the game was over.
Saad got the message and delivered when it mattered. Mission accomplished.
More Work Needs To Be Done
Tortorella still has a long way to go in his mission to bring full accountability to the team. He admitted after the Ducks game Wednesday that there is a "cloud of entitlement" around the team. In other words, certain unnamed players feel they are entitled to their place no matter how bad they played.
This was #CBJ Tortorella on Wednesday … after a win: "We have to understand and get rid of that cloud of entitlement around here … " 1/?

— Aaron Portzline (@Aportzline) November 10, 2016
We may never find out who he meant by those comments, but make no mistake the players within the walls of the locker room know who he's talking about. Tortorella is brutally honest and won't hide anything from any of his players when it comes to their performance. Ultimately his players appreciate that, no matter how bad it hurts at first.
The Blue Jackets still have much to learn given that they're the youngest team in the league. But they now have something within their team that will ultimately help them get better. The book is still out on Tortorella overall, but you can't deny the accountability he brings to his team.
It's helping shape the culture of hockey in Columbus now and in future seasons.