Dylan McIlrath needed a change.
Six years after being drafted tenth overall by the New York Rangers, the 6-foot-5, 236-pound blueliner had yet to crack an NHL roster on a permanent basis, appearing in a career-high 34 games as the club's seventh defenseman during the 2015-16 season. Questions persisted: Could the hulking rearguard truly fit into coach Alain Vigneault's fast-paced system?
Not in New York
Scratched six times to begin the year, the native of Winnipeg, Manitoba, appeared in a single contest before being placed on waivers. Unclaimed, the once highly-touted prospect was relegated to the minors.
Until the Florida Panthers came calling on November 8.
In exchange for Steven Kampfer and a conditional seventh-round pick in 2018 — contingent on McIlrath's appearing in 30 games for the Cats this season — Dylan found himself trading blue for red, joining his new club in Sunrise.
— Danielle🍷 (@yells__) November 8, 2016
However, the newly-acquired Panther might find himself in a similar situation at the BB&T Center.
Change of Pace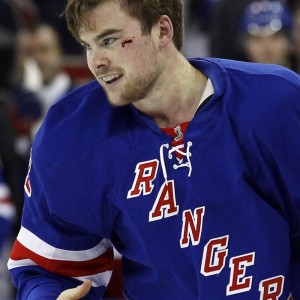 As the Panthers' seventh defenseman for the last two-plus seasons, Steven Kampfer dressed for 73 games, managing more appearances during the 2015-16 campaign (47) than McIlrath has for his entire career (38).
Described by Hockey's Future as "a sturdy, mobile defenseman," Kampfer's greatest asset is his skating ability, enabling him to match forwards stride-for-stride and find some success as an undersized defenseman in the NHL.
That trait, though rarely utilized to this point in the season, made the Ann Arbor, Michigan, native a solid depth option for the Florida Panthers — re-tooling their defensive corps to emphasize mobile, puck-distributing defensemen. The Panther' ideological shift played to Kampfer's strengths, even if he managed a sub-par performance in his only game with the team this season.
Additionally, Kampfer's shown an ability to hold possession from the back end. Over the course of his 134-game NHL career, he's managed average Corsi For and Fenwick For percentages (49.9% and 49.8%, respectively) while seeing a near-even split in deployment — 49.4% of his shifts have begun in the offensive zone, while 50.6% have begun in the defensive.
While not a superstar by any means, Kampfer has proved himself as a viable plug-and-play option, capable of performing for stretches of time in an injured teammate's stead.
Fact: NYR play up tempo style. Fact: Dylan McIlrath is not built to play that way. Hence the trade. Really simple and, quite frankly, smart.

— Dan Rosen (@drosennhl) November 9, 2016
On the other hand, McIlrath's game predicates itself on punishment. A hulking presence, the 24-year-old pugilist brings a mean streak to the Panthers' bench, replacing the "nastiness" that endeared former Panther defenseman Erik Gudbranson to fans.
Toughness Not Enough
But while that physicality could serve to spark the slumping Panthers — who rank 26th in the league in hits per game (18.6) according to Sporting Charts — his skillset presents one glaring weakness that could doom him to a similar fate that he met in New York.
Suspect at best, McIlrath's skating ability has hung him out to dry in the past — Hockey's Future's scouting report notes how "McIlrath is a liability at times against skilled, mobile forwards," while also highlighting deficiencies in defensive positioning.
A look at the Panthers' current defense underscores just how out of place its newest addition is. Keith Yandle is among the league's premier offensive defensemen. Mark Pysyk, Aaron Ekblad, Michael Matheson and Jason Demers are all smooth on their edges and confident on the puck, regularly jumping up to join the rush. Even the 6-foot-4 Alex Petrovic — McIlrath's closest analog in terms of size and playing style — is an above-average skater.
Furthermore, while McIlrath has already jumped Jakub Kindl on the organizational depth chart, he could soon face stiff competition from within. A 6-foot-3, 217-pound blueliner, former second-round selection Ian McCoshen has proven himself as an effective two-way defenseman in the NCAA ranks, putting together a solid start to his professional career with the Panthers' AHL affiliate. Initially predicted to fight for a roster spot this season, McCoshen plays a similar style to Gudbranson and McIlrath, but packs enough offensive punch to anchor an NHL power play.
Hopefully, McIlrath will get the shot that he deserves. After all, he was selected tenth overall for a reason, and if former general manager Dale Tallon's belief that defensemen need 300 NHL games to fully mature proves true, he still has room to fulfill his potential.
He just might have a better chance to realize it elsewhere.