It was a group of lower scoring affairs on Friday as ten teams squared off in five games, none of which totaled more than six goals. The highest point getters were a trio of Penguins. Kris Letang, Sidney Crosby and Chris Kunitz each had a two-point performance.
Saturday is a busy one with 11 games on the NHL agenda. The favorites appear to be the Penguins and the Blackhawks, but will they be tired playing back-to-back games on the road?
Yesterday's Games
Every one of our suggestions, with the exception of Alex Galchenyuk and Nicklas Backstrom from yesterday, got on the scoreboard. That's not bad considering that the leaderboard was full of two-point performances.  Corey Crawford ending up making 28 saves for the win and Backstrom, despite being held off the score sheet did have three shots on goal, two blocks and five hits.
Tonight's Games
Tampa Bay Lightning at Philadelphia Flyers
New Jersey Devils at Los Angeles Kings
Edmonton Oilers at Dallas Stars
Florida Panthers at Ottawa Senators
Pittsburgh Penguins at Buffalo Sabres
Toronto Maple Leafs at Montreal Canadiens
Winnipeg Jets at Boston Bruins
Colorado Avalanche at Minnesota Wild
Nashville Predators at St. Louis Blues
San Jose Sharks at Arizona Coyotes
Chicago Blackhawks at Vancouver Canucks
Centers
Tyler Seguin ($8000)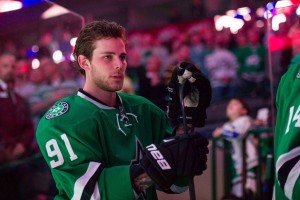 The Oilers have been struggling and one of the teams to beat them was the Dallas Stars. In that game, Seguin had two assists and he's now got 21 points in 18 games. The Oilers have been right below average in terms of team defense and Seguin could potentially have a field day with an Oilers team that has lost all confidence in their abilities.
Forwards
James Van Riemsdyk ($5700)
With six points in his last two games, Van Riemsdyk has been fantastic. JVR has a whopping 10 points (four goals, six assists) in his last six contests and 17 points in as many games this year. He's developed real chemistry with his offensive partners in Toronto and Leafs are on a bit of a roll with young players — Van Riemsdyk now being considered a vet at the ripe old age of 27.
David Perron ($4200)
Perron isn't exactly the type of player you look at every time St. Louis plays, but in recent games, he's been fairly effective. He now has 10 points in 18 games, but five of those points have been in the last three games. Perron has a tendency to get points in bunches so perhaps watch him closely. If he doesn't score at all, this could be sign of another downturn. While he's hot, though, it's worth a second look.
Defense
Oscar Klefbom ($4400)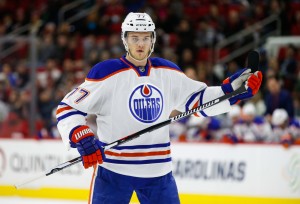 The Oilers have not been very successful over the past five games. That said, in those games, there was a good chance they could have won three of them having outshot their opponents on many occasions. One of the shooters was Klefbom who had a goal in his last game against the Los Angeles Kings.
Klefbom would have much more success in fantasy if he would just hit the net a bit more often. Most of the shots he's been taking have not registered as official shots, so if he can start to get his accuracy a bit more in tune, you may see his point totals explode.
Brent Burns ($8300)
His point totals have dried up a bit over the last two games, but he keeps registering shots on goal and Burns and the San Jose Sharks are taking on a fairly ineffective team defense in Arizona. This could be one of those games where Burns tallies multiple points and his fantasy totals shoot back up to where they typically are.
Goaltender
Marc-Andre Fleury ($8300)
Fleury is 6-3-2 and posts a .903 save percentage. He's not the ideal choice for the Penguins but Murray got the win against the Islanders on Friday, so Fleury likely goes Saturday. Despite his relatively average numbers, he's backstopping the Penguins against a Buffalo team that has a lowly 1.8 goals for per game.