After a September and October marred by injuries and illnesses which decimated their forward corps, the Dallas Stars are beginning to heal.
Cody Eakin played his first game of the season Thursday night, a 3-2 Stars win over the visiting Colorado Avalanche. Though the versatile pivot didn't register a point, he made his presence known in other ways, winning 65 percent of his faceoffs (15 of 23), blocking two shots, and registering one hit and one shot on goal in just over 14 minutes of ice time.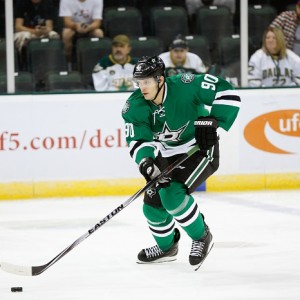 "Eakin was great," said Stars alternate captain Jason Spezza after the game. "We know what we're getting out of him. He's solid, he's dependable, and he's a guy that makes good decisions with the puck. He's a good two-way player for us. You bring a guy like that back in the lineup and it restores order amongst the lines and gives us a little more depth as a team. He's a big addition for us, and he's been missed."
Spezza himself returned to action Tuesday night after missing five games due to a lower-body injury. As with Eakin, his return was a welcome addition to the lineup.
"That was a huge lift for our team," said winger Patrick Eaves Tuesday night. "Anytime you get a player of his caliber back and just his presence in the room was uplifting."
Defenseman Jordie Benn seconded that emotion. "It's huge. Jason [Spezza] is a calming aspect on the power play and he's just a veteran guy that comes in and does his job," said Benn, adding, "He's obviously a big presence for us."
More Help on the Way for Stars
Patrick Sharp, who has been out since October 20 after sustaining a concussion in a game against the Los Angeles Kings, was a full participant in Friday's practice. Following the skate, Stars head coach Lindy Ruff had a little good news for the assembled media.
Lindy Ruff anticipates Patrick Sharp will play tomorrow

— Sean Shapiro (@seanshapiro) November 18, 2016
In addition, winger Jiri Hudler, who has been battling a mystery virus almost since the season began, is making progress.
Lindy Ruff said Jiri Hudler is feeling better, was at the rink today. He is getting close to exercising again.

— Mark Stepneski (@StarsInsideEdge) November 18, 2016
While Hudler remains out indefinitely, his presence at the Stars' practice facility Thursday is a good sign.
Call-ups Sent Down
The number of forwards lost in such a short time span forced Dallas to test their minor-league depth. For the most part, the call-ups performed admirably. Gemel Smith, in particular, was singled out for praise by Ruff.
"Gemel [Smith], for me, was a complete surprise," Ruff said Friday. "He totally exceeded expectations and really did a nice job for our hockey club."
Smith was sent back down to the Texas Stars Friday to make room for Sharp. His trip south on I-35 was preceded by Justin Dowling, who made the drive when Spezza was ready to go on Tuesday.
While Smith will likely be back in Big D on a full-time basis in a year or two, the additions of Sharp, Eakin and Spezza in the span of a week give the Stars a huge boost here and now. To be sure, they'll need a little time; Ruff estimated Eakin would need "four or five games" to get up to speed. Sharp might be on a similar schedule, though coming back from a concussion could take a little more time. And Spezza's still not 100 percent.
The key, though, is that the Stars are finally swapping out AHL-level skaters for proven NHL-caliber talent. The team is getting healthy, and not a moment too soon.