Any effective keeper-league manager will know, it is absolutely essential to have a stake in an NHL rebuild. Meaning, when that fateful ping-pong ball awarded the Oilers Connor McDavid, your fantasy team is in the mix. As John Chayka continues to mould the Arizona Coyotes' prized prospect stockpile into a dynamic group of burgeoning winners, you take notice. And when the product of Kevin Cheveldayoff's seemingly infinite patience finally turns the corner and produces a high-octane contender, you certainly are along for the ride.
You'll hear again and again, getting in at ground level is essential—I'm sure this is quality career advice, but for our purposes, fantasy managers need to heed this message as well. Those who do will be set up for years to come. It's so important to practice good foresight in your keeper league (yes, this should be obvious) and, as the teams below rise to power in the NHL, you have adequate representation on your fantasy squad, positioning yourself for sustainable success.
The Edmonton Oilers: Finally Some Traction
For years, the Oilers' brass threw log after log onto the fire, until finally, Connor McDavid came along and ignited this rebuild with his generational talent. It is unlikely that many of the Oilers' players aren't already accounted for by other owners in your league—considering last year's hype—but there should still be some fringe pieces available beyond Connor McDavid, Leon Draisaitl and Jordan Eberle to get in on Oil County's rise to power.
Milan Lucic
"He's one of the toughest forwards in this league." #Oilers eager to team up with Lucic: https://t.co/CSNZXjbbQh pic.twitter.com/iWajPCxPQK

— Edmonton Oilers (@EdmontonOilers) July 25, 2016
Milan Lucic was signed to ride shot-gun with McDavid and add some muscle to a team that is quickly becoming equipped to hold their own against their heavier Western Conference opponents. Lucic is most valued in H2H leagues where PIMs or hits count as well as offensive categories, but his pure point production should not be overlooked.
He put up 20 goals and 55 points last year curtailed by only eight points on the man advantage. Managers looking to trade or draft the 28-year-old should not expect a huge jump in ice time, as he logged an average of 17:14 last season with LA, but the key factor is those minutes will now come, at even strength and with the man advantage, alongside the most dynamic young player in the game. Expect a floor of 60 points in 2016-17.
Jesse Puljujarvi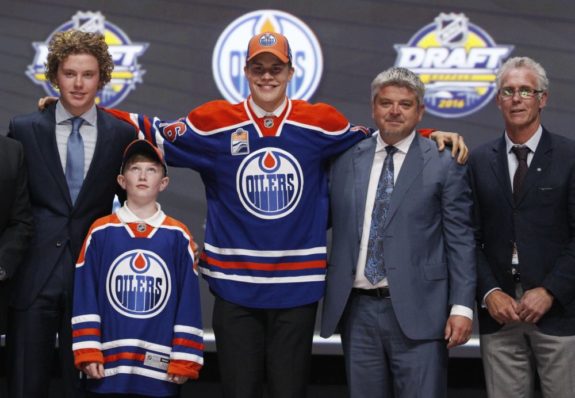 It's unlikely Jesse Puljujarvi leap-frogs Jordan Eberle on the Oilers' right-side depth chart this year, but managers have to be thinking it will happen eventually, appreciating the young Finn's immense talent and potential. The Oilers were gifted Puljujarvi in this year's NHL Entry Draft as Matthews, Laine and Dubois went off the board 1-2-3—so, another first-round talent is injected directly into the Oilers' lineup. Assuming second-line duties, the young Finn could put up 40-49 points and further reward patient keeper-league GM's down the road as he rises to play alongside #97.
Adam Larsson
Many fans scoffed at the Taylor Hall/Adam Larsson trade. It was certainly shocking and not the return many expected for a star of Hall's calibre. Astute GMs playing the long-game, however, should bank on those who scoffed at the acquisition of Larsson to pass on him come draft day. If he's available and your team is in need of quality defenders, he is worth taking a flier on—he is likely to make a significant jump this or next year and will not look back.
Larsson's numbers don't exactly shine right now, but he was asked to be a defensive specialist in New Jersey (a team not exactly known for piling up goals) and seldom had the opportunity to score with any regularity. Eventually, as the Oilers continue to progress as a team, they will need a long-term powerplay quarterback option and the 23-year-old Swede has the skill set to answer that call. What a fantasy coup that would be, to pluck the top defender of a soon-to-be playoff team before he has significant profile around the league. Expect a floor of 30 points, but hope for 44.
The Arizona Coyotes: This Rebuild Has Bite
Take one of the best pool of prospects in the league, hand the reins to a forward-thinking, prodigy hockey mind and add the urgency of a market ready, and due, for postseason success. The result? The 2016-17 Arizona Coyotes—a team poised to make some noise in the West. John Chayka has masterfully managed the team since being appointed GM in May and has an appetite for the postseason. Fantasy GMs should be anticipating young talent to shine bright in the desert this year and opportunistically acquire the young players listed below before their stock skyrockets.
Dylan Strome
Drafted third overall in 2015, Dylan Strome has posted just shy of two points-per-game in consecutive years in the OHL and, if those actions do not speak louder than words, Strome is on record this summer stating he is 'done' with the Ontario Hockey League. Tough to argue with those numbers and that attitude.
It appears the 'Yotes are ready to hand the keys to their future franchise centreman as well, or, at least willing to clear a path for him by buying out quality veteran centre and Stanley Cup champion, Antoine Vermette. Strome is an elite talent who can make some noise as early as this year, but his promise in subsequent seasons may match the ascension of his club in years to come. Pursue him now via draft or trade before he becomes fantasy gold. A great first season for Strome would be 50 points, but let's be optimistic and hope for 55.
Anthony Duclair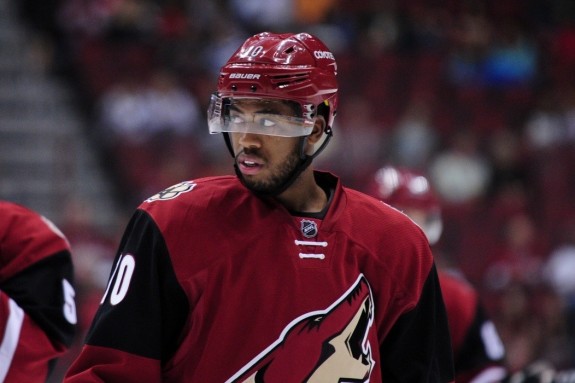 Anthony Duclair is an excellent under-the-radar fantasy player. Often paired with Max Domi, who receives most of the hype and attention, Duclair posted 20 goals on just 105 shots last year. This isn't a case of flagging a high-shooting percentage, this is the case of scooping up a dynamic goal scorer before he starts firing the puck for real.
In his rookie campaign, Duclair totaled 44 points and should absolutely build on that in 2016-17. More powerplay time, experience and, as mentioned, shots should see to that. Oh, and it doesn't hurt to have some guy named Oliver Ekman-Larsson dishing Duclair the puck on the man advantage. A great season sees Duclair capitalizing on the Coyotes' collective step forward, notching 30 goals, but GMs should realistically expect 25 goals and 50-55 points for his encore season.
Christian Dvorak
A natural centreman, Christian Dvorak may eventually form, alongside Dylan Strome, one of the most talented 1-2 punches down the middle of any team in the league. Drafted in the second round by the Coyotes in 2014, Dvorak has received slightly less hype than Strome, but has put up some dazzling, comparable numbers.
Last year, Dvorak posted 121 points in 59 games played for the London Knights of the OHL, good for second in league scoring. Dvorak's signature is his playmaking acumen and skating ability. Look for him to skate his way onto the Arizona roster as early as this season and become a fantasy mainstay in the next two to three years. If he makes the big club this year, look for a modest 35-40 point start to his career.
The Winnipeg Jets: New Heights Ahead
It's just about too late to board this flight before it takes off. Blake Wheeler is a fantasy mainstay, Mark Schiefele became a number-one centreman in 2015-16 and Nikolaj Ehlers has been the hottest—and fastest—prospect commodity in Winnipeg. For GMs who have missed out on those more established fantasy options, make sure you pursue the players below to your keeper team to ensure you're involved in the Winnipeg Jets ascent in the Western Conference.
Patrik Laine
Liigasyke nousee: Liigan alkuun 40 päivää!#liiga #liigasyke #RuutuFi #nelonenpro #PatrikLaine #Tappara pic.twitter.com/hnfAcW609v

— Nelonen Pro (@NelonenPro) August 7, 2016
Any player whose release is compared to that of Alex Ovechkin's will have fantasy GMs salivating. That's the case with Patrik Laine. Probably the most hyped player in this year's NHL Entry Draft (Auston Matthews and Leafs Nation aside), Laine has all the tools to deliver on those expectations and more.
In all keeper leagues, Laine should be a top draft selection this year (if not already owned, depending on the format of your league) and even considered in the middle rounds for single-season drafts as well. A quintessential powerplay trigger man, Laine should be unleashing bombs from the high circle and playing alongside a supremely talented, up-and-coming Jets squad on the powerplay and within their top-six. I'd be surprised to see Ehlers-Scheifele-Wheeler broken up on the top line right away, but Laine's explosive play or injuries may force head coach Paul Maurice's hand in 2016-17. Despite his high-octane promise, let's temper our Calder expectations and project a 49-56 point rookie campaign.
Connor Hellebuyck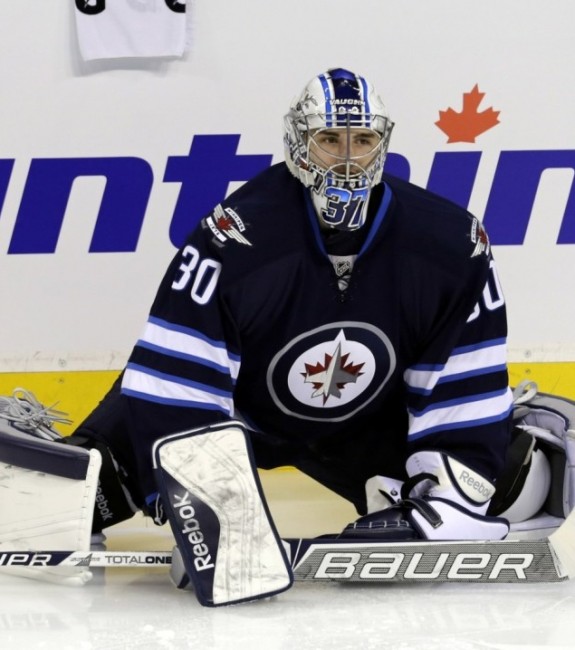 There's nothing like a crowded crease to stall fantasy GMs on pursuing an inevitable goaltending star. Yes, there are a handful of goalies in Winnipeg vying for the crease, including Michael Hutchinson, 26, and veteran Ondrej Pavelec, 29, but neither of those two options have the promise, poise and electric ability as 23-year-old Connor Hellebuyck.
The American tender has never posted a SvP% lower than 0.921 outside of the NHL and posted a respectable 0.918 SvP% in 26 games played last year as a rookie. That stat line includes 13 wins and a 2.34 GAA. There is a lot to like and plenty to build on too. Winners of Hellebuyck's calibre have a way of cutting through the noise. Expect there to be a lot more clarity in the Jets' crease at the conclusion of the 2016-17 season. Buy, before the price is too steep.
Kyle Connor
Jimmy Vesey is getting a lot of hype as his free agency decision looms, rightfully so as the reigning Hobey Baker winner and NHL free agent holds great promise. Funnily enough, it was actually Kyle Connor who led the NCAA Division I in scoring last year with 71 points in 38 games. Obviously, a lot of factors are considered in electing a 'top player' beyond production, but for fantasy purposes, Connor's production should draw your interest.
A natural left winger—a perennially 'soft' position in fantasy—Connor looks poised to not only make the Jets, but make an impact in his first year in the NHL. He is a natural goal scorer with a strong hockey IQ—and could easily slot into Winnipeg's top six for the next decade. The time is right to make a play for the speedy winger before his pre-season play draws the attention of your competitors.
Building Your Fantasy Team From the Ground Up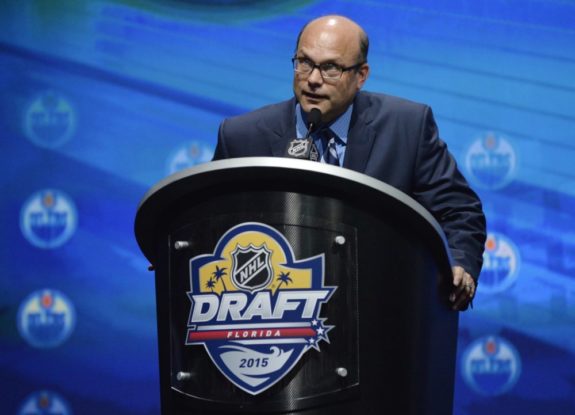 In any keeper league, it is so challenging to maintain a balance of competitiveness today and promise tomorrow—I suppose that's what makes it fun. In paying attention to the up-and-coming teams in the league, like the Oilers, Coyotes and Jets, as well as the evolving competitive landscape in the NHL, you can build value and acquire talent quickly and effectively.
Remember, it's not always the McDavids and Wheelers that win championships. Sometimes it is their less-celebrated linemates who you select in the later rounds that can be the difference between a good or great keeper franchise. Pay attention to less-hyped prospects, pre-season performances and, of course, aim to get yourself ahead of the competitive curve in your league by acquiring the players above.
Best of luck to everyone as the 2016-17 season approaches.