Today's Fantasy Findings takes a look over the ever depleted waiver wire in your fantasy leagues as you (and other fantasy owners) look to fill in those holes on your roster. At this point in the season, it starts to come down to those unlikely candidates – the ones you don't always keep an eye on throughout the season.
On Monday, NHL.com's Sean McCullen shared his thoughts on who might fill these voids in your lineup. After all, as McCullen notes, "you can't fire your coach to try to spark something with your fantasy team."
So which of these unlikely candidates will fit in on your team? Where are you going to start looking? Buffalo? Columbus? You might not think so. But McCullen thinks otherwise.
Topping his short list of options are Jamie McGinn and Cam Atkinson – two players on two teams struggling to put up numbers in the win column. So how exactly will they help your fantasy team?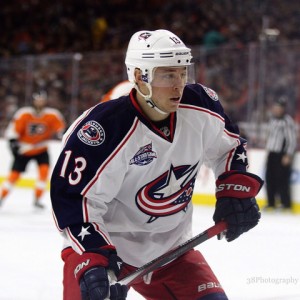 McGinn – owned in just three percent of Yahoo leagues – was recently promoted to the top line in Buffalo alongside Ryan O'Reilly and Sam Reinhart. In his past eight games, he has eight points (3g-5a).
"His dual eligibility in Yahoo leagues and three power-play goals make him more attractive than some other options on this list," writes McCullen, "so long as he remains with O'Reilly, who is on a seven-game point streak."
In Columbus, Cam Atkinson is owned in a much wider range of leagues (29 percent in Yahoo leagues). Atkinson has nine goals on 78 shots and as McCullen notes, that's what keeps him on the ice in Columbus.
"Coach Tortorella likes Atkinson, and he'll like him even more if he keeps scoring, as will fantasy owners," says the NHL writer.
Fantasy Advice: Looking Deeper into the Wire
Forget about how many leagues these players are owned in. Sure, it might be a measuring stick as to how impressive these players might be for your fantasy team, but put that in the back of your mind when you're surfing the waiver wire.
Instead, take a look at how these players have done recently. After all it's what you've done lately that people tend to remember. McGinn's promotion will raise awareness surrounding the Buffalo forward. Torts' usage of Atkinson will be just as important.
The success of Minnesota impacts Jason Pominville just the way that playing with Jonathan Toews and Marian Hossa makes Teuvo Teravainen a rewarding pickup. So, look at the last week or the last few weeks when considering your next claim. On top of that, don't use the success of their team as the only indicator of fantasy value (consider it, but not solely).
Or, if it's easier to have the decisions made for you, check out the rest of McCullen's list.
---
Over at Puck Dadday, Dobber Hockey's on it when it comes to possible steals on the waiver wire. After going through their latest studs and duds, it's on to that oh-so-lovely waiver wire where teams can be rejuvenated with the likes of a few good pickups.
While Dobber calls these grabs short-term fixes, one good season out of any of them could make them a mid-season steal for fantasy owners.
Minnesota's had it's issues so far this season, but as Dobber explains, that shouldn't stop you from looking at someone like Mikael Granlund when hitting the wire this week.
"This is Granlund's fourth full NHL season and there's every reason to believe that it's his breakout one," writes Dobber. "All he's doing right now is fulfilling his potential."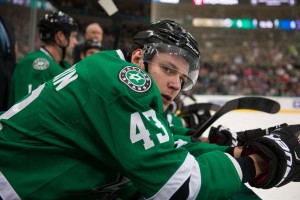 And while the stars in Dallas are shining, it may be an underrated youngster who's value is worth looking at for you fantasy club. Valeri Nichushkin has seen time lately on a line with Jamie Benn and Tyler Seguin – which should be a huge boost to his offensive output and ownership in fantasy leagues.
Fantasy Advice: Taking Line Rushes
Sometimes it's important to evaluate the surroundings of the players your acquire. Who's coaching them? What's the foreseeable future like for their franchise (especially for keeper league owners)? And who are they playing with?
Dobber's list raises some interesting possibilities for short-term fixes. Sure, they could turn into something bigger if they continue their success, but for guys like Granlund, Andrej Nestrasil and Nichushkin their linemates impact their overall play – they influence their offensive output and their fantasy value.
While Dobber's list could just be a band-aid solutions, they may also help you in those deeper leagues where the right waiver claim – the one for that unlikely candidate – could turn your season around.
For more fantasy news, be sure to check out THW's fantasy homepage and follow Andrew on Twitter at @AndrewGForbes.