With the team announcing that goaltender Mike Smith will miss upwards of two months, the Coyotes are looking for goaltending help. That's a surprising situation because given this scenario in August, you'd assume they'd stand pat and let the lack of a starter aid the tank job.
But it's not a tank for Auston Matthews in the desert. As of Wednesday night, they hold the third playoff spot in the Pacific Division. They're in contention and "actively looking" for a replacement for Smith, according to general manager Don Maloney.
Maloney got more specific with AZ Central's Sarah McLellan on Wednesday, saying that they have identified nine teams "that might have goalies available."
They're currently running with Anders Lindback as the starter and 23-year-old Louis Domingue as the back-up.
In two of the last three seasons Lindback has had a sub-.900 save percentage and is at exactly .900 right now. They'll need a goaltender who can steal a few wins if they truly believe they could still be playing in May. Domingue is worth being excited about, but he's not a NHL starter right now and is likely best served being in the AHL and playing a lot of minutes.
With a potential goalie trade on the horizon, here are nine teams that may have a goaltender available and whether they're a good trade partner for Arizona.
Anaheim Ducks
Anaheim just sent Anton Khudobin through waivers, so they've transitioned to thinking that Frederik Andersen and John Gibson are the tandem they're going with after acquiring Khudobin over the summer.
Khudobin is likely available via trade and may come cheap, but if Arizona had serious interest in Khudobin they may have made a move for him earlier this week when he passed through waivers. Though, there's always the chance that they were caught unaware by the severity of Smith's injury, making it impossible for them to claim Khudobin.
Calgary Flames
This season the Flames have waived Karri Ramo, had injuries lay up Jonas Hiller, lost Jon Gillies for the season, waived Joni Ortio, claimed Kevin Poulin off waivers and then had Poulin get injured.
It's a mess.
Outside of Gillies, all of these guys can probably be had. Ideally, Calgary may want to move either Ramo or Hiller. Hiller has an .862 save percentage and is making $4.5 million. Ramo hasn't been much better and doesn't make much less. Both are in the final year of their contracts and at least one of them is unlikely to be back next season.
With one not coming back, they may be best off getting something for one of them. That is as long as they believe they can replace the saves they're getting from the departing goaltender. But with no one playing that well, they probably can replace those saves with Ortio or a healthy Poulin (which is still at least a couple weeks off).
Colorado Avalanche
The Avs may be an unexpected addition to this list, but they're in a good position to deal right now. Semyon Varlamov is playing well and so is Reto Berra, who has a .922 save percentage through 14 games. Berra struggled last year and his value may be as high as it's going to get right now.
That's good for Colorado, who clearly believes in the 23-year-old Calvin Pickard. He played well last season, getting a lot of action while Varlamov was out injured and Berra was struggling. He's largely in the AHL right now — where's he's played 19 of 27 games for San Antonio — to get lots of playing time.
Colorado's needs are many, something Maloney is surely aware of, having worked a "hockey trade" with Joe Sakic during training camp. Colorado can trade to improve now or plan for the future. Both make sense and moving Berra while his value is high makes sense.
Edmonton Oilers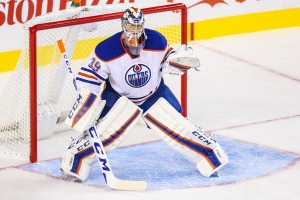 There are a lot of goaltenders floating around the Alberta Goaltender Graveyard.
Anders Nilsson
, Cam Talbot,
Ben Scrivens
and Laurent Brossoit are all employed by Peter Chiarelli's organization.
Scrivens would certainly be available, but he has a .868 save percentage in the AHL and carries a $2.3 million cap hit. It's hard to imagine that Arizona sees him as a solution.
Brossoit has played well in the AHL and could be Edmonton's goaltender of the future. If there's confidence in him, a situation could arise where one of the two NHL goaltenders moves out, they recall Scrivens to sit on the bench as a back-up and then recall Brossoit to play when a back-up is required to play minutes. That makes the most of Scrivens's hefty price tag and makes sure Brossoit gets the reps he needs.
That's complicated and it doesn't get clearer the more you dig in. They spent too much on Talbot to move him. It'd almost have to be Nilsson and he's been the team's best goaltender. However, if they believe in Talbot, especially after he stopped 47 of 49 shots on Tuesday, they have to listen to anything that could improve their blue line. Getting a good return on Nilsson — who Chiarelli would be selling high on, based on a small sample — might be worthwhile.
Minnesota Wild
Obviously Niklas Backstrom is available and could be had cheaply. Minnesota would be glad to have the cap space — even if they retain salary — and to open up a roster spot since the team has carried three goaltenders all season.
Where this gets interesting is if a significant offer was brought to the table to acquire Darcy Kuemper. There's been talk that the cap-strapped Wild may try to move Kuemper in the summer for a number of reasons, not least of which is the tight cap and a long-term deal for Devan Dubnyk signed over the summer.
Would they consider moving him before the summer? They probably don't want to lean on Backstrom as a starter should something happen to Dubnyk — he returns from injury Thursday — and neither of the goaltenders at their AHL club are on NHL contracts. In fact, one of them is actually the property of the Boston Bruins. Depth is a concern, but Kuemper has been on fire lately and selling high is always appealing.
Montreal Canadiens
Carey Price may be out, but he'll be back. When he's back, their starter is arguably the best goaltender in the world at 28. Behind him is Mike Condon (25), Dustin Tokarski (26) and Zach Fucale (20). There's a lot of potential there in guys who are hitting their prime and won't be getting many starts.
Tokarski they would likely part with, but he hasn't played well enough to be alluring. Condon's hot start could have him on Arizona's radar, but it'd be difficult for Montreal to part with him so far from Price's return. Even though Marc Bergevin hasn't been scared to make mid-season moves before, the timing seems wrong for Montreal to move Condon.
Toronto Maple Leafs
Asked who was starting on Thursday, coach Mike Babcock said, "Pucks are going in… so (Garret) Sparks will start." Babcock clearly has very little faith left in Jonathan Bernier.
Toronto isn't working toward a playoff spot, so despite James Reimer being out with an injury, they would probably be willing to move Bernier for the right price and that price might not be all that high. The question is how Maloney views Bernier's struggles. He has played poorly enough to get four games in the AHL over the last two weeks, posting a shutout in three of those four starts, but his first game back in the NHL wasn't inspiring.
More blame was placed at his feet than he may have deserved — there were a lot of defensive miscues — but it doesn't make him suddenly a hot commodity. Maloney would really have to believe that they can rekindle what ever went out in Bernier's game.
Winnipeg Jets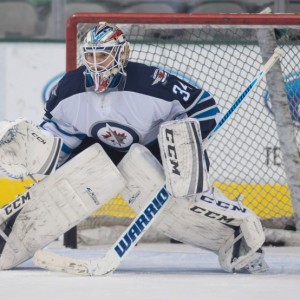 It's the Ondrej Pavalec injury that both puts Winnipeg on this list and makes them pulling the trigger unlikely. Pavelec is out until mid-January at the earliest. His absence has opened the door for 22-year-old
Connor Hellebuyck
to make his NHL debut and impress. He's put up a .924 save percentage through six games and has become the team's go-to, even grabbing both games of the Jets most recent back-to-back.
That may mean that Michael Hutchinson is expendable. It'd be a risk to make a move while Pavelec is still out, but if they believe Hellebuyck can take the reins, they may be able to extract a nice price for Hutchinson who performed well last year and is a RFA at 25.
The incentive for Winnipeg to do this isn't high. Andrew Ladd, Dustin Byfuglien and Jacob Trouba are all in contract years and reportedly asking for big money. Those are the big names, but they've also got Mark Scheifele, Adam Lowry, Adam Pardy and Hutchinson in contract years. There are big cap questions there. They may not want to take on more contracts and money, but you also don't want to give up a 25-year-old RFA goaltender for a rental. Furthermore, as a team in the hunt for a playoff spot, it's difficult to trade away Hutchinson for picks and prospects that don't make the team better now.
New York Islanders/Boston Bruins/Washington Capitals
The ninth spot on this list is a few teams that are maybe a little less likely to make a move, but have the potential to be a trading partner.
The Islanders are carrying three goaltenders once J.F. Berube is healthy. Jaroslav Halak and Thomas Greiss have both played very well. If there's faith in Berube once he's healthy, trading Greiss could help the Islanders shore up some of their depth issues. If there was a problem with Berube, 23-year-old Christopher Gibson — a part of the Michael Grabner trade — has been performing well with Bridgeport. Not highly likely, but possible.
In Washington, the Caps are leaning heavily on Braden Holtby, who has been outstanding this season. They probably aren't looking to remove a back-up who can give him a couple nights off, but they may be willing to move some of their AHL pieces. Justin Peters is playing well in the AHL with a .918 save percentage and is just a season removed from a .919 save percentage with the Hurricanes. They've also got Dan Ellis down in the AHL. Interest probably isn't high in them, but if the interest was there, Brian McLellan would likely be listening.
Tuukka Rask seems to be getting his game back in Boston and helped them steal a win on Wednesday. (He has a .923 save percentage or higher in each of the last six games.) It's possible that the Bruins would hear offers on Jonas Gustavsson if it makes the team better. They have Malcolm Subban and Zane McIntyre in the AHL right now splitting starts. Neither has been outstanding, but the organization is high on Subban and seems impressed with McIntyre's play so far. They could move one of them up to the NHL and address some depth issues with a trade.
Whatever Arizona winds up doing, they're likely to do it soon if it's going to happen at all, which is no guarantee.